Singaporeans will go to great lengths to get food. Afterall, food is nourishment and a source of joy for many of us. It is also a direct connection to our past, when immigrants from all over the world landed on our shores to seek a new life, and in the process, bring along their delicious dishes.
However, there are some dishes that are so uniquely Singapore, that few have successfully replicated it overseas. Here are notable local dishes that were made on this red dot.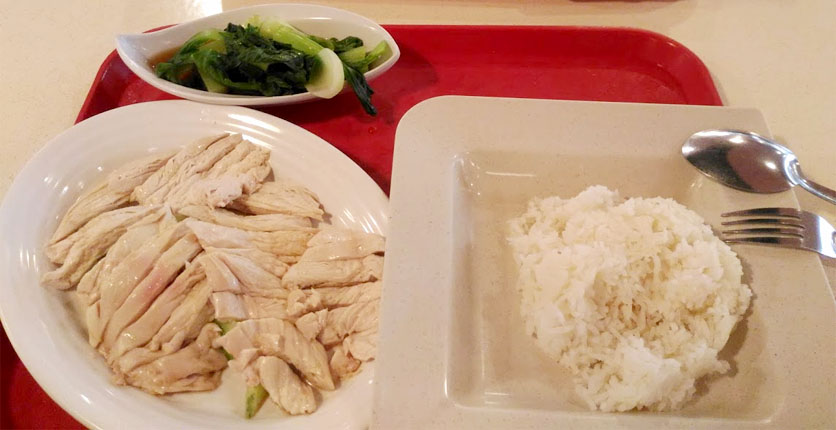 Hainanese Chicken Rice
Adapted from a dish called "Wenchang Chicken" from Hainan island, the Singaporean version is highly Cantonese influenced, and avoids the use of pork stock. The rice is made from the fatty stock from the chicken poaching process, mixed with shallots, ginger, garlic and pandan leaves for fragrance.
While the original version uses steamed chicken, we have variations such as the soy sauce chicken rice and roasted chicken rice that sets us apart from our neighbours.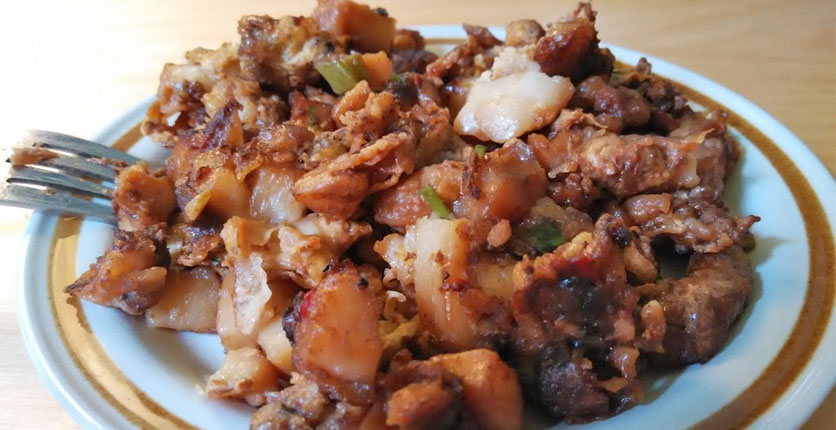 Fried Carrot Cake
More commonly known as "Chai Tau Kway", this Teochew delicacy consists of cubes of radish cake stir-fried with garlic, eggs and preserved radish. It is the radish that sets the Singapore version of the dish apart from the original.
Here, it is offered in two common versions: white, which is seasoned with light soya sauce, and the black, which uses dark soya sauce as seasoning instead.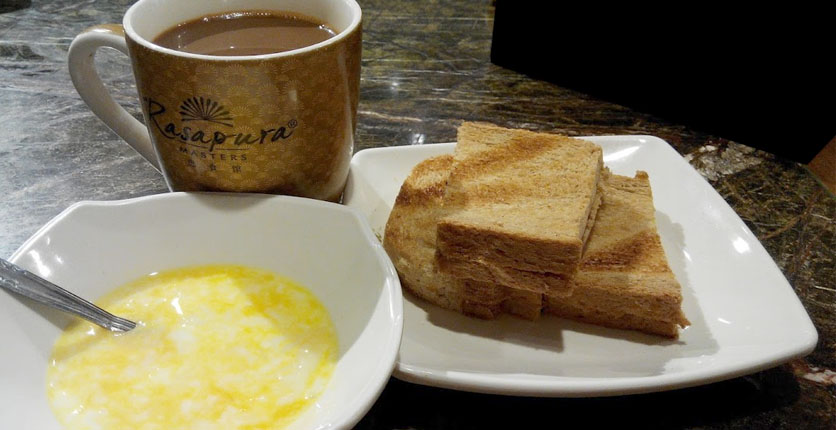 Kaya Toast Set
While the origins of bread is still unclear, and kaya having roots from Portugal, the kaya toast is said to be created by the Hainanese immigrants in SouthEast Asia as an alternative to expensive western jam spreads. The Singapore kaya toast set stands out with the addition of half-boiled eggs and served with coffee and tea.
The toast comes in thick or thin slices, and is slathered with a good amount of brown Hainanese kaya and margarine. The traditional way to enjoy this breakfast set, is to dip the kaya toast into the eggs with pinch white pepper and dark soy sauce.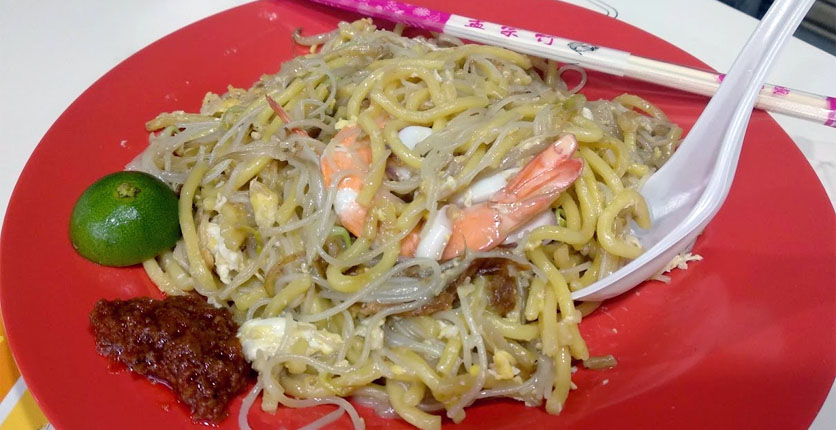 Hokkien Prawn Mee
Usually shortened to "Hokkien mee", this comprises thick yellow noodles fried in a rich prawn and pork stock and served with chilli and lime on the side. It is said to be originally known as Rochor Mee because it was first sold at Rochor Road, by Hokkiens.
Its history gets more obscure with accounts that suggest that today's version, with gravy and sambal, is a Peranakan version of the original Hokkien mee, which was served dry and eaten with chilli. It is said that the famous "Singapore noodles" is actually a gravy-less variation of the Hokkien Prawn Mee.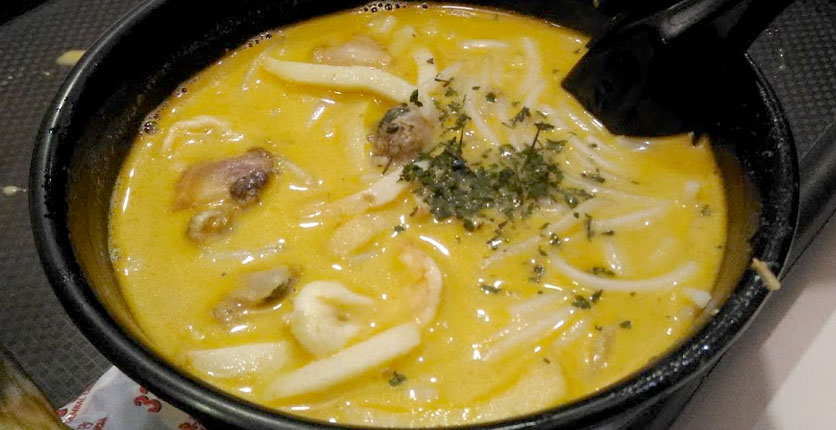 Katong Laksa
As a culturally hybrid dish, laksa blends Southeast Asian spices and even coconut milk to Chinese noodle soup. As a Peranakan dish, it has its origins from a Peranakan settlement in Singapore, which is Katong.
There are various types of laksa available in Singapore, of which Katong laksa is the only purely home-grown variant. Topped with ingredients like cockles, prawns and fishcake, the thick vermicelli is cut into short pieces that only requires a spoon to consume.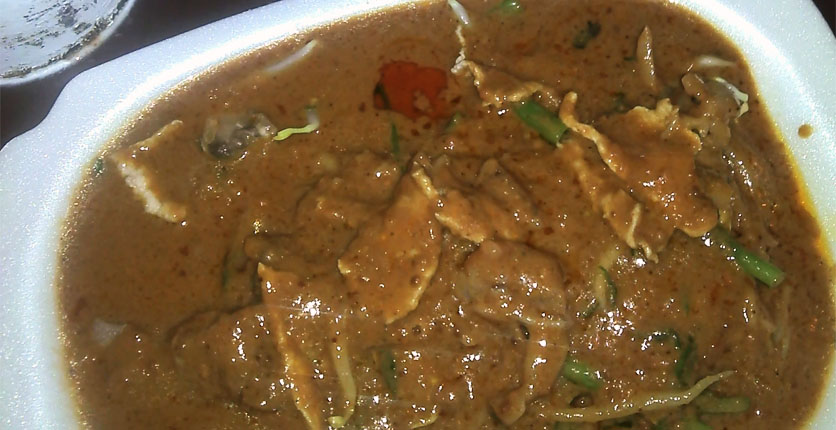 Satay Bee Hoon
While satay originated from Indonesia, satay bee hoon is a dish invented by the Teochew people who immigrated to Singapore. Satay bee hoon sauce is a chilli-based peanut sauce, like the one served alongside satay, except it has more chinese spice added to it and has a thinner consistency. The satay sauce is then spread on top of rice vermicelli, and topped with a variety of seafood, such as cuttlefish, cockles, prawns or sliced pork.