Singapore might just be an island but there's no disputing the global culinary acclaim of its street food and hawker culture. Some of the city state's most loved national dishes are Hainanese chicken rice and chilli crab, which have found fans around the world. For instance, chilli crab was listed as one of the World's 50 Most Delicious Foods compiled by CNN Go in 2011. While these locally ubiquitous dishes are a testament to the diversity and depth of the Singapore culinary culture, just how uniquely Singaporean are they?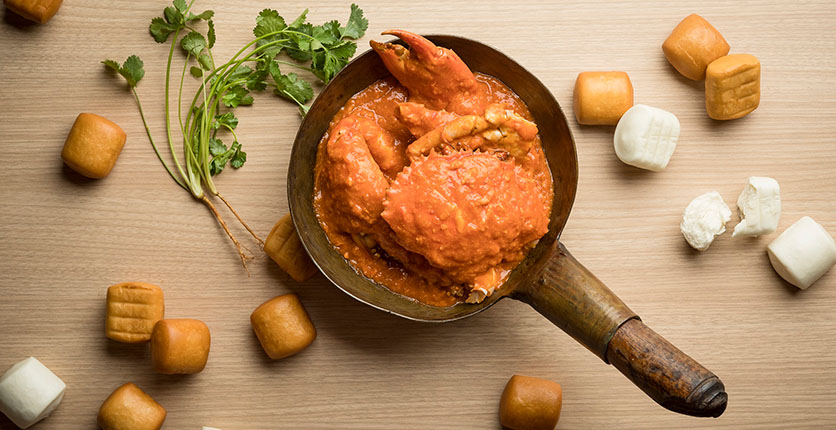 Chilli Crab
This is one of Singapore's top culinary treasures: steaming mud crabs slathered in sweet, savoury and spicy sauce, and served with deep-fried mantou. It's not just about the taste but how you eat it – dipping the marshmallow-soft mantou into the lip-smacking good sauce. Local lore has it that the first chilli crab was served up in a pushcart by Cher Yam Tian and her husband in Singapore in the 1950s. Over the years, other local chefs, including Hooi Kok Wah of the famed "Four Heavenly Kings" of Singapore, also tinkered with the dish to arrive at today's chilli crab dish.
While seafood dishes with crabs can also be found in neighbouring countries, Singapore's chilli crab is unique, explains Roy Chua, chef de cuisine at Sessions restaurant, Hard Rock Hotel Singapore. "Macau is famous for its curry crabs and Thailand is famous for its crab vermicelli, which uses fish sauce. But the ingredients used are different from our Singapore chilli crab, which emphasises a balance of sweet and spicy," he says.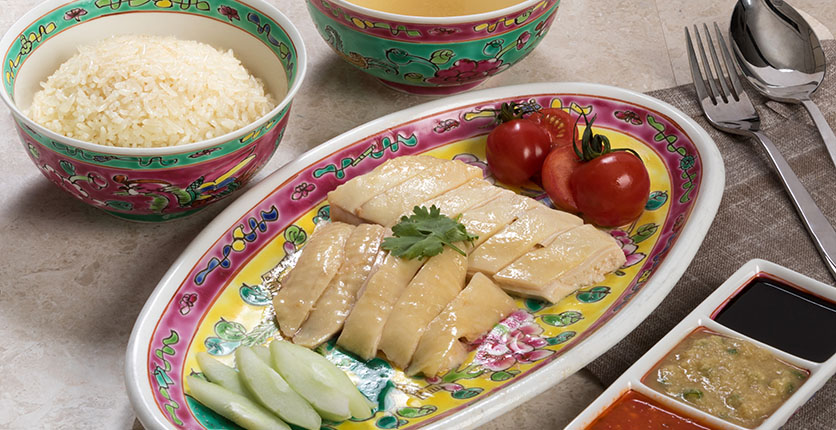 Hainanese Chicken Rice
This is another dish synonymous with Singapore, though it's somewhat of a misnomer. The dish, comprising an ensemble of poached chicken with gelatinous skin, rice and ginger-chilli sauce, is really a Singapore adaptation, as well as update, on an antiquated culinary dish from China. Shangri-La Hotel Singapore's Executive Chef Franco Brodini explains how the Hainanese chicken rice, which is considered one of the national dishes of Singapore, got its moniker. "Hainanese chicken rice is a dish adapted from early Chinese immigrants to Singapore [during the mid-19th century] who were originally from Hainan province in southern China. It is based on a well-known Hainanese dish called wenchang chicken, which is one of four important Hainan dishes dating to the Qin Dynasty," he says.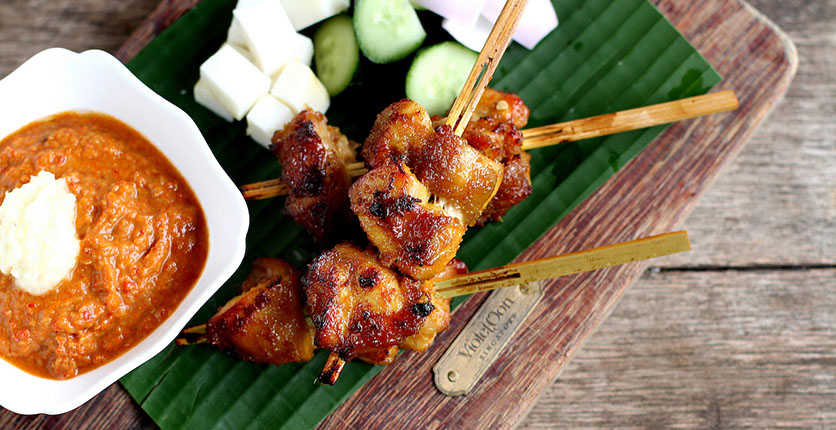 Satay
Listed by the Singapore Tourism Board as one of the top 10 must-try local favourites, satay is another Singapore dish loved by locals and tourists alike. Served up in skewers of bite-sized grilled meat – chicken, mutton or beef – the Singapore satay is distinctive for its spiced marinade, which includes raw root spices such as lemon grass, shallots and dried seed spice powders (cumin, coriander and fennel). The dish is usually paired with rice cakes and served with a peanut sauce spiced with tamarind. Violet Oon, culinary curator and chef of her eponymous restaurant group, traces the history of satay. "It is believed to be Malay in origin, but another story has it that it originated in China, as the word 'sa-tay' also means three pieces in Hokkien, and satay always incorporates three pieces of meat on a skewer," she says.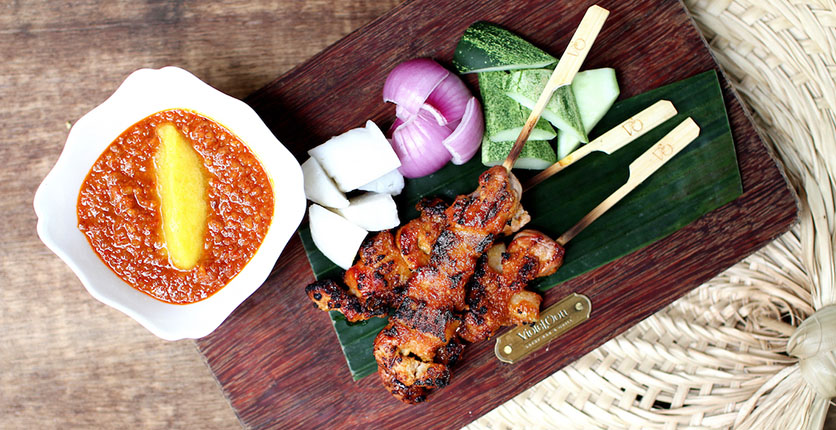 Satay clubs can still be found serving this local delicacy by Lau Pa Sat and the East Coast Lagoon Food Centre.Satay also lives on in Singapore's culinary heritage with the famous satay clubs of yesteryear. Oon says: "Satay is a dish that brings back sentimental memories, as many of us remember the days when the satay hawker would carry the two boxes of his 'kitchen', strung on both ends of a pole, which he would balance on his shoulders. And he would walk around and pitch this 'kitchen' on the grass patch or a small clearing, and proceed to barbecue the satay on the charcoal stove, which was housed in one of the boxes. We would sit around on small stools and dine under the stars, as satay was usually a night-time treat. This was how satay 'clubs' were formed, where there would be a permanent night-time gathering of satay vendors."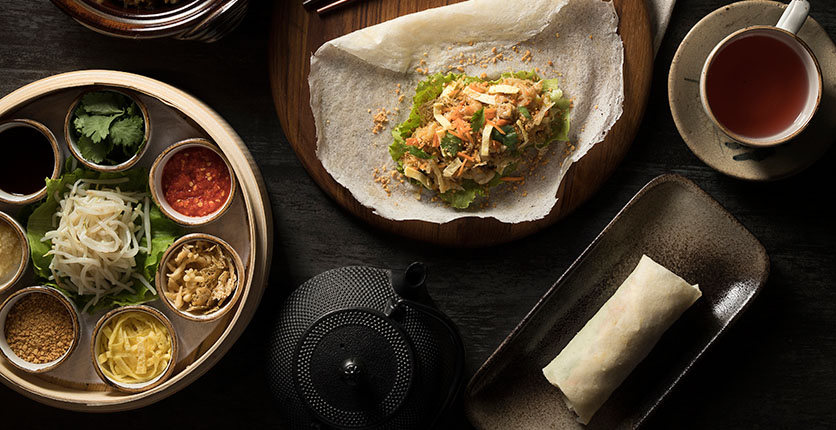 Popiah
This is another signature Singapore dish. Meaning "thin biscuit" in the Chaoshan Chinese regional dialect, it is a sweet and savoury soft spring roll made from finely grated fillings stuffed in a thin flour crepe. Chef Ken Zheng, from Po restaurant at The Warehouse Hotel, says that popiah originated from Fujian, China. "This Hokkien delicacy was brought over to Singapore by immigrants. It evolved over time, incorporating ingredients and culinary elements of various local cultures," he says. Ranked next to the other popiah variants that can be found in China, Taiwan and Southeast Asia, the Singapore popiah stands out, he adds. "The Singapore version is more Peranakan, which means it's sweeter due to a higher sweet turnip [mang kuang] to bamboo shoots ratio," he adds. "The traditional Hokkien version also has a more savoury note, with braised leeks and pork belly."