To LTC (NS) Chow Cheok Kai, chairman of the SAFRA Yishun Country Club Executive Committee, volunteers are bound not just by passion but shared interests, in an interview with NSMAN.
What is your occupation and your role at SAFRA?
As chairman of the SAFRA Yishun Country Club Executive Committee, I work closely with the team to ensure that the club is well managed and its offerings are relevant to the needs of our members.
I also sit on other committees at SAFRA. I chair the SAFRA Youth Network and SMART SAFRA [to be renamed Digital Transformation] committees, and was also in the Working Group for SAFRA Strategic Review 2019.
At work, I am head of Payment and E-Banking Operations at OCBC Bank.
What are some of the biggest challenges you've faced as part of Men of SAFRA?
SAFRA's mission is to express our appreciation to NSmen for their contributions to national defence. These men are at different stages of their lives, and have different interests and needs. It's a challenge for SAFRA to appeal to people across such a large demographic.
Tell us why volunteering at SAFRA is important.
I look at volunteering as a small way to give back to society. NSmen volunteers are important to SAFRA because they not only help to run the clubs and plan events, they also represent its target audience.
Volunteers help to provide feedback on how SAFRA is faring in achieving its mission.

How do you juggle between your career and personal life?
I think it's important to set boundaries, especially with technology that keeps us connected at all times. We have to purposefully set aside time to rest, recharge and catch up with friends and family. I try to put everything on my calendar – even lunch hour – and timebox the things I need to do.
I find that this helps me to start and end on time. It also helps me keep a balance without being sucked into a cycle where I feel I'm obliged to respond to every message at work.
How do your family members feel about your role as a volunteer at SAFRA?
They are very supportive. I have three children and bring them to SAFRA clubs and events whenever possible. They enjoy the swimming pool and Kids Amaze. These are part of the benefits of being a SAFRA member and an NSman.
Draw on an anecdote as a SAFRA volunteer that gave you the most personal satisfaction.
I think the greatest satisfaction comes from having made many friends through volunteering! I've met volunteers who amaze me with their willingness to devote their time and energy to helping make SAFRA a more attractive destination for NSmen. Curiously, after being a volunteer, I feel more appreciated as an NSman than before.
What are some of the main takeaways based on your past experiences as a volunteer?
There are multiple opportunities to learn while volunteering at SAFRA. For example, I was on the development committee of SAFRA Punggol before it was built. I had never been involved in the building of a club before. So much went into the planning of the club exterior, layout and vendor mix – it was an eye-opening experience. That was of great help when we were planning the upgrading of SAFRA Yishun.
What are some of the interesting things that people might not be aware of your role, and what do SAFRA volunteers do?
As volunteers, sometimes we have to bao ga liao. As a member of the Organising Committee for the Ultimate Voice a few years ago, I was asked to be on the panel of judges for the finals. The other judges were professionals from the music and recording industry. I'm not even a good bathroom singer; I felt a bit like an impostor.
But I rationalised to myself that if I, a layman in the industry, could appreciate the singing of the contestants, it would mean that they were really good.
Some volunteers are worried that they may not be able to juggle their time between work, family and volunteering. What advice would you have for them?
The key is not to look at it as a zero-sum game, where you need to give up something in return. Most volunteers are driven by passion or united by shared interests. SAFRA has multiple committees and interest groups. I'm sure potential volunteers will find something that piques their interest.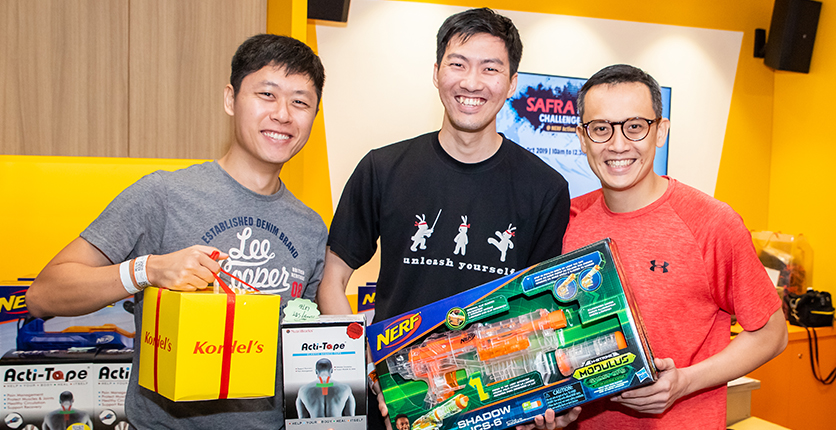 What would you say is SAFRA Youth Network's (SYNC) motto, and how does it aim to bond young NSmen?
SYNC's mission is to engage young NSmen between the ages of 18 and 35. To this end, it organises events that would appeal more to this segment, such as the Ultimate Voice, movie screenings and club events organised with our partners, and entrepreneurship talks. Just like any other SAFRA club, SYNC is driven "by NSmen, for NSmen".
With the ever-changing landscape of social media and the youth, how will SYNC reach out to them?
As the saying goes, when in Rome, do as the Romans do. Our engagement strategy uses social media heavily. Our marketing campaigns, event highlights and videos are put up on SYNC's Facebook page and Instagram to share with our followers. We have an ongoing conversation with members via these platforms, and through this, we decide on the types of events that we should organise.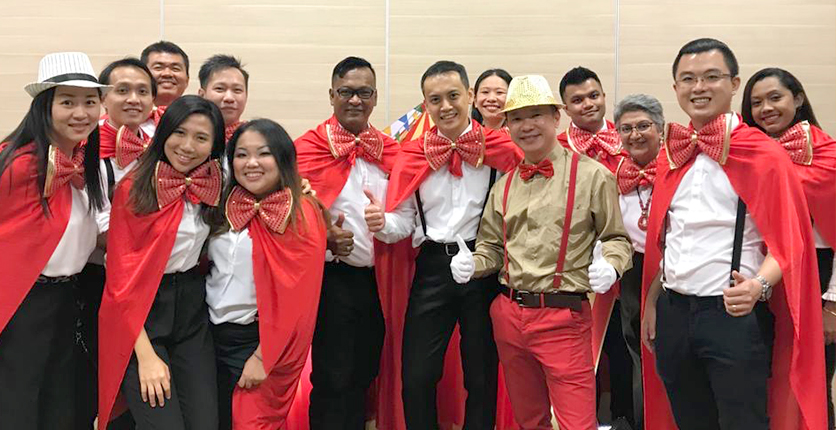 What are your goals for 2020 as the chairman of SAFRA Yishun and SYNC?
We are planning for the re-opening of the recently upgraded SAFRA Yishun, which has been delayed by the Covid-19 outbreak. I'm hopeful that the re-opening can be held later this year.
One of my focus areas for SYNC has been to increase the number of younger volunteers for two reasons: Firstly, to stay relevant to our younger NSmen, we need our volunteers to be of that age demographic. Secondly, I hope that their serving on SYNC will serve as a gateway for our younger volunteers to move into serving on other committees within SAFRA. I'm glad that we have been quite successful in these initiatives.
More reads