The March school holidays are here again! For most of us, this means planning some activities to entertain the kids and to make sure that quality time is spent as a family.
If you've exhausted almost all your options of where to bring your family to (after all, how many times can you visit the Resorts World Sentosa and Gardens by the Bay?), we have one really great suggestion for you: The Singapore Discovery Centre (SDC), and there's a plethora of activities you can explore here.
As a non-profit organization, the SDC's mission is to share the Singapore Story and inspire a desire to contribute to Singapore's future by providing a mind-and-heart-engaging, multi-sensory learning experience which spans a selection of integrated themes. According to its Executive Director, Joseph Tan, the SDC is "constantly looking at ways to make the Singapore Story relevant through the fun, exciting and interactive attractions and activities so that the public, especially the youth, are engaged and prepared for the challenges of the future."
So be sure to plan a trip down to the Singapore Discovery Centre and you will be able to discover all the engaging activities the whole family can enjoy there. Here are some of the highlights of what to expect.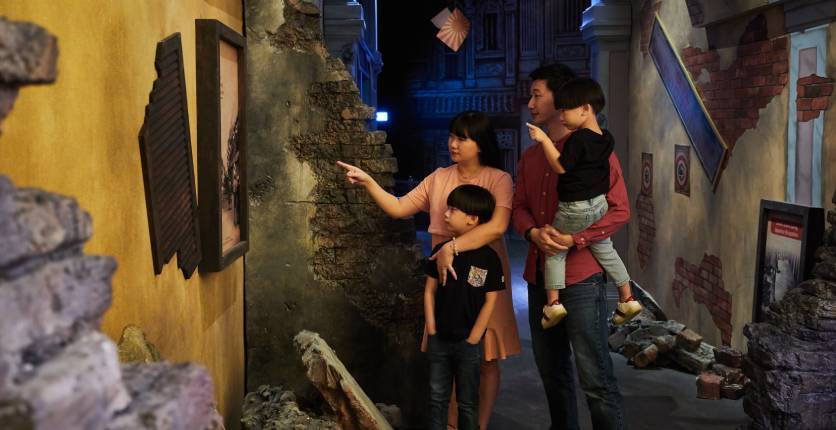 Walk Through Singapore's Tumultuous Past
Don't miss this exhibition before it ends on 28 March! Created in conjunction with Total Defence Day, the showcase of Re: Our Scars. For Your Necessary Action. at the Singapore Discovery Centre's Permanent Exhibits Gallery presents a detailed look into the past crises, challenges and adversity endured by our country.
From the horrors of wartime inflicted in the Japanese Occupation during World War II and civil unrest during the Konfrontasi era to disasters like the bombing of the MacDonald House and the Cable Car Tragedy, each portion of the exhibition is packed with facts and nuggets of knowledge which will serve to remind you of the importance of inculcating a strong Total Defence.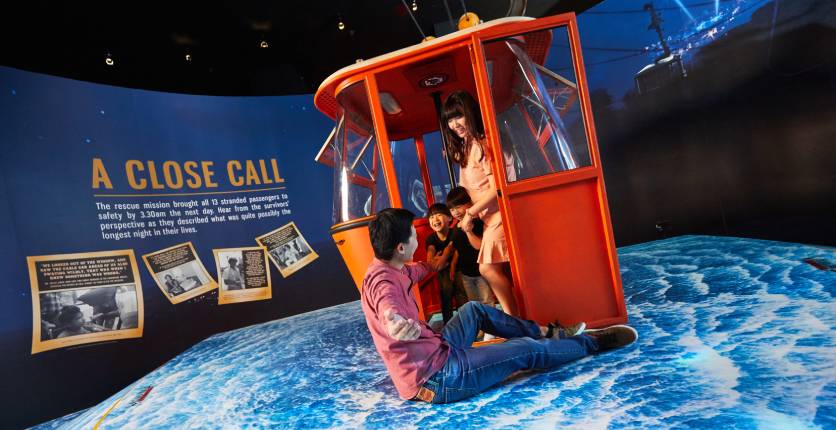 Be sure to try out all the interactive elements while you are going through the exhibition, they are really fun especially for the kids. Games such as an Augmented Reality shoot-out where you try to defend against attackers to becoming a reporter in a digital interactive screen that lets you record and play back your "reporting", can be found throughout the exhibition and makes it an entertaining way to learn about Total Defence while brushing up your knowledge on Singapore's past history.
"Our newly revamped Permanent Exhibits Gallery – Through the Lens of Time is a must-visit. It brings visitors on an immersive journey from the past to present and they can discover new stories and perspectives about Singapore through the use of enhanced technology such as Augmented Reality," says Joseph.
Read more about the Re: Our Scars. For Your Necessary Action. exhibition here.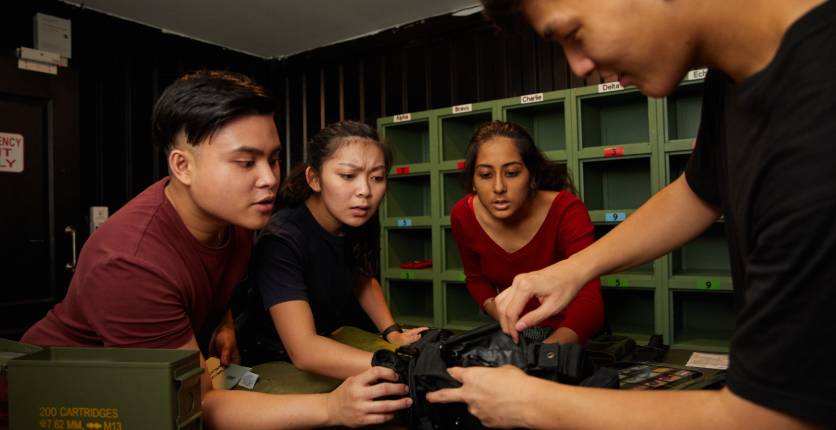 Enter An Alternative Dimension
Have you tried the fun and thrilling experience of Escape Rooms? Here's your chance to do so! Gather a group of friends or your family members and head over to the Black Lake Facility for an exciting Escape Room game. This is the largest multi-storey escape room attraction in Singapore, and you can choose from 4 themed story chapters to go through, all conducted in 13 rooms.
Making use of smart technology in the forms of motion sensors, touch sensors and UV lighting, players have to navigate puzzle pieces and try to solve the mysteries surrounding five soldiers who were sent on "Operation Onyx" – a top-secret military reconnaissance mission to an alternative dimension.
Be ready to act the roles of special agents, and go through the four chapters: The Armoury, The Medical Centre, The Research Lab and The Basement, each with its various thrill factor and difficulty level, to try and uncover what dangerous discoveries the soldiers have made in the other world.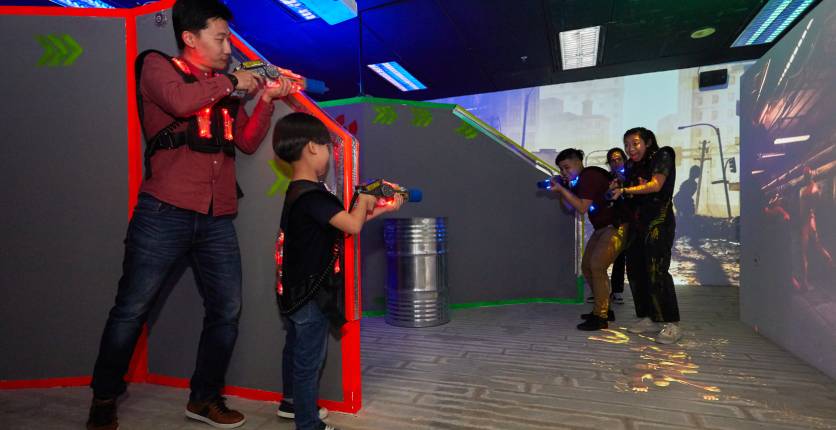 Fight Through Aliens And Monsters
Want to ramp things up to more thrilling levels? Sign up for a game of laser tag at the Black Lake Laser Battlefield after you've completed the Black Lake Facility Escape Room.
Featuring cutting-edge revolutionary projections, the Black Lake Facility offers the only laser tag games in Singapore that utilizes moving CGI Projection-mapping around the entire game-environment to recreate an immersive experience.
Here, you will be immersed into a battlefield with interactive changeable combat simulations, and experience different "worlds" during gameplay where you will encounter aliens, monsters, and zombies. Strap on the harness, grab your laser-tag gun, and get ready to have a thrilling fight with all the enemies.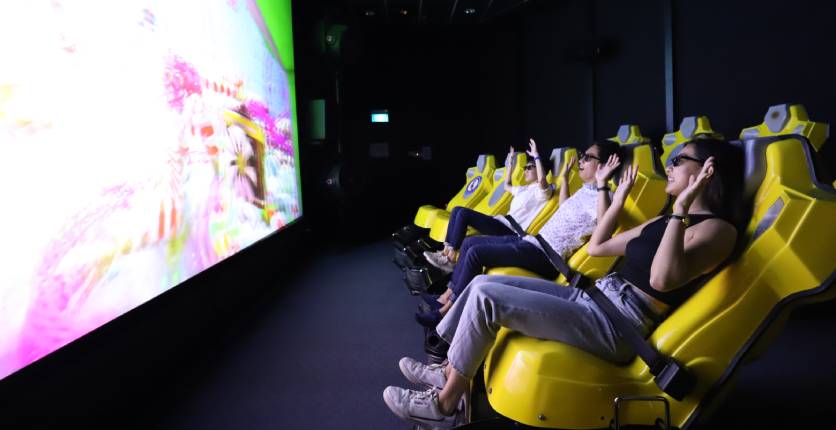 Go On A 4D Adventure
Do you love simulation rides at theme parks? Then you will enjoy the thrilling 4D simulation ride that features patented technology by Triotech at the Singapore Discovery Centre's XD Theatre. Want to feel like a superhero and jump from skyscrapers, dive into a pool and hang from helicopters? Choose the breathtaking adventure of Sky Hunt. Or prefer to immerse yourself in a fantasy fairy tale? Try PINOCCHIO – A Modern Tale 5D as you ride on board of Pinocchio's trusty hoverboard for a thrilling journey over the woods and the city, passing by the Land of Toys and Mangiafuoco's puppet theater.
If you are prone to motion sickness or prefer something tamer for younger kids, head over to the iWERKS Theatre, a 344-seater cinema which shows the latest blockbuster movies in both 2D and 3D. Right now, the theatre is showing Disney's Raya and The Last Dragon and Dragon Rider, based on the Awesome Clawsome March theme of dragons this March school holidays.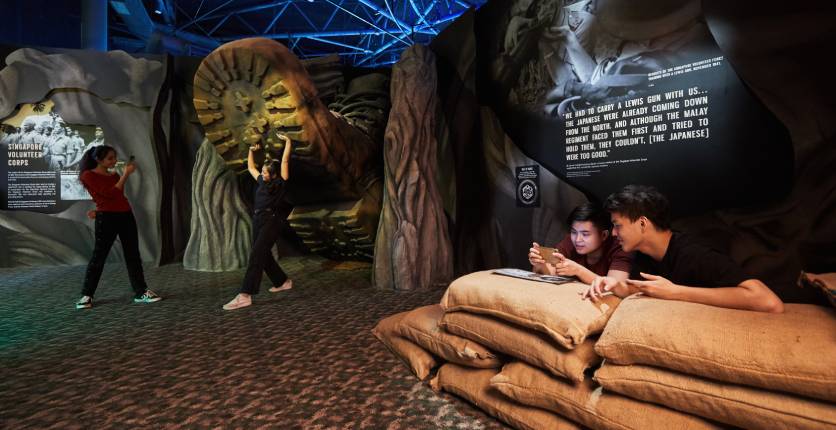 Take Part In AR Games
To further enhance your experience, you can download the mySDC app to create your own Time Travelling Avatar and explore Singapore's history through the Lens of Time. Via this app, you will be able to immerse yourself in the historic events through magical portals and augmented reality games while experiencing first-hand what it would have been like to be there.
"The mySDC App is an interactive mobile application which accompanies visitors and enhances their experience as they journey through the Permanent Exhibits Gallery. Visitors can scan the AR code dotted around the gallery and immerse themselves in the historic events through magical portals and augmented reality games. It is like being teleported back in time to witness first-hand these significant events of our history," adds Joseph.
Make your experience at the SDC even more enriching and fulfilling by downloading the app before you try any of the activities there!
More Activities To Expect In The Future
Planning to come back to the SDC again after going through all those fun activities? You will be glad to know that the SDC has planned more upcoming attractions for you. One to look out for is the Survival Village, which encompasses outdoor adventure learning and camping activities.
Also, according to Joseph, "the SDC will reopen with a refreshed lower gallery called "Sandbox" by the end of the year, which will focus on contemporary issues and how we continue to grow our resolve and guard against the fast-evolving threats, adapt to new challenges and create opportunities. Here, visitors will get to participate and co-create through group activities, discussions and AR components, in a test-bed environment that provokes action through purposeful play."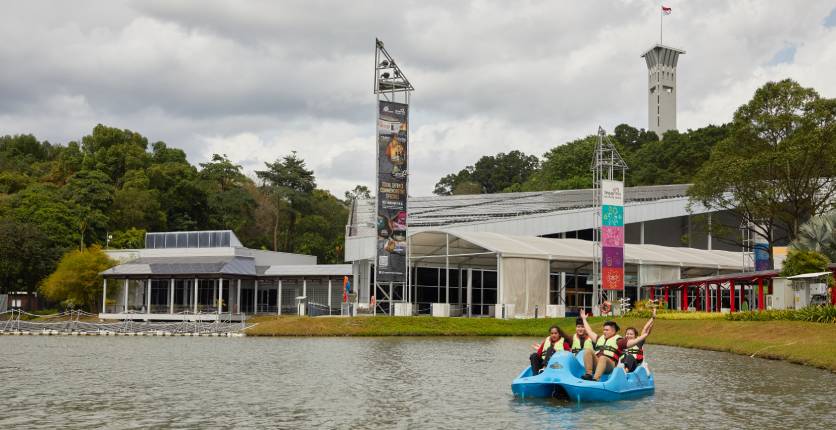 Re: Our Scars. For Your Necessary Action. is on now till 28 March 2021, 11 am to 7.30 pm from Monday to Thursday and 10 am to 10 pm from Friday to Sunday and public holidays at the Singapore Discovery Centre, 510 Upper Jurong Road, Singapore 638365. Admission is free for all.
BONUS: SAFRA members can enjoy 10% Off Escape Room, Laser Tag, Crossfire Paintball & XD Theatre Ride from now till 31 December 2021, and 20% Off Escape Room, Laser Tag, Crossfire Paintball & XD Theatre Ride from 13 to 21 March 2021, at the Singapore Discovery Centre.
The Singapore Discovery Centre is located at 510 Upper Jurong Road, Singapore 638365. Visit www.sdc.com.sg for more information.
---
Featured image: Singapore Discovery Centre