At the inaugural Student Entrepreneurship Challenge 2019, held on 24 Aug at the newly upgraded SAFRA Mount Faber, young entrepreneurs presented their technological ideas to business leaders.
Organised by the SAFRA Entrepreneurs' Club (SEC) – formed in 2011, now with a community of over 400 entrepreneurs, working professionals and NSFs – the business pitching challenge was held with the theme of "Smart Nation". Participants had to single out issues that would arise as Singapore forges towards its goal of becoming a smart nation. The teams were also presented with a certification of participation from their respective mentors.
The challenge began with a five-minute presentation by each of the five shortlisted teams, followed by a question-and-answer session with the judging panel of established business leaders. The students were judged on criterion such as relevance of highlighted problems for a smart nation, creativity of solution, opportunities and growth potential, and clarity of proposal, among others.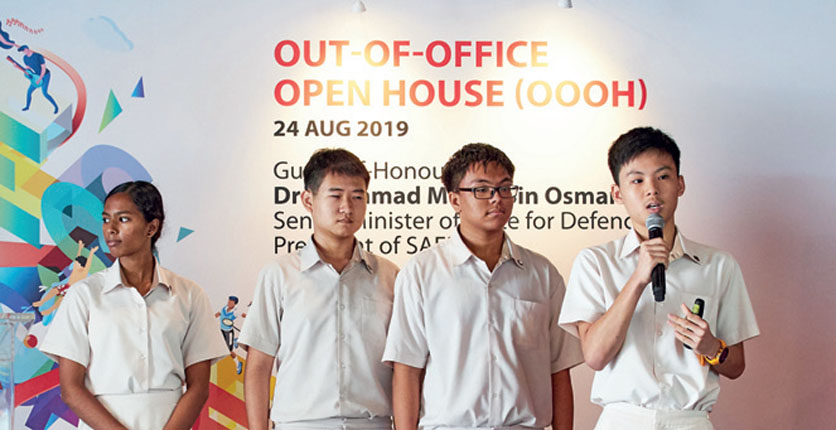 In the end, the judges picked Study App, a pitch by the team from Outram Secondary School, known for its robust entrepreneurship curriculum. The school, which has its Applied Learning Programme to inculcate entrepreneurial values in its students, regularly organises "Meet the Entrepreneur" sharing sessions, and has school bazaars as a test-market platform.
Wong Huiyi, who supervised the winning team comprising Nathanial Tan Yong En, Goh Jun Yong, Pang Hyin Han and Sebastian Wynter, said: "When students use 'design thinking' to design a product, they make decisions based on what users really want, then brainstorm and develop a suitable app that caters to users' needs."
Mentors
• Jovan Tan, Co-Founder & CEO, REAL IMPACT (SEC Committee)
• Jay Teo, Operations Director, iChef Singapore (SEC Committee)
• Zhao Dexin, Founder, Slingprint (SEC Committee)
• James Boey, Business Development Manager, ITT Corporation (SAFRA Mount Faber Executive Committee)
• Lewis Foo, Director, CFO Agri Pte Ltd (SAFRA Mount Faber Executive Committee)
Judges
• William Sim, Managing Director, Besco Building Supplies (SEA) (SEC Advisor)
• Derek Goh, CEO, Serial System Ltd (SEC Advisor)
• Jeremiah Jonathan Mark, Financial Services Manager, Prudential Assurance Co Singapore (SAFRA Mount Faber Executive Committee Vice Chairman)