As they say, the show must go on, no matter what. SAFRA Toa Payoh's annual flagship SAFRA Lil' Stars had many hurdles to cross, due to the restrictions implemented to keep everyone safe. Against all odds and with aplomb, the everpopular talent competition teased the audience with a premiere video on 9 May on SAFRA's digital platforms. Young talents were quick to register online for their annual chance to be the glittering highlight of SAFRA Lil' Stars 2020.

Talent competitions for children between five and 12 years old are usually genre-focused. Rarely does one get an event covering three talent variations, along with a family segment where parents are able to take part. This year, the event was livestreamed on the club's Facebook page, with participants taking to the stage via submissions of their performances on video. There were the three main categories of Vocal, Dance and Visual Arts, each with Solo Category A (five to eight years old), Solo Category B (nine to 12) and Families for Life Family Category, brought to you by the Families for Life Council, to inspire positive and healthy bonding in families.
Despite the difficulties of holding an online iteration, the club was determined not to disappoint eager fans. Difficulties faced included overcoming technical glitches and the niggling uncertainty of a digital iteration being as well received as its physical event. With all registration fees waived during these challenging times, SAFRA Lil' Stars saw an uptick of about 30 per cent in registration for the Solo categories, and overall participation surge from 255 in 2019 to 281 this year.
This year's vocal judges included Jade Kerr, a local singer, songwriter and vocal coach; Charles "Stitch" Wong, a Singapore Idol contestant known for his beatboxing; and aspiring singer and songwriter Louisa Kan. The panel for Dance featured Jeremiah J. Mark, John Khoo and Xue Yong Zhi, who are veterans in the dance and performing arts industry. Visual Arts was judged by Wan Shi and Darel Seow.

The champions of this year's Vocal and Dance Solo categories each walked away not only with a $200 cash prize but also a MADDspace Studio recording session for the Vocal categories worth $988, or a MADDspace Studio Dance Crew All Access pass worth $788 for the Dance categories, while the first and second runners-up each received $150 and $100 cash prizes respectively.
In the Families for Life category, where parents engaged in inspiring performances with their children, the champions were presented with $250 SAFRA Rewards vouchers, with the first and second runners-up receiving $200 and $150 SAFRA Rewards vouchers respectively.

The winners for Visual Arts also walked away with SAFRA Rewards vouchers ranging from $80 to $150 for the Solo categories, and $150 to $250 for the Families for Life Family category.
In addition, 10 Vocal and Dance Solo Category participants received a special prize of one month of MADDspace vocal or dance classes worth $3,280. Proud parent Van Siew, who with son Donovan clinched second runner-up in the Families For Life Family category, said the contest for young talent was indeed a memorable experience. "A big thank you to SAFRA Toa Payoh for believing in family bonding and discovering our young talents. Keep up the good work!" he said.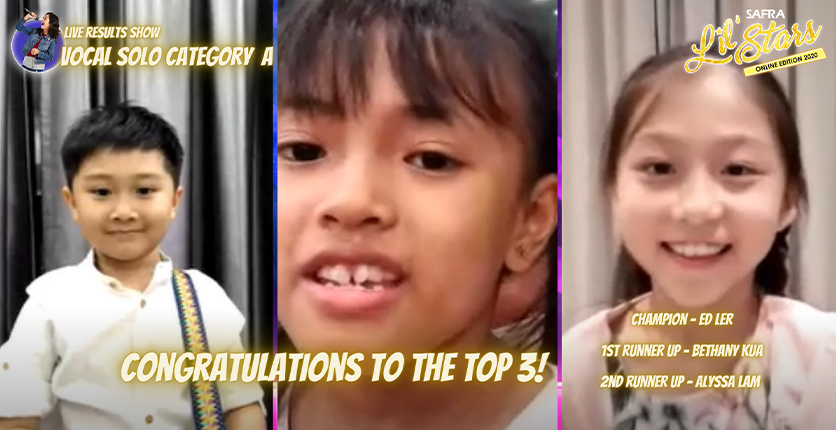 Congratulations to all the winners. The cheerful smiles of these aspiring young stars were a heartening reminder for all to stay united and safe till the world opens up again. Here's to an even more successful SAFRA Lil' Stars 2021!