Take a break from the grind with these unique staycation spots.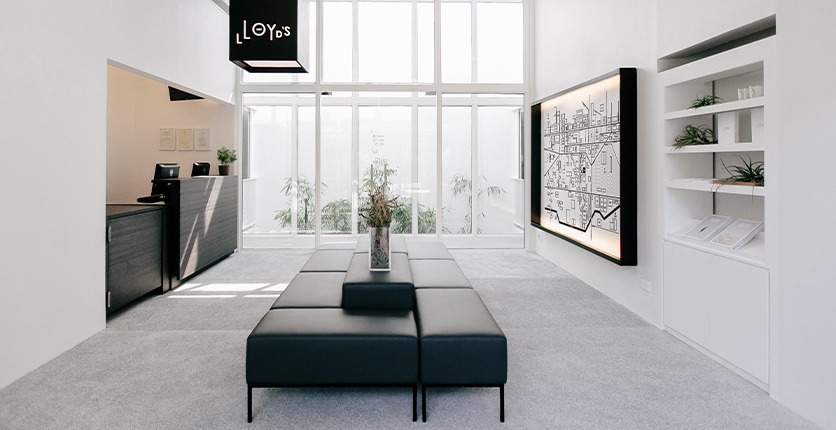 Lloyd's Inn
From S$170
2 Lloyd Road, Singapore 239091
Tel: 6737-7309
lloydsinn.com
A boutique hotel staycation for those who love the big-city bustle, Lloyd's Inn, which is a five-minute walk from Orchard Road, has 34 rooms and eight room types.
The environmentally conscious would be heartened to know that the hotel takes sustainability seriously: Guests may use their own room mugs at the 24/7 pantry where they can enjoy local drinks. Design highlights at Lloyd's Inn include a dipping pool, which looks out to lush trees, as well as an outdoor roof terrace that overlooks the street.
Flatscreen TVs in rooms also come with internet access and a keyboard that doubles as a working computer.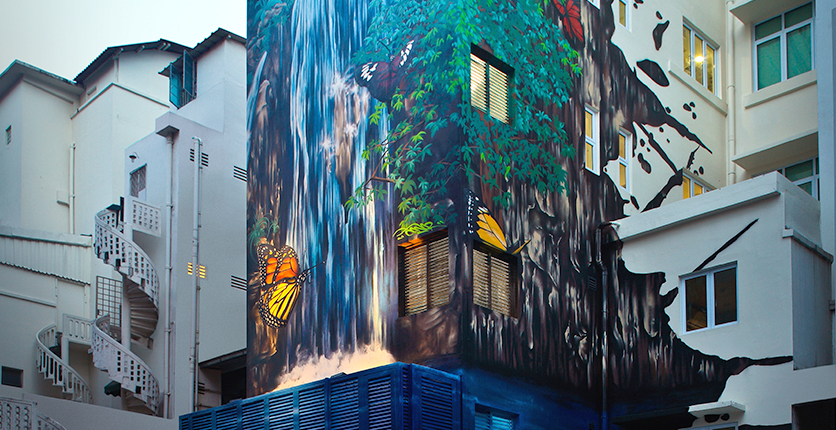 Hotel Clover The Arts
From S$170
58 South Bridge Rd,
Singapore 058689
Tel: 6439-7088
thearts.hotelclover.com
If art is your thing, check out Hotel Clover The Arts, a boutique hotel characterised by ubermodern art designs. A six-storey building in Chinatown, it has 44 individually themed rooms filled with contemporary designs, ranging from quirky 1960s-inspired pop art to modern colour schemes taken from lollipops.
Just a stone's throw away from the Clarke Quay area, the hotel allows staycationers and their families to enjoy an evening of great dining in the lively and heritage-filled neighbourhood.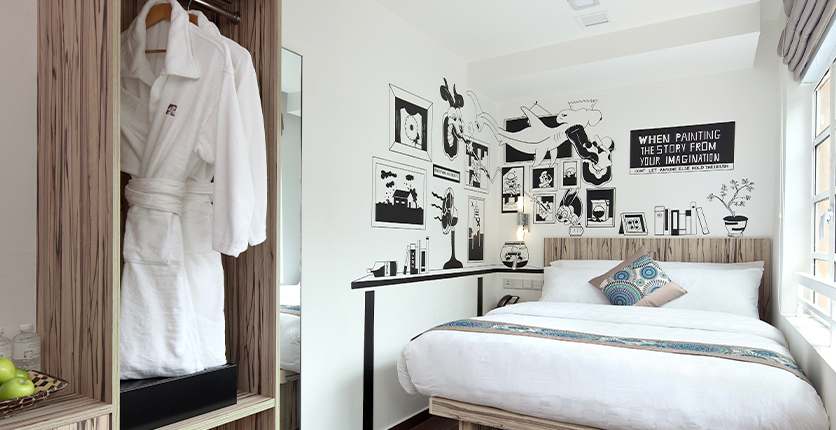 ---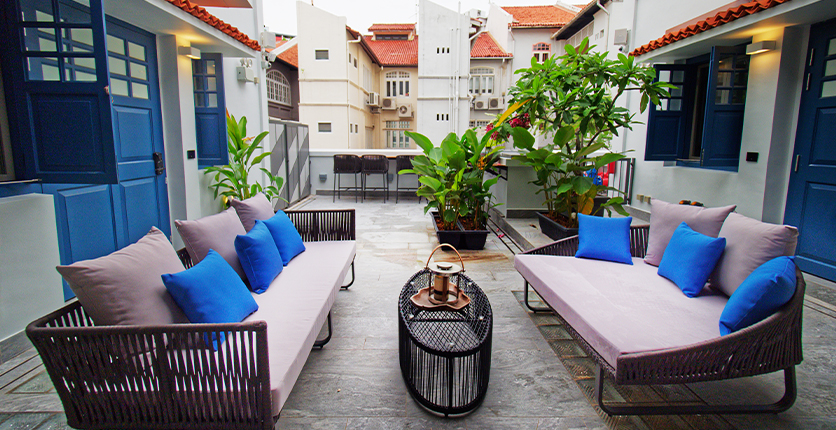 Hotel Soloha
From S$235
12 Teck Lim Road,
Singapore 088387
Tel: 6222-8881
solohahotels.com
This is a shophouse boutique hotel with urban jungle aesthetics. Its 45 rooms come with indigo blue wooden shutters, panel doors and curated forest-inspired artwork, which make them perfect trendy social spaces for mingling.
Guests who are checking in with their families can opt for lofts that feature two double beds and high ceilings, as well as suites that open out to an outdoor garden with a view of the street.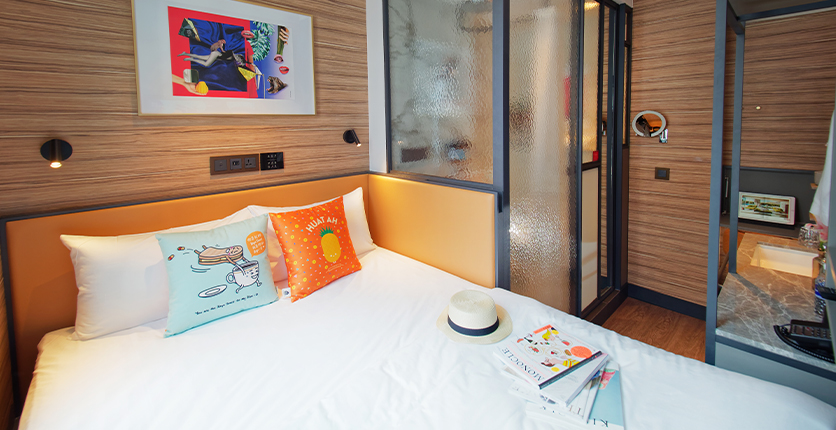 ---

Hotel Mono
From S$140
18 Mosque Street,
Singapore 059498
Tel: 6326-0430
www.hotelmono.com
Strategically located in the heart of Chinatown, this lovely boutique hotel is set amid a row of historic shophouses.
Remodelled with a sleek and modern design, Hotel Mono's buildings retain their original colonial charm with characteristic air wells and Rococo-era windows.
Staycationers can pick from 46 rooms that offer stylish comfort and respite from the city buzz, each with unique lighting bars that frame the walls. Room types range from studio and twin to double and family.
True to the hotel's name, every room has sleek, clean lines and black-and-white tones that bring out the minimalist theme of the property. Indeed Hotel Mono would make a minimalist's dream
staycation.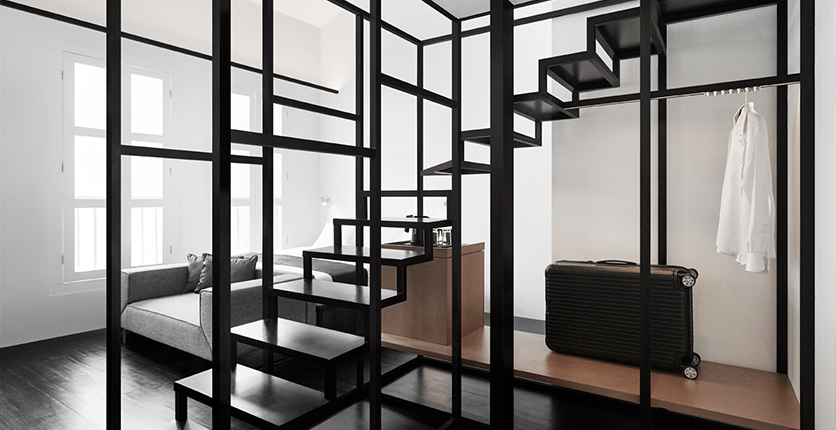 ---

Villa Samadhi
From S$360
Labrador Nature Park,
20 Labrador Villa Road,
Singapore 119193
Tel: 6274-5674
www.samadhiretreats.com
Ideal for nature and heritage lovers, Villa Samadhi is set amid the verdant landscape of Labrador Nature Park. A sanctuary of calm that is discreetly hidden from the bustle of the city, this historical boutique hotel with 20 rooms is housed in a 1920s colonial garrison.
It is perfect for staycationers who enjoy soaking up old Malayan colonial charm from a bygone era.