It came before you knew it. 2021's almost over and 2022's on our doorstep.
Which means…. party time!
But, do it safely of course. Given that restrictions are eased somewhat and we are allowed to socialise in groups of 5 (for the vaccinated folk), it is the opportune time to go out there and meet up your best buds to do some righteous (read: cool) things.
The question is, what can you do except chomp on chow with your chums? Don't worry, we've got you covered by putting together a spiffy list of how you and your Scooby Doo crew can solve the mystery of where to go and what to do.
And, like the Scoody Doo gang who travel in a van, you might like to do the same with your compadres by getting some wheels to get you to where the party's at, easy peasy lemon squeezy, without squeezing with the masses.
Try GetGo Carsharing; it's the largest carsharing service in Singapore that's available at over 800 locations islandwide. You can simply download the app to use without any deposit or membership fees.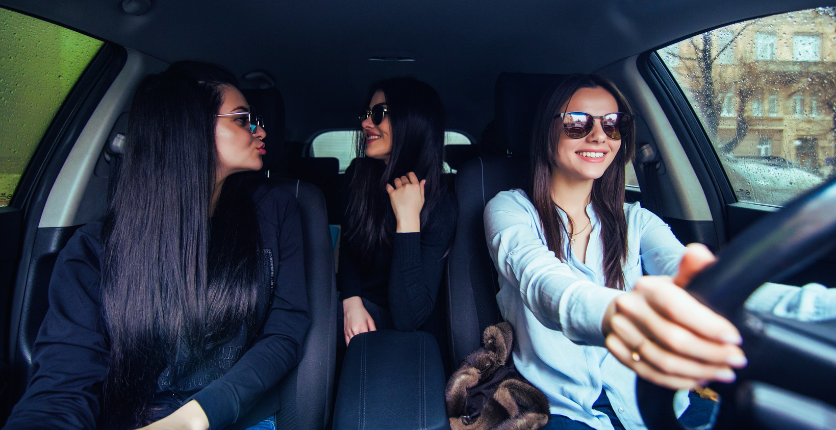 Okay, mai tu liao (popular Hokkien catchphrase for "Don't delay any more"), let's go with the 5 recommendations below for all you lots of 5 fellows.
(Also, look out for some more countdown ideas for what you can do if you intend to stay home with the fam or go out on a date with just your mate.)
BONUS: SAFRA members get 60% off (capped at $10) on your first drive with GetGo Carsharing. Click here to get the promo details.
1. Marina Bay Singapore Countdown 2022: Shine a Light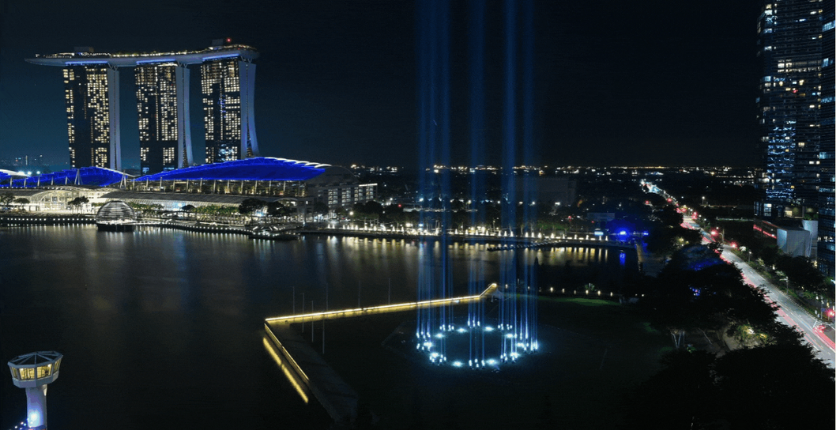 This has traditionally been the hot spot in Singapore when it came to partying with everyone else on the isle to welcome the new year. Unfortunately, thanks to the pandemic, that's not going to happen this year. Also, no fireworks, so as to avoid creating crowds (though there will be some set off across the island – read more about it in Part 2 of this series).
What will happen is Shine a Light.
A night-time display featuring 60 light beams shooting up into the sky in a circular formation from The Promontory, Shine a Light's weekly colour changes represent our strength in diversity. While it's great to gather with your awesome-foursome to wonder at this marvel (the different colours for each week run from 1 to 28 December, 8 to 10.30 pm nightly, and till 11.45 pm on New Year's eve), you ought to know about the good it will do.
The Majurity Trust is embarking on a fundraising campaign to get donors to adopt the beams, with the monies going towards 5 grants supporting various vulnerable groups in Singapore, such as youths struggling with mental health and at-risk families. Just so you know, the display will turn magenta from 29 to 31 December to "celebrate the partnerships forged between Singaporeans to create a caring, just and equal Singapore with opportunities for all".
2. Marina Bay Singapore Countdown 2022: Share the Moment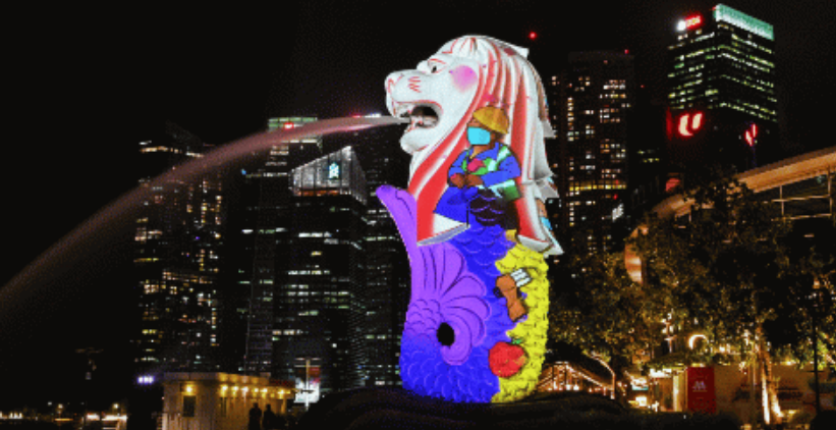 Here's another Marina Bay Singapore Countdown event that should help make your last days of 2021 more meaningfully spent with your pals.
Share the Moment is a series of light projection shows showcasing original artworks by local students, and which are inspired by the life stories of 2021's President's Volunteerism & Philanthropy Awards nominees. Which means glowing illustrations that will warm the cockles of your heart or even bring a tear to your eye.
Share in the love with your BFF-crew watching these nightly projections across the facades of The Fullerton Hotel Singapore, the ArtScience Museum at Marina Bay Sands and the Merlion from 26 to 31 December.
Find the dates, timings, locations and other details of Shine a Light here, and Share the Moment, here. Look up what else is happening for the Marina Bay Singapore Countdown 2022 here.
Various locations, www.marinabaycountdown.gov.sg; www.facebook.com/marinabaysg; www.instagram.com/marinabaysg
3. Christmas On A Great Street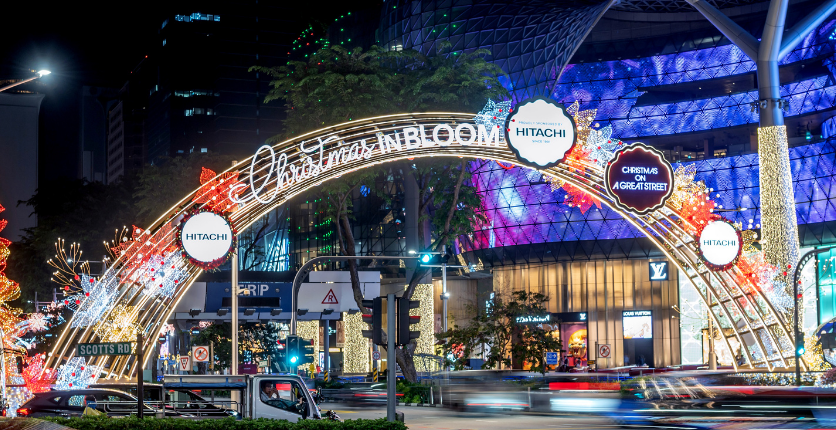 Some families and groups of friends make Orchard Road a must-visit destination during the year-end hols, all the way through to Xmas and the New Year. It may be Singapore's prime shopping district the whole year-round, but for this month and till the first couple of days of January 2022, the Orchard Road area is a magical lit-up wonderland.
It is a no-brainer for you and your circle of 5 to meet here to dine and shop the early evening away, then walk the streets to take in the themed lights-and-sights when the night falls. Revolving around the theme of "Christmas in Bloom", the decorations are all about celebrating love, hope and resilience.
This is how the magic will "bloom". First, there's the 12-metre-high main arch composed of colourful lights, and red and rose gold poinsettias at the Scotts-Paterson Road junction. Then there's the blooming white Christmas roses adorning gold light arches at the Cairnhill junction to The Atrium@Orchard stretch. And, all along Tanglin Mall to Plaza Singapura are the hundreds of neon and fairy lights, and decorations.
Look out for the ginormous 10-minute multimedia 3D and AR projection show and countdown clock, flashed across the side wall of Mandarin Orchard Singapore from 8 to 10.30 pm daily. For you and your parliament of night owls, head down on the eves of Christmas and New Year's Day, as there will be extra special countdown segments with unique content, including an augmented reality fireworks display at midnight. Just download PopAR Live from here onto your mobile phone to see all the AR  effects.
And, to tune up your days leading to 2022: specially recorded holiday carols and tunes, gently blared aloud along the pedestrian walkway in front of ION Orchard to Ngee Ann City. It's very much welcome music to the ears, since the broadcasting of such aural media in public spaces has been a no-go for years now (thanks, COVID-19).
Orchard Road shopping district (from Tanglin Mall to Plaza Singapura), https://christmas.orchardroad.org; www.facebook.com/orchardroad.sg; www.instagram.com/orchardroad.sg
4. A Universal Christmas at Universal Studios Singapore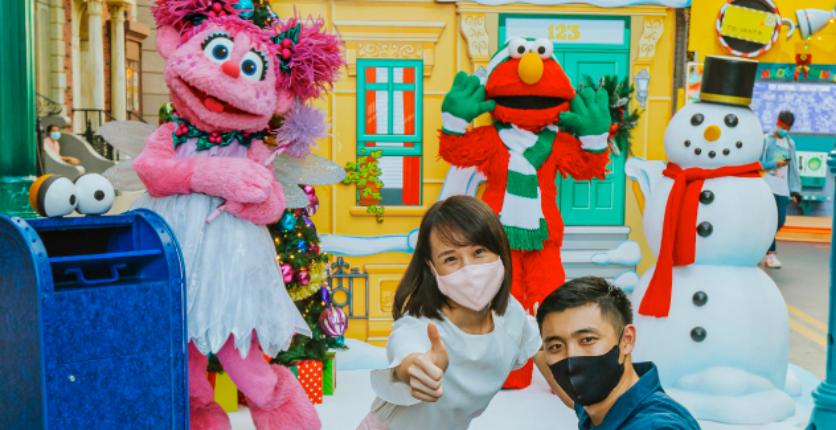 This may be another Christmas-themed event but it sure makes a jolly way to end 2021 and begin 2022. Especially if your closest friends include young nephews or nieces, or fellow young-at-heart peeps like yourself.
There's so much to experience, you might decide to spend both the Christmas and New Year weekend here. There's shopping at Universal Studios' first-ever Festive Market featuring pop-up stores selling sweets and retail treats from the likes of Le Matin Patisserie and Indocin. Then there's the Universal Rockin' Railway to follow where you and the fam-gang can look up Xmas trees inspired by blockbuster movies (we're piqued by what a Jurassic World Christmas tree's like).
Meet and greet Santa; Guy Diamond, Poppy and Branch (from the animated movie franchise Trolls) at Mel's Diner Stage; and Otto, the newest (and possibly cutest) Minion from next year's Minions 2: The Rise of Gru movie. And, say "meow-ello" to Puss In Boots, Kitty Softpaws and Humpty Dumpty (from the 2011 animated movie, Puss in Boots) at The Milk Bar. Selfies, for all, required.
And, of course, take on the many exciting rides here to scream goodbye to 2021 and shout out your salutations for 2022.
Discover what else is happening (and to buy tix and check for full-capacity dates) at Universal Studios Singapore here. 8 Sentosa Gateway, Resorts World Sentosa, 098269, Sentosa Island, www.rwsentosa.com; www.facebook.com/ResortsWorldatSentosa; www.instagram.com/rwsentosa