There's no shortage of bicycle shops where you can purchase a two-wheeler just to get around quick, easy and on-the-cheap. But, what if cycling's more a lifestyle or a serious hobby, and less a convenient mode of transport for you? Where would you go to find that one ride-or-die two-wheel companion? Here are a few cool stores – cool 'cos of the bikes, the shop space, service, expertise or even their staff's bike-loving passion and dedication – that you can skip to for a look and pedal out of after.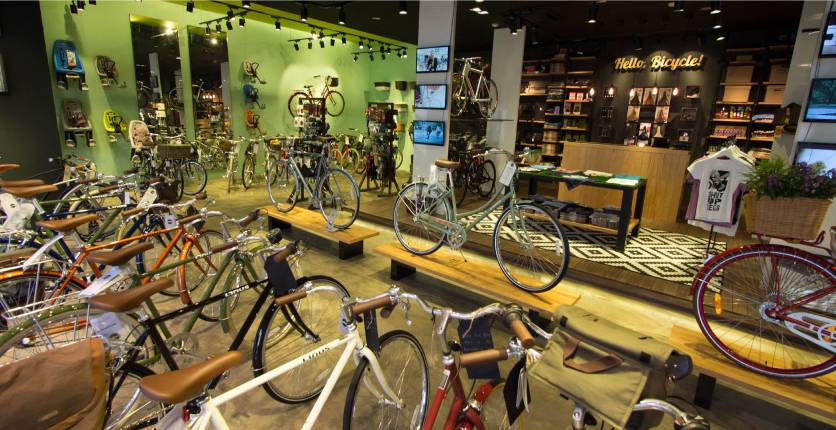 Hello, Bicycle!
Love the name, love what it offers; its large retail store and showroom that's just a short walk from the central Bugis shopping area along Middle Road has got a wide range of bicycles for everybody in the family. What caught our eye here: Shulz's suited-for-hipster-living Krabi cruiser-type folding bikes that come in Pistachio and Sangria colours; a Racing Green Lil' Roadster for the tweens by Linus; and a triangular Strida folding bike that comes with a rack that makes for a convenient stand for when the bike's folded, as well as a grease-free belt drive so you won't dirty your well-pressed pants when you ride it. The shop also provides all the necessary accessories and gear (including a great range of child seats). Another plus: It has a rental point and service centre that's located just behind its showroom if you need to rent or fix a bike.
135 Middle Road, Byland Building,#01-01, 188975, and 261 Waterloo Street, Waterloo Centre, #02-03, 180261, hellobicycle.com.sg; www.facebook.com/hellobicycle.sg; www.instagram.com/hellobicyclesg
---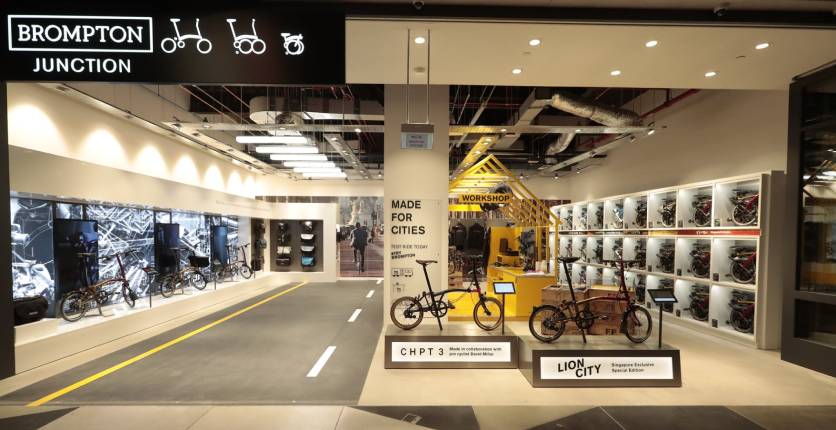 Brompton Junction
If you know your urban bikes, then you would know of this iconic British folding bicycle brand. Super compact when folded, durable, light and comfy (also, a recognised brand name), these bikes are now easy to get in SG with the opening of its 16th Brompton Junction store in Funan Mall. Aside from being able to view the latest Brompton products, exclusive limited editions and experience its interactive bike build facilities, you also get expert bike servicing and consultation on buying a bike. But, note: Make sure to book an appointment ahead to visit the brightly-lit store. But, also note: They are providing a free phone or email consultation with free home delivery if you're too lazy to traipse down physically – service that's the pinnacle of professionalism and coolness.
107 North Bridge Road, Funan Mall, #01-26, 179105, sg.brompton.com; www.facebook.com/bromptonjunctionsg; www.instagram.com/bromptonjunctionsg
---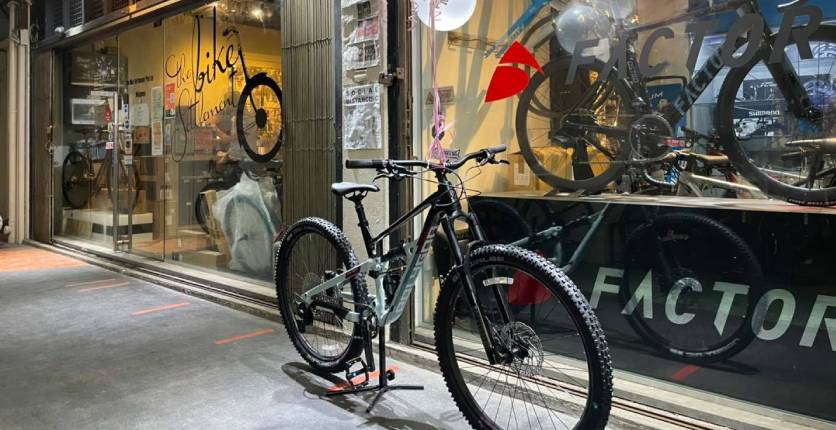 The Bike Settlement
This is where you wanna go if you want to rifle through loads of bicycle-related stuff, from apparel to footwear, maintenance products to replacement parts – it even has a presence on Lazada and Shoppee selling all their accessories and equipment. As for the bikes, there's the colourful Mint brand folding ones, Polygon mountain bikes, Joker Kangaroo Mini Velo bicycles (the Hello Kitty limited edition – love!) and RoyalBaby training four-wheelers for the growing tykes.
261 Waterloo Street, Waterloo Centre, #01-06, 180261, www.thebikesettlement.com; www.facebook.com/thebikesettlement; www.instagram.com/thebikesettlement
---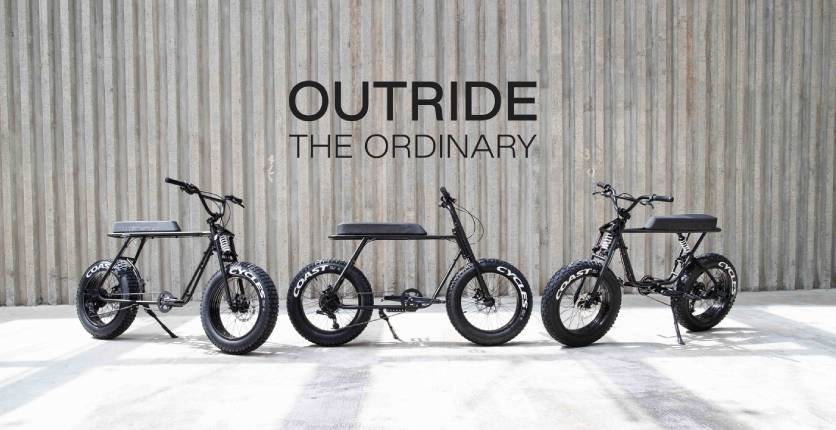 Coast Cycles
Looking more like actual road motorbikes than bicycles, are the sleek wheels of homegrown lifestyle bicycle brand Coast Cycles. Ergonomic, edgy and made to cruise the streets, these bad boys come in mainly black or white, with the most popular being its series of award-winning bicycles called Quinn, Buzzraw Classic and Buzzraw X. Even its one-off fat bikes have awesome names like Juggernaut and Goliath 20", with the latter coming in sunburst orange and teal blue versions, and the latter with stealth black and neon yellow options. All these "designer-works" are displayed in a two-storey Siglap shophouse that's also done up in a minimalist ebony and ivory aesthetic.
54 Siglap Drive, 456176, sg.coastcycles.com; www.facebook.com/CoastCycles/; www.instagram.com/coastcycles
---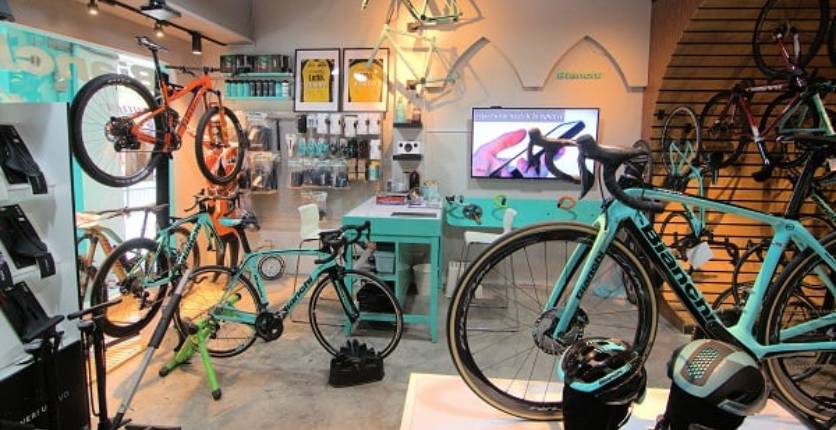 BYX
Proud purveyor of Italian brand bicycles such as Basso, Bianchi and Wilier Triestina, BYX (pronounced "bikes") is a biz that's founded by cycling enthusiasts who wish to (according to its website) promote cycling for "[a] healthy lifestyle, family and community activities and as a viable green solution to road congestion and pollution in Singapore and elsewhere." A cool mission that's supported by a crack team that currently comprises Sam the store manager, Adrian the retail specialist, Robert the chief mechanic and Jacky the electronic shifting specialist (and also, mechanic). You can even see their mugs on the site – that's how friendly they are.
403 River Valley Road, 248301, www.byx.com.sg; www.facebook.com/Byx.singapore; www.instagram.com/byx_singapore
---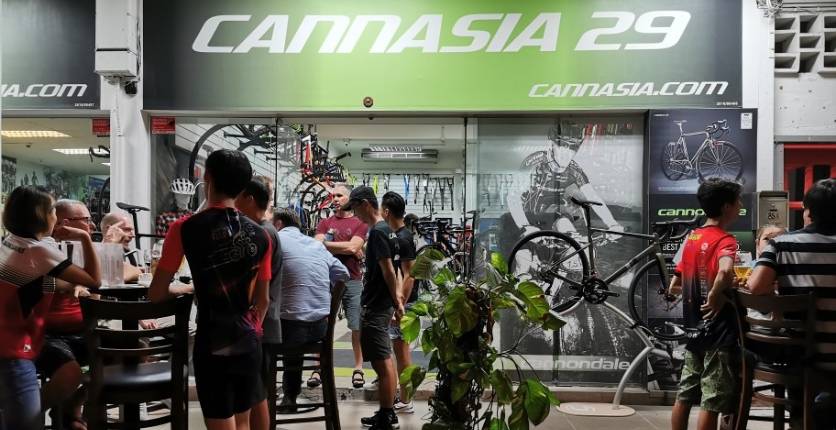 Cannasia
This one's for the serious pedallers. Cannasia's the official authorised dealer and service centre for Cannondale, one of the world's premier bicycle brands, and Orbea, the second oldest bike manufacturer in existence. So yes, if it's speed and performance that you want in a bike, head to this store in the East. While here, you can check out its repair and servicing packages, as well as its Guru Dynamic Fit Unit 2.0 experience to see what kind of bike fit suits you best.
83 Frankel Avenue, 458211, cannasia.com; www.facebook.com/CANNASIA.SG; www.instagram.com/cannasia
---
Featured image: Shutterstock