How much would you forgo to live the sustainable life? By refusing to take plastic straws and single-use cutlery? Or by remembering to recycle the soft drink cans and mineral water bottles you can't stop buying? Or even give up a successful advertising career and move back to Singapore to become a farmer?
The last option may sound extreme but Bjorn Low opted for it six years ago. Bjorn is the co-founder of Edible Garden City, an urban farming social enterprise that aims for sustainable food production in a country where 90 per cent of what is eaten is imported. Bjorn, 37, gave up a high-flying job in London to return home to Singapore, where he commits himself, his wife and two young sons to living sustainably and closer to nature.
It hasn't always been easy, but today, through Edible Garden City, he designs and builds garden farms to supply herbs and vegetables to restaurants like the hip Open Farm Community in Dempsey Hill. His urban farms can be found in large open spaces like Hort Park, and smaller rooftop plots seen at Wheelock Place and Raffles City.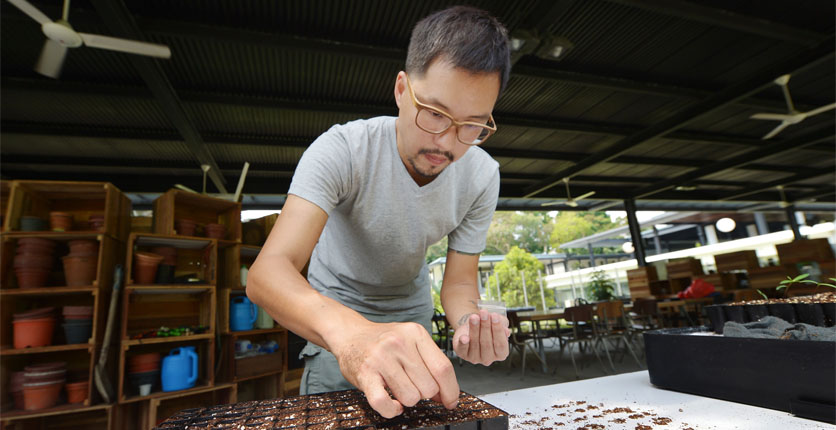 His passion not only produces leafy vegetables but also altruistic results. These green lungs in the city generate food as well as jobs for vulnerable individuals, including those with autism. Others also benefit from Edible Garden City's programmes – from seniors and prison inmates to pre-dementia and psychiatric patients, as well as students with special needs, with each trained in farming techniques for therapeutic or employment purposes.
And that is because through his urban farms and gardens, Bjorn practises therapeutic horticulture and care farming. In other words, a patch of soil with plants is transformed into a healing space for the community. His altruistic efforts have not gone unnoticed. He is supported by a grant from the Singapore Centre for Social Enterprise. He was also one of 11 nominees for the 2018 Singaporean of the Year Award, which honours extraordinary acts of goodwill, ingenuity or perseverance by those who have made a positive impact.
So when and why did this exemplary NSman decide to march down the road towards a consciousness for the environment? How are his urban farms making an impact on Singapore's food needs? Bjorn shares his thoughts while reflecting on how Earth Day and World Water Day motivate a modern society to think about its future.
NSMan: What was your experience in National Service like?
Bjorn: I was enlisted in 2001 and was posted to SISPEC, the School of Infantry Specialists. I completed my Basic Section Leader Course but, due to an injury, was unable to go for my Advanced Section Leader Course, and was posted to HQ Commando instead. I was initially eager to complete my NS so that I could enter the workforce. However, I found that I could still put to good use my time in the Army by applying the knowledge I had acquired.
I learnt logistics and manpower skills from my NS attachments and further pursued my sporting interest in swimming by representing the Commando team in the inter-formation swimming competition. Looking back, the experience in NS gave me good insights into what makes a good leader and allowed me to gain practical management experience before I entered the workforce.
How and when did you become environmentally conscious?
Being outfield and in nature was something that triggered my love of nature. The impermanence of the environment made me realise how fragile nature can be. When I was working in the UK, I was exposed a lot more to the great outdoors and the beauty of the English countryside, which led me to pursue my work in sustainable agriculture. Over the years, the media has also brought much attention to our troubled planet and the need for countries to work together for a sustainable future. These motivated me to seek to live a life that is light on the earth. It is something which we try to practise as a family.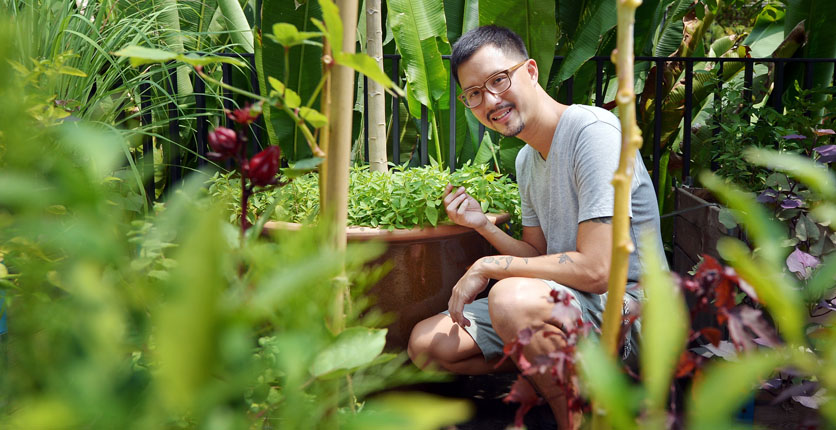 How does urban farming contribute to sustainability?
Urban farming is a push to look at food security challenges in Singapore by exploring pockets of under-utilised spaces to build farms. By bringing the farms closer to the community, we are able to start the conversation of local food production with the community, and get them involved and trained, so as to be able to function in an urban farming industry when the need arises and when our food supply is threatened.
The urban farm also serves as a touchpoint for the community to learn about other related topics on sustainable living in the city through the various programmes and workshops that we run.
How have your green efforts changed you and Singapore?
Seven years ago, there were only two urban farming social enterprises in Singapore – us and Comcrop. Today, there are more than 10 urban farming operators in Singapore with AVA licences to operate urban farms. The industry is well and truly taking off, and we are delighted that it has since become mainstream as it will take a collective effort by the industry to bring us to a more food-secured future.
In reaching out to vulnerable groups, do you consider sustainability as being related to social responsibility?
Care for the land, care for the environment and care for the people and the community – that is what urban farming represents. It is a model that we hope is adopted by all the urban farming operators in Singapore and in the region. As urban farms operate in dense urban areas, it is important that they also serve the community. Thus, social responsibility has to be built into the model of urban farms. How can Earth Day, Earth Hour and World Water Day motivate a modern society to think about its future? These initiatives are all working towards building awareness and leading to a more sustainable future.
They are important as they constantly remind people of how fragile the planet really is. These events also serve as a platform for like-minded people to come together and to establish a community, so that they can continue to work on issues close to their hearts long after the event has ended.