Now that we are starting to have our meals at home yet again, the chef of the fam might just be sweating it out more in the kitchen. Reward them (or yourself and everyone else close to your heart, just because) with some cakes or their baked goods of choice. Try the ones from the 4 bakeries here; if nothing else, their after-meal or teatime confections (made more delish with some special SAFRA deals) are always welcome for adding some delight and excitement to a day of WFH or staying in.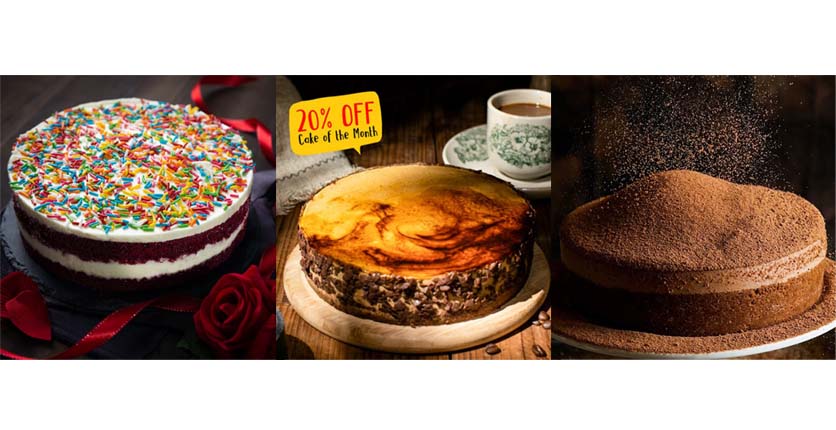 Whole cakes from Cat & the Fiddle
Self-satisfying baked goods "experts" (as in those who go about finding the best-est and sweetest confections to gobble up) will have definitely eaten a slice of classic New York cheesecake (or a dozen), and would definitely know of the award-winning pastry chef Daniel Tay and his famed cheesecake biz, Cat & the Fiddle. Even if you don't (or just haven't tried any of Tay's creations), then wait no longer. There are time limited promotions on some of his whole cakes (read below) that you need to take advantage of now (or till 31 August 2021, 'cos that's when they expire). These are the three to order stat: Red Riding Hood (900g; $48.90), a cocoa-flavoured red velvet cake with lots of colourful chocolate rice sprinkled on top; Paws of Fury (900g; $48.90), a Yuan Yang Coffee and Tea cheesecake that's three parts Arabica coffee and seven parts Hong Kong-style milk tea; and Milo Dinosaur (850g; $45.90), the SG-favourited iced Milo dessert drink manifested in cake form.
Cat & the Fiddle, multiple locations, www.catandthefiddle.com; www.facebook.com/catthefiddle; www.instagram.com/catandthefiddlecakes
Bonus: SAFRA members get to enjoy 50% off Red Riding Hood whole cakes, and 20% off Paws of Fury and Milo Dinosaur whole cakes. Click here for more information.
---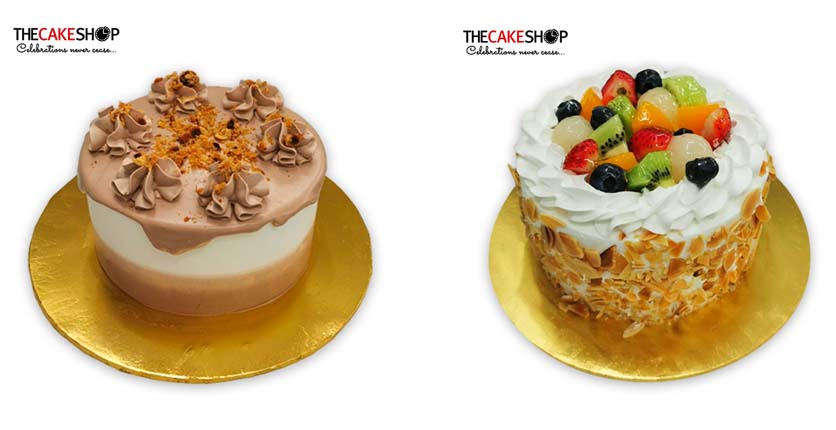 All things cake from The Cake Shop
If you have zero clue on what cake to get, or just want a baked goodie of any kind to end the day on a sweet note, The Cake Shop is your go-to. And, if its physical outlets are not close to where you are, you can always choose to visit its huge online store. There's more than enough confections here to make your day, every day, for a whole month of dining at home; you just need to take the time to peruse and order ahead. A quick click-through unfurls a mega-buffet level of sweet creations: Fruity Fantasy and Hearty Hazelnut eggless cakes, durian puffs, a handcrafted 3D MSW (Mao Shan Wang) Durian Cake creation that looks like the actual fruit, Tea Time Bundles for every budget, pretty photo print cupcakes, and lots, lots, more. Watch your wallet and your diet when visiting.
The Cake Shop, various locations, www.thecakeshop.com.sg
Bonus: SAFRA members get to enjoy 10% discount or 15% discount on a birthday month, at The Cake Shop. Click here for more information.
---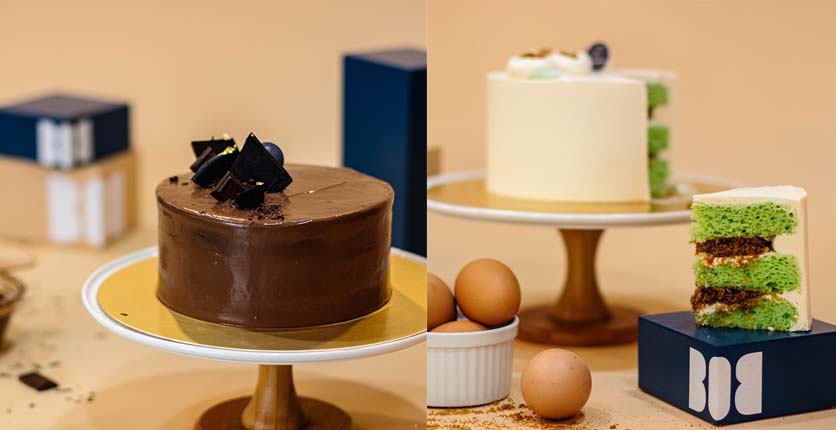 Healthier bakes from Bob the Baker Boy
Unfortunately, there's such a thing as having too much cake, 'cos that would be bad for your health and weight. So, how does one, literally, can "have your cake and eat it too"? By trying out the healthy and diabetic-friendly flavoured ones from Bob the Baker Boy. Said to be SG's leading healthy customised cakes specialist, it's known for using soft chiffon cake layers and making customised creations that are 30 to 50 percent lower in sugar than regular ones. But, that doesn't mean the quality or flavours are compromised; in fact, there are enough flavours to suit the taste buds of all the sweet-toothed ones out there. There's its moist Signature 55% Belgian Chocolate Cake and a Light Japanese Strawberry Shortcake with farm-picked sliced strawberries, these are favourites with the ladies and are diabetic- and kid-friendly. For the vegetarians, there's a Sea Salt Chocolate Cake that comes with crunchy Varlhorna choco balls, a Cookies And Cream Overload Cake that features fresh cream cheese mixed with loads of crushed cookies, and the Signature Pandan Ondeh Ondeh cake that's a fluffy pandan cake layered with sweet, fragrant gula melaka (all from $59.90 for a 6-inch standard size). While a visit to its brick and mortar store is by appointment only, Bob the Baker Boy does offer varied island delivery options for your convenience. So, yes, you do and can have your cake and eat it too, at home and without guilt.
Bob the Baker Boy, 369 Sembawang Road, #01-03, 758382, https://bobthebakerboy.com; www.facebook.com/bobthebakerboy; www.instagram.com/bobthebakerboy
Bonus: SAFRA members get to enjoy 10% off all items at Bob the Baker Boy. Click here for more information.
---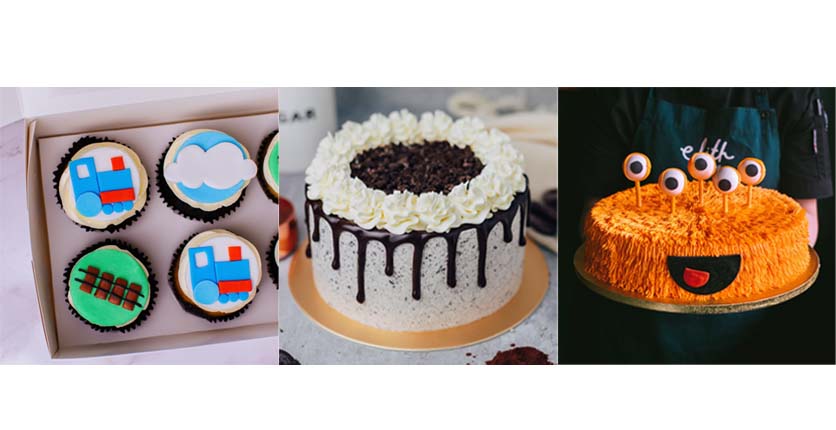 Kind creations from Edith Patisserie
There's much heart behind this bakery; the biz is named in memory of co-founder Ethel Tan's mother, who passed on while she was just 18, and has supported many charities and causes over the years, such as sponsoring bakes for Samaritans of Singapore's International Survivors of Suicide Loss Day (ISOS) and its 50th Anniversary Charity Gala, raising funds for the Cat Welfare Society through sales of mini cat-themed cakes and providing cakes to The Salvation Army for the birthday celebrations of at-risk youths in the organisation's care. It's wholesome goodness that's also apparent in the taste of its bakes. Our top choices: cute Train Cupcakes ($27 for a box of six) that has 30% of its gross proceeds donated to the Children's Cancer Foundation (CCF); its July Special, a Gianduja Cookies & Cream Cake ($52) that's stuffed with Oreo filling, Oreo buttercream and Oreo crumbs; its orange 5-Eyed Monster Cake ($74.90) with 5 googly fondant eyeballs; and any of its bestselling brownies, blondies, cupcakes and tarts treat boxes (from $3).
Edith Patisserie, various locations, www.edithpatisserie.com; www.facebook.com/edithpatisserie; www.instagram.com/edithpatisserie
Bonus: SAFRA members get to enjoy 10% off online bakery pre-orders at Edith Patisserie. Click here for more information.