Though we grow into adults, it does not necessarily mean that we outgrow the fun we have with toys. Whether it is nostalgia, a fondness for life's simpler pleasures or that we simply want a collecting hobby to make us happy, miniature figurines are becoming even more popular than ever with children, teenagers and adults of all ages.
Usually made of vinyl or other forms of plastics, these collectibles are almost universal in their appeal; relatively affordable (they hover below the $15 mark), characterised by some form of "cuteness" (sizing and design) and produced in all kinds of designs and styles, we now appreciate these toys for their aesthetics, taking pride in placing our favourites and rare finds on our shelves instead of playing with, then stowing them away. And if you are late to the game, don't worry; take your pick from these 6 latest releases to help start on your own collection.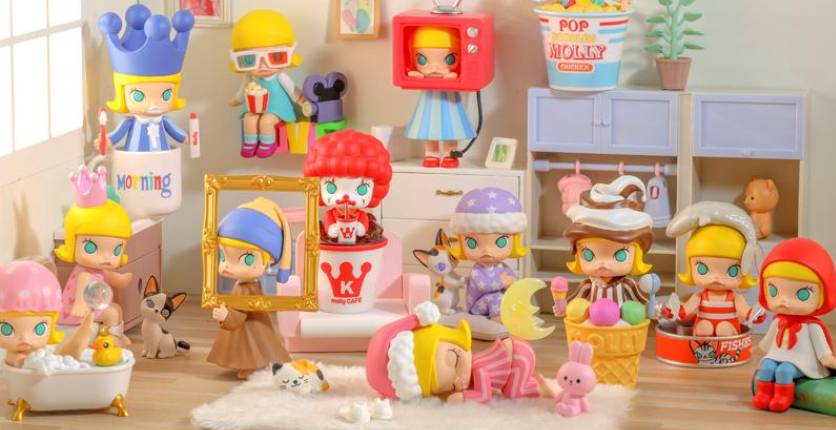 One Day of Molly Series, $13.90, POP MART x Kennyswork
If you haven't been following the toy biz, POP MART is the current king of toys in China, selling mainly mini figurines made from materials such as polyvinyl chloride (PVC) and acrylonitrile butadiene styrene (ABS), and packed in blind boxes (opaque packaging that hides the toy within). And Molly, is arguably the Queen diva of its toy lines. Launched in 2016, the "stubborn, adorable, smart, proud and fun" (as described by her creator, Hong Kong designer Kenny Wang) retains her popularity crown with the latest One Day of Molly series. Buy Molly, see Molly and follow Molly as she poses asleep; with 3D glasses and popcorn at the movies; and even on the toilet bowl (sitting cute and regal, but of course).
Available at POP MART Singapore outlets, multiple locations, popmart.sg, www.facebook.com/popmartsg, www.instagram.com/popmartsg; and ActionCity stores, multiple locations, www.actioncity.com.sg, www.facebook.com/actioncity.com.sg, www.instagram.com/actioncitysg
---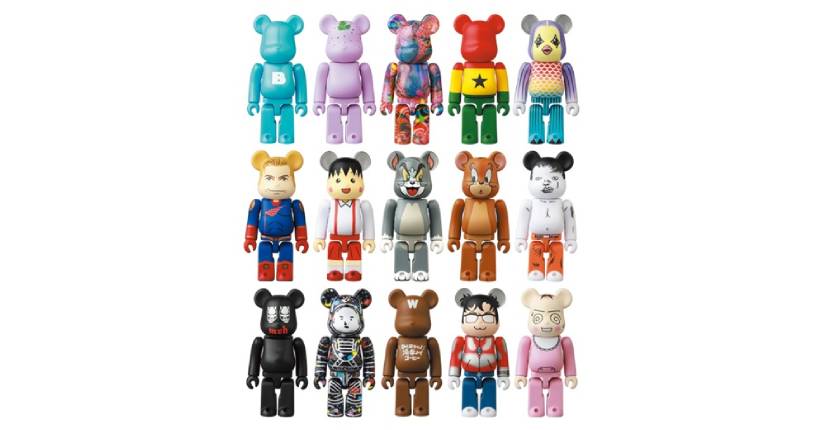 BE@RBRICK Series 41, from $7.90, MediCom Toy
One of the OGs of blind box miniature toys heads into series 41 after first having seen the light of day some 21 years ago. And the 7 cm bear figurine still rocks. In its 15-design line-up of 100% Bearbricks (they range from 50% minis that are 4-cm-short to 1000% "statues" that are 70-cm-high) are an electric blue Basic; the fashion brand Billionaire Boys Club's Artist design; a version depicting Homelander from Amazon Prime Video's superhero series, The Boys; and retro cartoon characters, Tom and Jerry!
Available at ActionCity stores, multiple locations, www.actioncity.com.sg, www.facebook.com/actioncity.com.sg, www.instagram.com/actioncitysg
---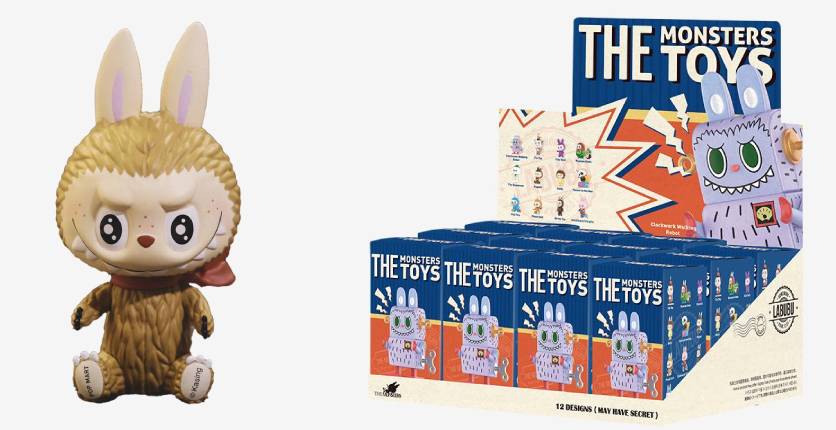 The Monsters Toys Series, $13.90, POP MART x How2work x Kasing Lung
First, a little background about The Monsters. Created by Belgium-based Chinese artist and children's book illustrator Kasing Lung in 2015 as part of The Monsters story series, the vinyl figures (mainly of the characters Labubu and Tycoco) were designed and launched by Hong Kong toy company How2work in the same year. Fast forward some 6 years and 300-plus versions later, and we arrive at the latest "Toys" series, launched in December 2020. And what a nostalgia-filled collection it is.
This time, Labubu and friends are depicted as classic vintage toys: from Russian nesting dolls (there's two figures boxed up together, with one standing at just about 1 1/2 inches tall) to a Jack-in-the-box (renamed Tycoco in the Box), to wind-up tin toys (such as a robot and a soldier-drummer). As with each series in The Monsters collection, the 12 (plus 1 secret) figures are packed in blind boxes, meaning you won't know what you bought until you have opened the packaging, with each figure coming with its own character card.
Available at POP MART Singapore outlets, multiple locations, popmart.sg, www.facebook.com/popmartsg, www.instagram.com/popmartsg; and ActionCity stores, multiple locations, www.actioncity.com.sg, www.facebook.com/actioncity.com.sg, www.instagram.com/actioncitysg
---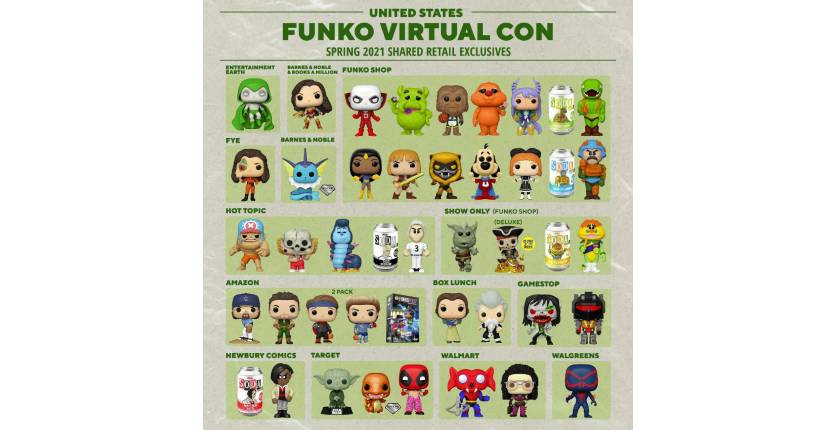 Funko 2021 Virtual Con Spring Convention Limited Edition Exclusive series, from $25.90, Funko Pop!
While not quite as hot (it reached its peak about 2 to 3 years ago here in SG) nor as small (a standard- sized version stands at 10 cm) as POP MART's figurines, Funko Pop!'s vinyl figures are still popular collectibles with a sizeable number of fans. Just launched on 4 March is the Funko Convention exclusives, which feature either one-off characters or new and limited versions of existing ones.
Who's (or is it what's?) on the list: Garbage Pail Kids' Bony Tony; One Piece's Buffed Chopper; DC's Wonder Woman with Tiara Boomerang (Metallic); WandaVision's Billy & Tommy (sold as a pair); and Star Wars' Yoda (Military Green) among others. Last we checked, there were some 19 figures launched, with pre-order options still available for most of them. But, make your decision on what (or is it who?) to get fast, since they are limited in number, in high demand, and each customer is allowed to buy one per design only, plus you need to pre-order via the SG official authorised seller's websites and no walk-in purchases are entertained. So scramble!
Available for pre-orders only at simplyfunko.com (www.facebook.com/FUNKOSG, www.instagram.com/funkosg); and simplytoys.sg (www.facebook.com/SimplyToys, www.instagram.com/simplytoyssg)
---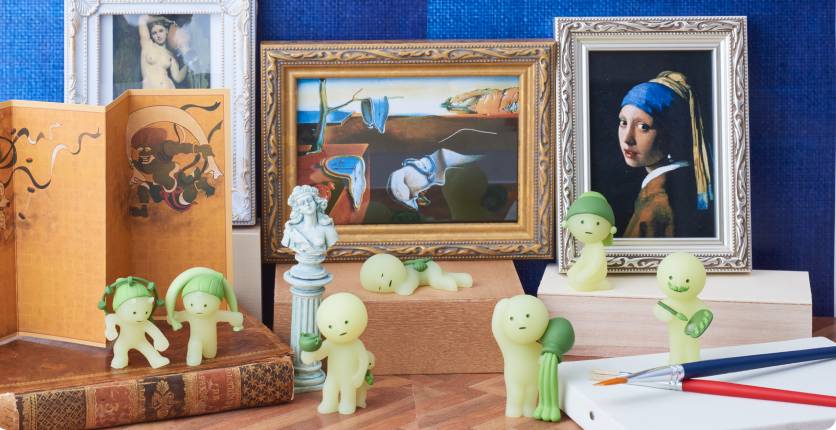 Smiski – Museum Series, from $9.90, Dreams Inc
According to the Japanese company that came up with them (and another popular miniature toy series, Sonny Angel), Smiski are "curious little creatures that love hiding in small spaces and corners of your room. Although they like to stay hidden, you might discover one at night as they misteriously [sic] glow in the dark" and that "it is interesting to see the many types of Smiski with different personalities and character [sic]." Also, that they look like 2.5- inch tall, mochi- or jelly-like versions of us humans. And are cute enough to buy up by the box-loads.
The latest Museum series launched in December portrays them as the subjects of famous artists. So there's Smiski Fujin & Raijin (aping the traditional Japanese art depictions of the Japanese gods of wind and thunder); Smiski Dali (in repose with Salvador Dali's iconic melting clock) and Smiski Pearl Earring (a totes adorb version of Dutch painter Johannes Vermeer's Girl with a Pearl Earring) amongst 6 variations, plus a secret hard-to-find figure (we leave its identity undisclosed for your hunt).
Enquire at ActionCity, Books Kinokuniya Singapore and Tokyu Hands stores for availability, multiple locations, or at www.actioncity.com.sg, kinokuniya.com.sg and tokyu-hands.com.sg respectively
---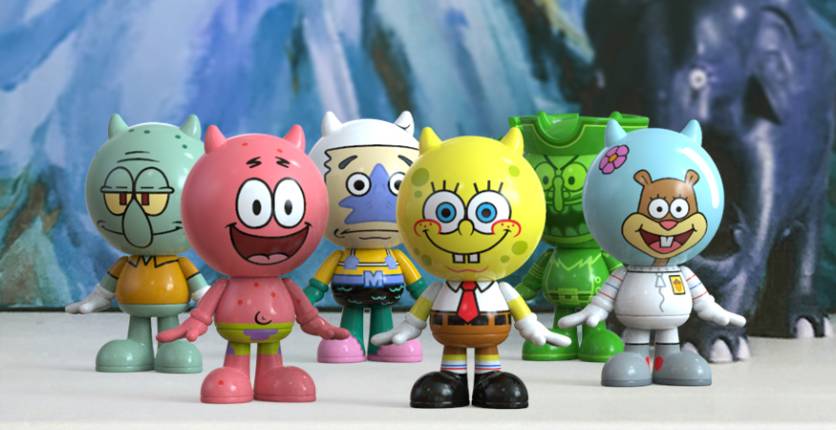 Lil' Maxx x SpongeBob SquarePants, $13.50 (USD$9.99), Mighty Jaxx x Nickelodeon
Here's the latest Lil' Maxx series from local design studio Mighty Jaxx, featuring the beloved sea dwellers of Bikini Bottom. Lil' Maxx is its in-house platform collectible toy series (a platform toy's like a design "template" figurine model where different designs and styles by artists and brands can be applied to), with each 3-inch ABS + PVC art toy sold in a blind box. What's unique about them: They come with a pair of horns and posable arms and legs (a rare thing for such collectibles). Launched in December last year, the SpongeBob SquarePants 12-figure series features the likes of Sandy, Squidward, Plankton, and the rarest of them (with a 1 in 12 chance of picking them), being Quickster SpongeBob, Flying Dutchman (GlD – Glow in the dark), Barnacleboy and Elastic Waistband Patrick.
Available at mightyjaxx.rocks (www.facebook.com/mightyjaxxtoys, www.instagram.com/mightyjaxx)
---