Though the current fashion world's in a minimalism slant at the moment, there's always space for a printed short-sleeved shirt (or 11, as selected here) in your wardrobe for days you want to appear smart, casual and colourful. And despite their busy patterns or bright hues, there's no need to worry about what to pair them with – you can opt to clash or match them with any kind of bottom, be it short berms, loose-fitting jeans or slim chinos. It's perfectly fine to just mix and mash 'em up, your style.
Dragon-print shirt, $33.99, New Look
Here's a little bit of everything, but made to cohere with a blue and white colour palette. Dragon? Check. An Oriental temple? Check. Large waves? Got. Geometric patterns? Also, have. All these, plus – just to add some more interest to an already busy print on this viscose shirt – some straggly yellow lines that could either be, err, noodles, strands of blonde hair or golden waves (probably this).
Available at ASOS
---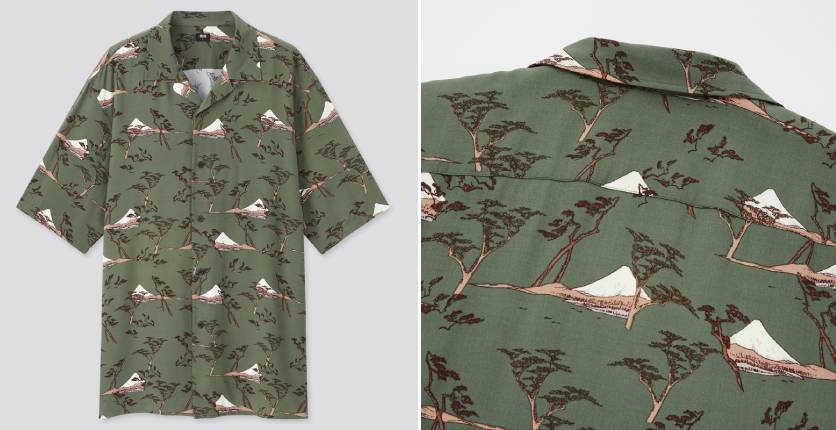 Utagawa Hiroshige open-collar short-sleeve shirt (56 Olive), $39.90, Uniqlo
Dress up like a man of culture with artwork from famed Edo period ukiyo-e (17th-19th century Japanese painting and woodblock prints) master Utagawa Hiroshige. Part of a small capsule collection of short-sleeve rayon shirts featuring mountain and seaside motifs inspired by the Japanese artist's The Fifty-three Stations of the Tokaido woodblock print series, this one is the simplest, with just a repeated pattern of a white snow-capped mountain and "singularly-standing" trees.
Available at selected Uniqlo stores, multiple locations, www.uniqlo.com/sg
---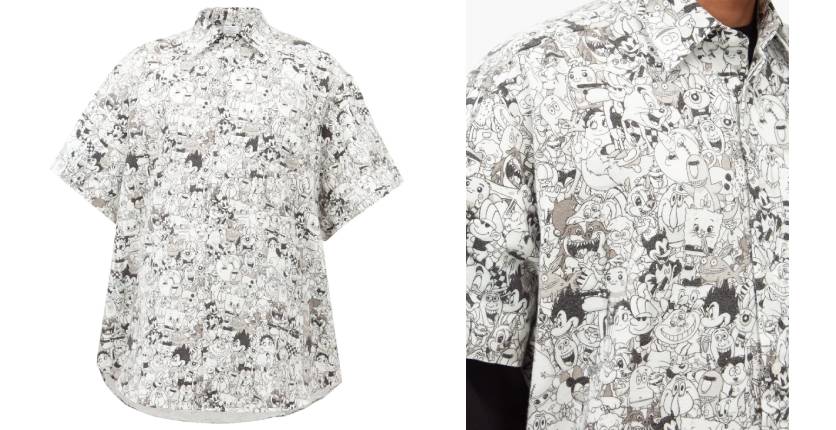 Cartoon-print brushed-cotton shirt, $660 (USD $490), Vetements
Kidults, too, can wear shirts, in their own grown-up yet fun way. This one's kiddish with an all-over cartoon character print and oversized-fit, but made more palatable for mature tastes since it's rendered in black and white. But, spy with your little eye, familiar and famous characters subverted to look like caricatures and hybrids. Entertain yourself (and your friends) by trying to spot odd versions of SpongeBob SquarePants, The Powerpuff Girls and Pokémon creatures.
Available at MatchesFashion
---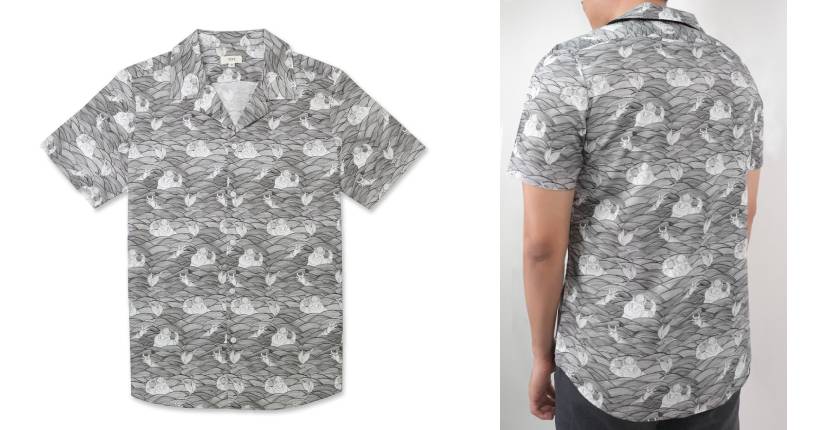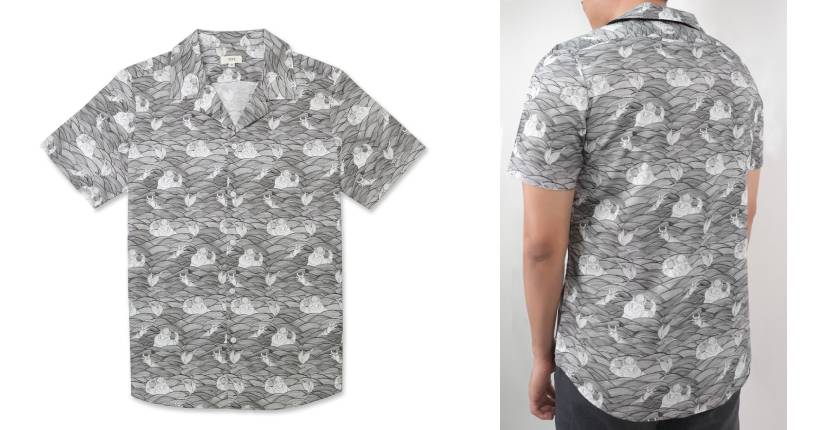 Siren Song Miragë TENCEL™ Shirt, $99, 1935 by CYC
Designed by the local shirtmaker's own in-house design team, this illustration-print camp collar top is part of its limited edition TENCEL™ Shirt Collection that features sea creatures travelling through space and time. This one seems to tell the story of a deep-sea diver adrift amongst the waves, lured by what seems to be a mermaid (evident by the tell-tale sign of her tail). It's also makes for comfy garb since it is made with eco-friendly fabric that's soft and wicks moisture away better than cotton does.
Available at CYC boutiques, multiple locations, cyctailor.com; www.facebook.com/CYCmadetomeasure; www.instagram.com/cyctailor
---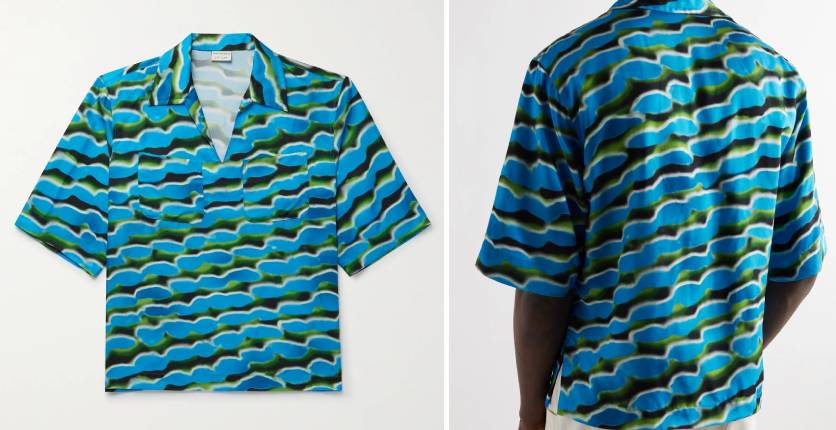 Printed satin-twill shirt, $717 (£387.88), Dries Van Noten + Len Lye
Art and fashion have always had a close relationship, and this shirt epitomises it. Designed by the high fashion king of prints, Belgian designer Dries Van Noten, in collaboration with The Len Lye Foundation, that oversees the legacy of New Zealand modernist painter, filmmaker and kinetic artist Len Lye, this luminous shirt is composed of a wavy motif inspired by Lye's film paintings. What else we like: the camp collar, two chest patch pockets and no-buttons retro-look.
Available at Mr Porter
---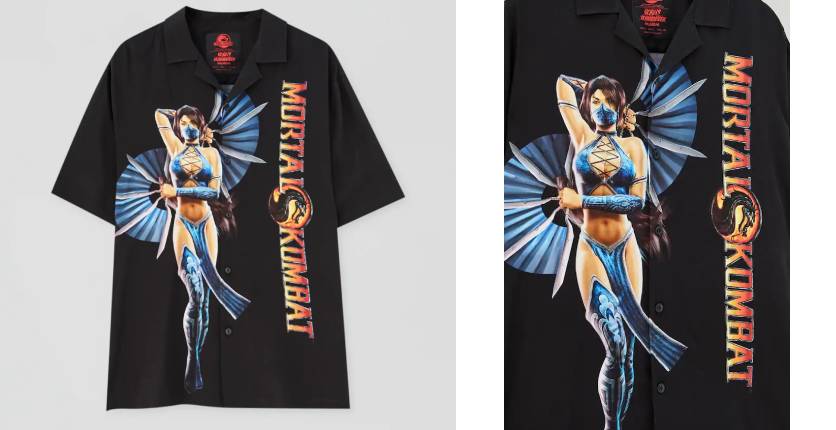 Black Mortal Kombat shirt, $55.90, Pull&Bear
Gamers, this is your "fatality"; celebrate the new rebooted Mortal Kombat 2021 film by getting this. Made in viscose and showcasing a large full-body image of "fan" favourite Kitana, it's a drool-worthy enough buy for your otaku buds to want to "finish" you and steal this shirt off your back.
Available at Pull&Bear stores, multiple locations, www.pullandbear.com/sg
---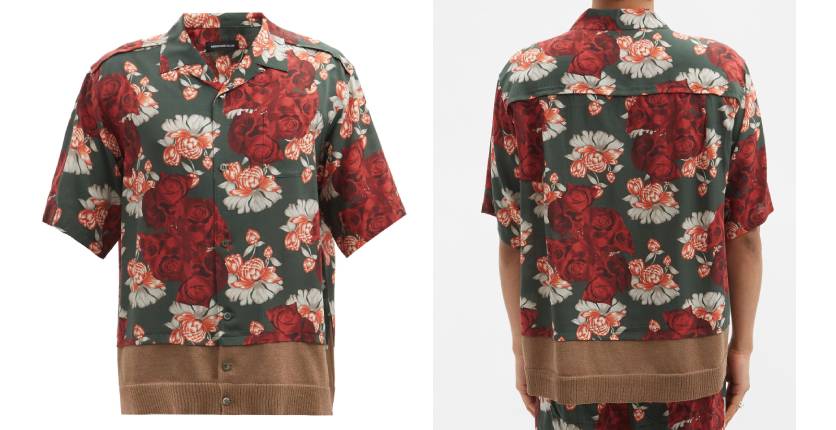 Floral-print contrast-hem shirt, $895 (USD $665), Undercover
This one's smartened up with a knitted beige hem, and raised seam-flaps along the shoulders and the back, so you can try for a part-shirt, part-cardi look for your super-casual Friday, after-work drinks. But, take an even closer look at this boxy, rayon top and you will see, camouflaged amongst the orange and red flowers, large red skulls. Pretty… sinister.
Available at MatchesFashion
---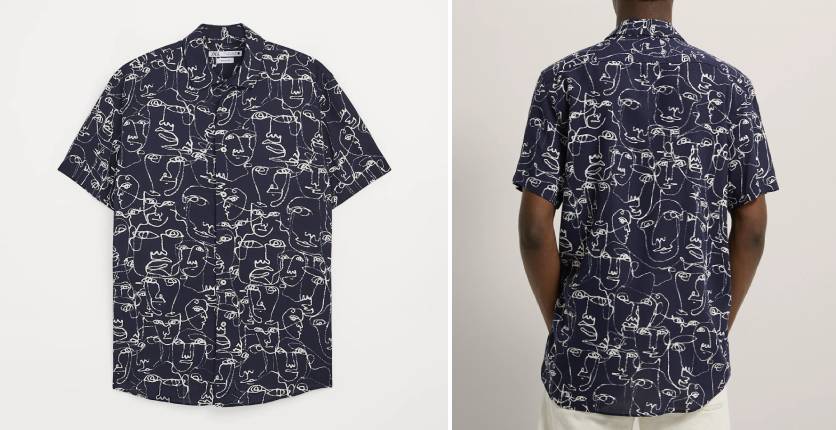 Face Print shirt, $59.90, ZARA
Want to get into printed fashion but don't want the boxy silhouette or open collar? Here's your answer. A regular viscose shirt with a regular collar and a regular button-up front in a sombre navy. But, with a not-so-regular all-over doodle print of faces (it's a trending design, FYI).
Available at ZARA stores, multiple locations, www.zara.com/sg
---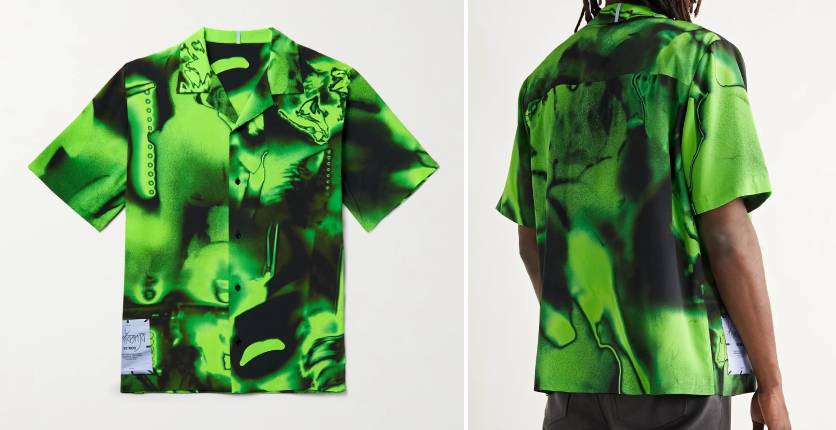 Camp-collar appliquéd printed silk-crepe shirt, $603 (£325.46), MCQ
Not shy? Here's how to make everyone see you coming. Designed with its "Fantasma" drop collaborators which include British photographer Ewen Spencer and rising menswear designer Randa Kherba, this traffic-stopper from the youth-oriented offshoot of the high-fashion Alexander McQueen label serves up an abstract, rave-inspired print in a Ghostbusters' Slimer-green colour.
Available at Mr Porter
---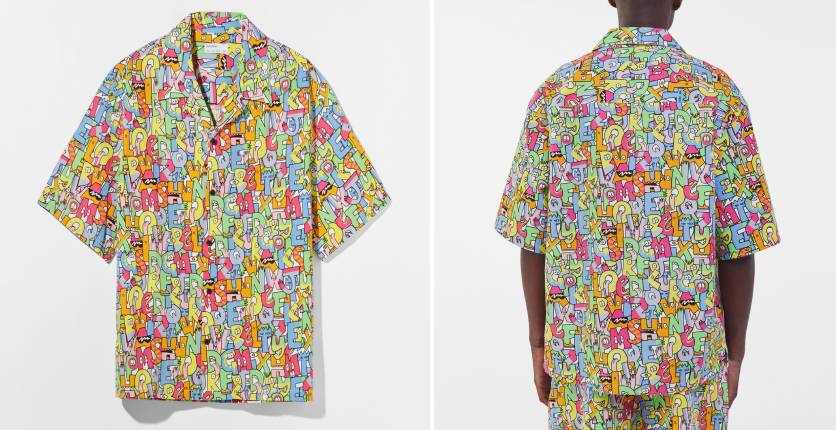 Printed cotton shirt, $55.90, Bershka
Supes colourful, supes fun, supes affordable – this pyjama top lookalike's bound to get you and your fashion-loving tween excited. The alphabets get anthromorphised – "A" is wearing shades, "B" has eyes and "C" looks like a shark – and thrown together to litter the entire shirt, front and back. For those who think this lettering illustration's sending the wrong no-social-distancing message? Just chill, put this on and let M B.
Available at Bershka stores, multiple locations, www.bershka.com/sg
---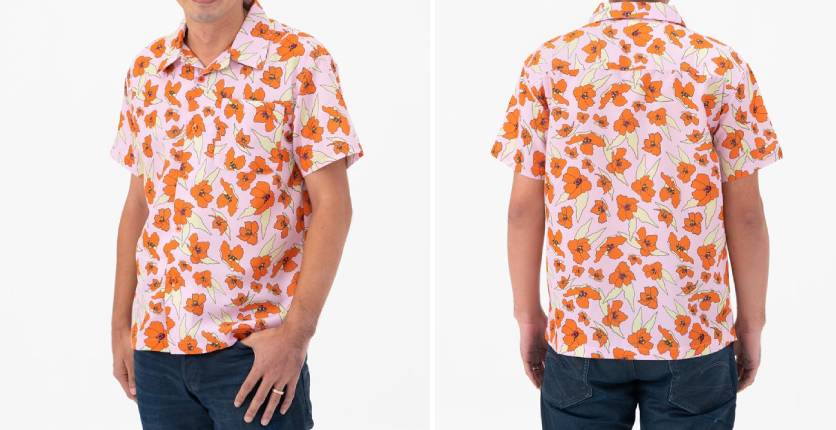 Origins men's shirt, $168, Minor Miracles
This is perfect for the family guy who wants all of his loved ones in on the fashion game, too. Choose from 5 bright floral designs – Tangerine (seen here), Zucchini, Apple, Blueberry or Kiwi-Sky – printed on a straight-boxy cut, cotton-rayon blend shirt. Then look through the SG brand's collection of colourful clothes for the same or similar print and design, to dress the rest of the family up in. Have everyone wear them together on your family's day out to show just how much of a proud and loving daddy of your fam you are.
 Available at Minor Miracles outlet, 107 North Bridge Road, Funan, #02-K03
179105; www.facebook.com/minormiracles.shop; www.instagram.com/minormiracles.shop
---
All products are subject to availability and prices are subject to change. Prices stated are correct as of time of posting and are based on current exchange rates.