When we were kids, a playground that had a swing, slide and see-saw were enough to keep us entertained for hours until our parents and to drag us back home by the ears. While we have already grown out of the playgrounds, kids and adults alike will have fun together at these new next-generation playgrounds.
Whether it be a HDB estate playground or a NParks garden, these playgrounds are a shared social space and play a significant role in building family and community bonds. Here are some of the new places worth having fun at!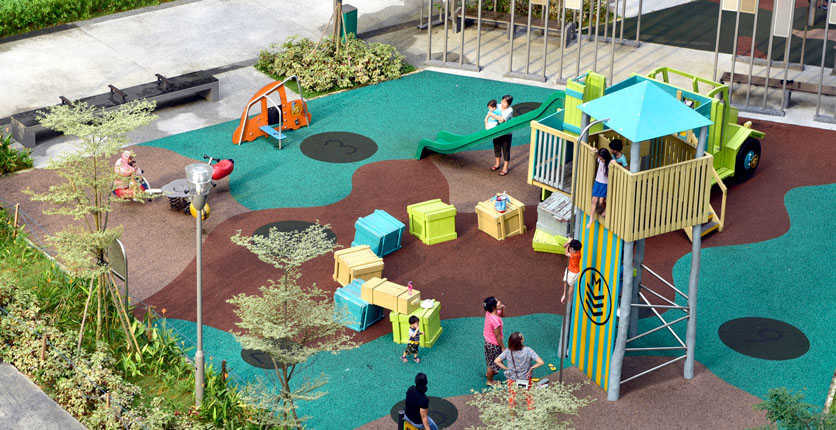 Military Tank and Truck
Choa Chu Kang
Two distinctive military-themed playgrounds can be found at Keat Hong Garden and Keat Hong Mirage. Children get to climb and "drive" a tank or a truck. The parks also feature a mini obstacle course and a mini hill installed with play cannons for children to fend against make-believe intruders.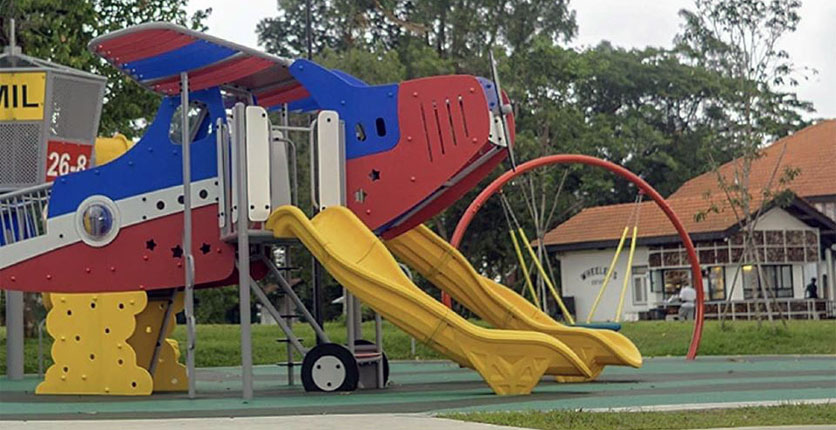 Aeroplane Playground
The Oval, Seletar Aerospace Park
The Oval pays homage to its rich history as an air base through many plane-based experiences around the area. This unique aerospace themed playground features plenty of play elements modelled after aircraft and control towers. There is even an "Aeroplane Chess", a.k.a Ludo board game for everyone to enjoy. It is also served with good eateries nearby and a boardwalk which offers a good view of aircraft flying in and out of Seletar Airport.

Jurong Lake Gardens
Jurong
Arguably the most comprehensive park in the west, it offers nature trails for inquisitive kids. But for play, it offers many options such as; Forest Ramble, a nature-inspired playground and Clusia Cove, a water playground experience featuring tidal patterns, surface ripples and directional currents. The park also features plenty of space for dogs to play as well as open fields for kids to run about.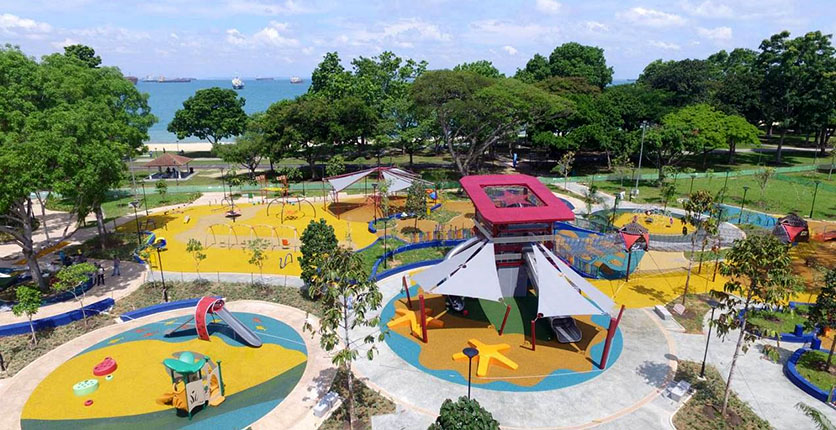 Marine Cove Playground
East Coast Park
The playground where an outdoors fun fair used to stand now features play equipment that include a rope bridge, climbing net courses and a rock-climbing wall. It is also equipped with interactive play equipment to engage the kids' senses and encourage healthy competition. Beyond the playground, the park allows for kids to fly kites, build sandcastles, go cycling and skating too.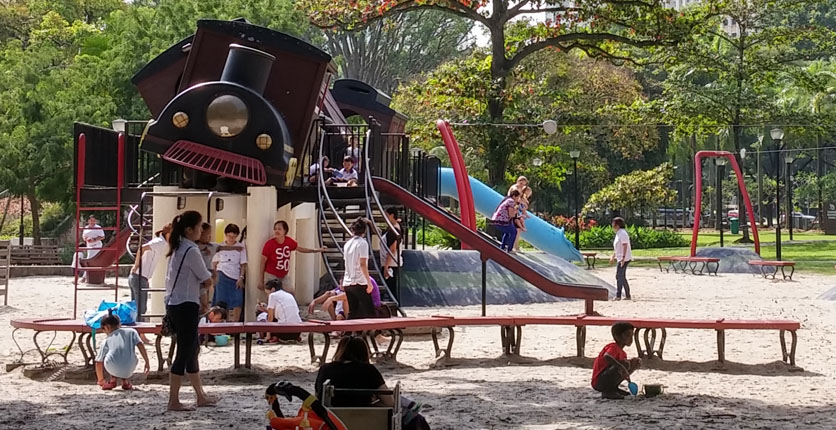 Tiong Bahru Park
Tiong Bahru
The main attraction of the playground is the unique tilted train which allows children to climb, run and slide down in a wacky environment. The play area also includes flying foxes, swings and a mini-maze. The nearby Therapeutic Garden will give kids a place to explore with different plants grouped into four different zones.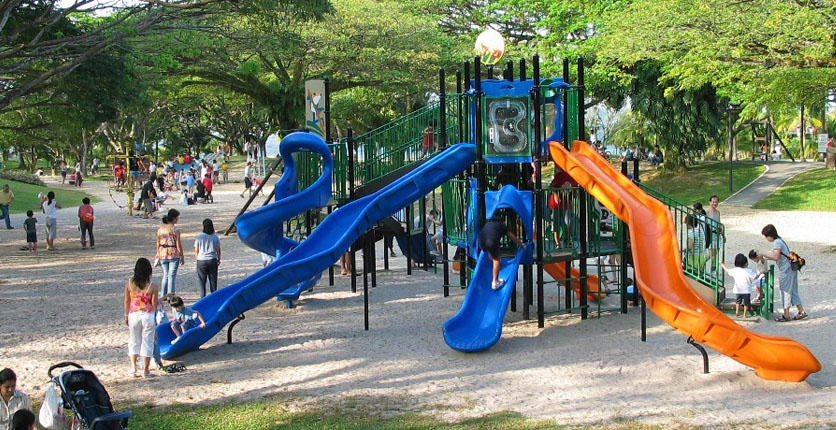 Pasir Ris Park
Pasir Ris Beach
One of the largest playgrounds in Singapore, Pasir Ris Park offers a rich variety of play equipment suited for a wide range of ages. Highlights at this playground include suspension bridges, rope pyramids, and flying fox installations.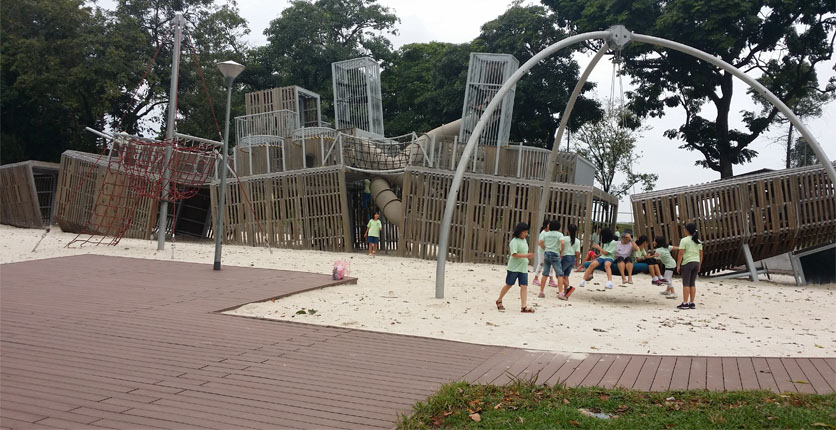 Sembawang Park
Sembawang
The playground was designed with a maritime theme because of the park's links to the naval history of Singapore. The sloping decks and suspension bridges are designed to mimic a ship still at sea. The mariner theme continues with a pendulum swing and a red climbing net modelled after a naval flagstaff.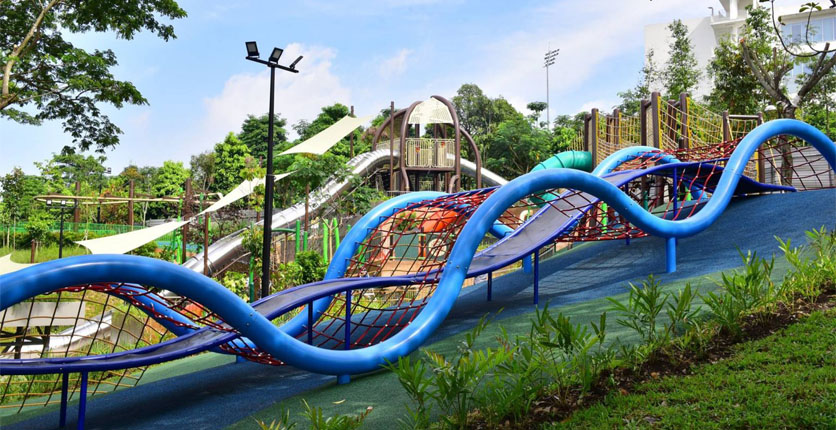 Admiralty Park
Woodlands
Located in Woodlands, Admiralty Park is the largest park in the north. It is situated on hilly terrain with the Sungei Cina river running through it. With 26 slides, Singapore's widest slide and the longest slide in a public park can be found here. The playground capitalises on the undulating terrain to site the three main play areas, Junior Play, Adventure Play and the Family Terracing Play – catering to children of all ages and features diverse play equipment.