Don't let the pandemic be your party pooper. You can still PFH (Party From Home) by holding a gift exchange for friends, family members and work mates, but online and with physical presents.
A virtual gift exchange is safe (it's bona fide social distancing), helps you connect with loved ones in different countries, lets you get together with anyone and everyone regardless of the number (definitely more than just 5) and can be held to celebrate any occasion (birthday, Christmas, the New Year, or just because).
And, it can be loads more fun and easier to organise than you think. Plus, you don't have to clean up your home before or after!
Not sure how to be the host of a successful and smashing virtual gift exchange for all those who matter in real life? Read the following steps to put the "pow" to get the "wow" in your online present-giving party pow-wow.
1. Prep The Guest List(s)
While you might want to invite everybody and their pet cat to your online bash, it's best to be a little selective and "curate" who's on the party list.
It's to help you keep the numbers manageable, and an excuse to hold more of such affairs with all your different circles of friends and loved ones, from colleagues and "weekend soccer team fellas" to your "cousin crew".
Once you have noted down who's who, get their contact details including email addresses, social media accounts (Facebook, Instagram, TikTok, etc.) and physical addresses (if you are sending each other actual gifts).
Check and double check that the addresses are all correct, so that everyone who needs to be invited gets the invite. Last thing you want is to miss out anyone important, or worse, invite your ex to your "BFF Bash".
2. Price Points
While it may be nice to give and receive all kinds of prezzies, do consider the price limit or the types of   presents to be exchanged. Doing so can help people decide on what to get better, or ease the pressure for those who might be less able or willing to spend beyond a certain limit. Or you can decide that gifts should be as wacky as possible, without them being too expensive.
To make it less of a headache, you can point your guests to the gift packs from homegrown lifestyle retail brand TotallyHotStuff. Pick from a cute Comforting Bear-with-it Kit ($38), an affordable and office-appropriate Iconic Stationery Gift Set ($11), or if you are willing to splurge on loved ones, the Restful Sleep Wellness Pack ($327).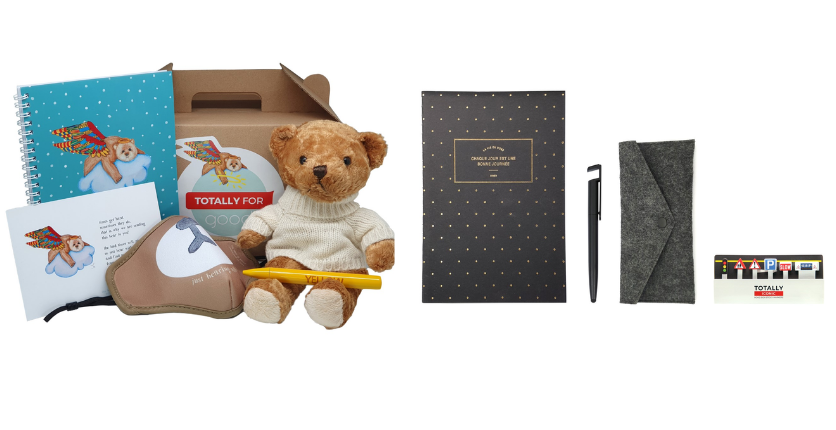 TotallyHotStuff, 21 Bukit Batok Crescent #02-79, 658065 (Showroom; by appointment only), www.totallyhotstuff.com; www.facebook.com/TotallyHotStuff; www.instagram.com/totallyhotstuff
BONUS: SAFRA members enjoy 20% off purchases at TotallyHotStuff. Click here for more information.
3. Date, Time & "Location"
For any party, even an online one, picking the right date and time is important. Keep in mind these few factors: people's work and social schedules and possible delayed delivery times for presents (since it is the busy holiday period).
Also, do note the time differences for folk who reside at different geographical locations. You can't be holding your 7pm party in Singapore and expect your guests living in the US to be all bright and cheery to attend it at 6am, can you?
As for "location", we mean online platform. Pick a video communications app – Zoom and Google Meet are the more popular ones – that most peeps on your guest list can use easily.
4. Design Your Gift Exchange Squid Game (But Make It Fun & Friendly)
This is your make-or-break part of your online prezzie party. You need to figure out how the session will start and end, what you and the guests get to do during, and the overall theme.
The basic thing to do: You need to assign who are the gifters and who are the giftees (i.e. the person or persons receiving). You can do this the old-fashion way by writing names on pieces of paper, scrunching them up and pick them yourself "blindly".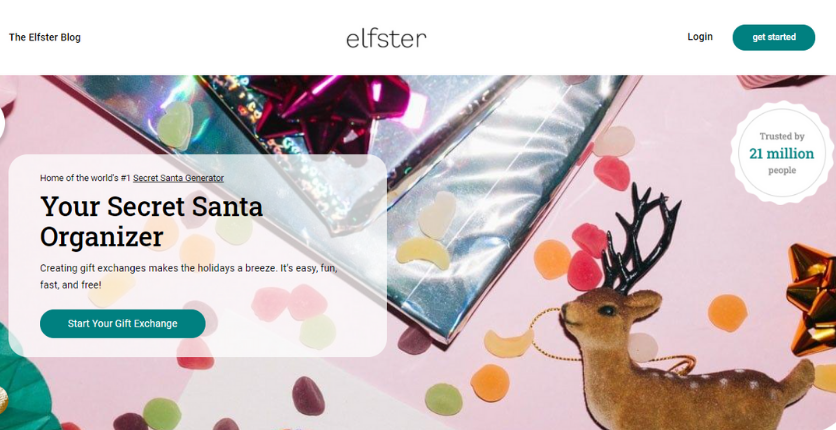 Or, utilise an online tool such as Elfster, DrawNames or Sneaky Santa that work as Secret Santa generators. And ensure you set up a queue or order for who is opening their present when, otherwise it will be a mess (unless you just want chaotic fun to ensue).
Next, choose your gift exchange theme or "design".
For a remote Secret Santa themed get-together, it's exactly like how a Secret Santa works IRL (in real life). Givers and receivers are paired in secrecy, with the receiver guessing the identity of the giver during the present "reveal". The most important thing: gifters must make sure to send the giftees the wrapped presents before the virtual session so that the gifts can be unwrapped "live" when everyone meets up online.
For a White Elephant/Yankee Swap/Dirty Santa jamboree, it actually involves preparing novelty, amusing or even impractical items for the receivers. Think "re-gifted" presents or things you can upcycle or recycle, with guests able to "steal-swap" each other's presents during the duration of the party.
This is how it can work as a virtual event. Gifters keep their wrapped surprises with them till the actual party, where they will show the gifts (still unwrapped) during the video call. Only then and there, will the guests be able to steal the gift from the intended receiver.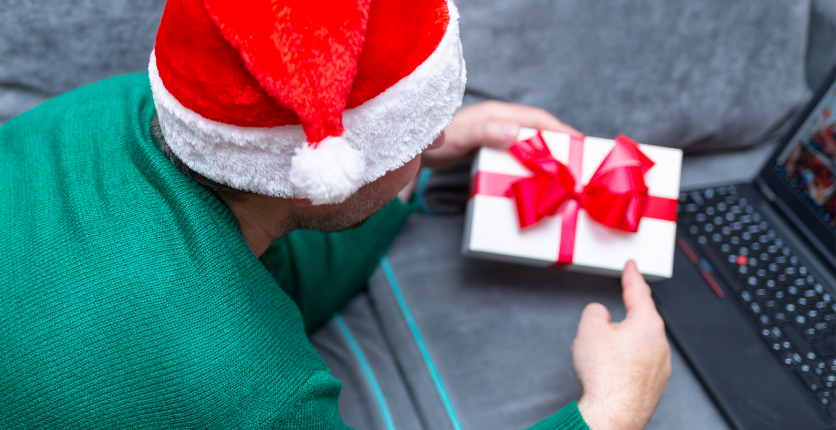 What you, as the host, have to do is to keep track of who took what from whom, and how many times. Beforehand, decide on the number of times each person gets to "steal-swap" the gift.
Add more intrigue and sneakiness to the stealing & swapping by letting gifters describe or "market" their gift without revealing too much away (fibs may even be allowed) and allow potential "gift stealers" to ask some questions.
5. Keep The Party Moving!
Aside from the present reveal, you ought to plan for other games or themed ideas to make the whole affair more "inviting" and fun for everyone.
Here's what you can do:
Have everyone dress in a certain colour, or accessorise with costume-y gear. Reindeer hairbands, Santa Claus beards and ugly holiday tees are always welcome.
Think up and prepare some easy-peasy party games just to kill the dead-air for when people are late or get disconnected, or as icebreakers. Like

these virtual games here

!
Have everyone bring their favourite drinks and food to the virtual party table to make it merrier while holding the gift exchange.
6. Pre-Party Admin Work
Before you can get the actual party started, there are some essential "admin matters" to take care of:
Send out the invites to the relevant guests (see point 1).
On the invites, include all the necessary details (time, date, links to the video platform event), event description (type of gifts to be bought and party theme) and event time schedule (so people can know when they absolutely need to be connected for the present exchange highlight).
Ask for confirmation of attendance by a certain date.
Send reminders a couple of days in advance (some of the popular peeps might have many occasions to attend online and off during the year-end hols).
7. Be The Host With The Most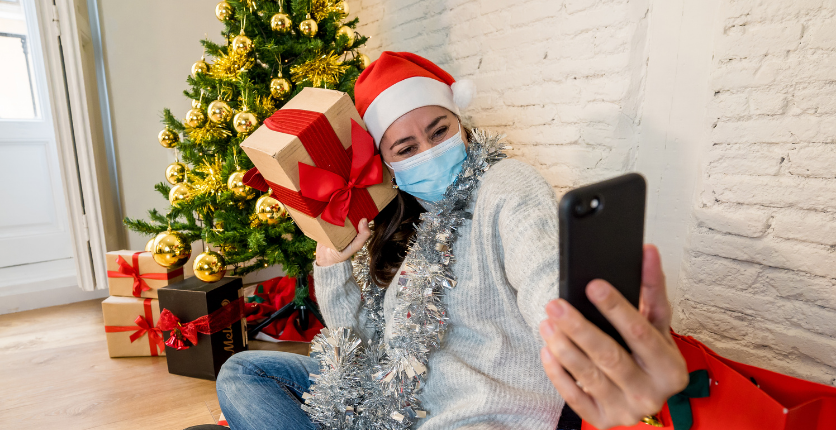 While you might be the most prepared host there is, you might not be quite the MC-slash-life of the party.
Some tips to help you keep the energy up:
As mentioned, ready a few games for all guests to join. Try simple ones like "Truth or Dare" (for your closer adult friends), "Scavenger Hunt" (where you give people a list of things to search for in their homes within a set time limit) or even trivia games.
Buy some extra presents for winners of the games, like e-vouchers or small-ish items that can be sent over to them at a later date. Or, even just as party freebies for all guests as a memento of sorts. You can pick up all sorts of interesting and affordable finds at chain stores such as

Daiso or Threeppy

on the cheap!
Send "Thank You" messages or emails with a few choice screen grabs after the party. Sometimes, words of appreciation and fun-filled images make great gifts for a good time!
And, once you're done with one, you can learn from your mistakes or event mishaps and plan for the next (better) virtual gift exchange party of 2021 and beyond!