The past few weeks might have felt like you were spending most of your precious time "behind bars", being cooped up at home, not being able to meet up with more than one friend, and all that. Why not reflect your feels via your fashion choices by wearing some striped tees? We jest, but TBH, T-shirts patterned with lines – vertical or horizontal, broad or thin – can be your everyday staples when going monochrome or loud is not exactly a mood-of-the-day for you. Here are 7 stripey choices (barring those of an animal's) to line up in your wardrobe, to be worn, one day at a time.
"Everyday Tee-Time" is our regular fortnightly round-up of the best new T-shirts that fit you, well, to a tee.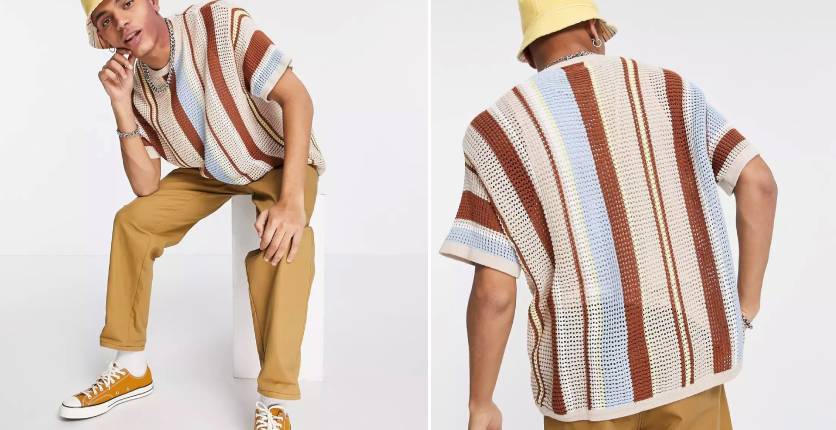 Knitted mesh T-shirt in multicolour stripes, $46.99, ASOS DESIGN
Here's one that stands out from the rest just by being of a different make. Instead of plain cotton, it's constructed out of knitted mesh and features broad vertical stripes in pale yellow, beige, brown and pale blue. This crew-neck top with a relaxed fit and drop shoulders is well-suited for casual – but not too casual – outings where looking a lil' smartened up and preppy will earn you brownie points with your other half, for showing that you still care.
Available at ASOS
---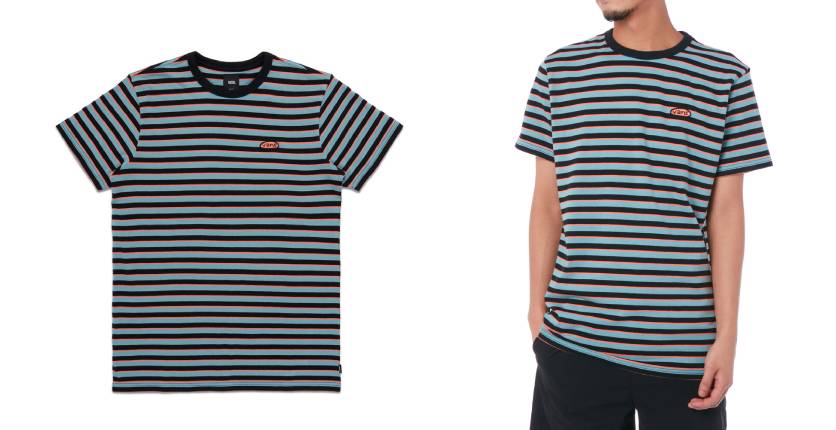 Color Multiplier T-shirt in Cameo Blue, $59, Vans
Stripes and streetwear go hand in hand like, erm, your face and face masks (these days, for sure), and nothing is more street than a skatewear brand such as Vans. So, donning this cotton jersey crewneck will not only give you instant street cred, but also make you look like a cool adult who likes to keep it casual like a homie with its all-over yarn dyed stripes and cute hand-drawn logo badge affixed to the left chest.
Available at Vans stores, multiple locations, www.vans.com.sg
---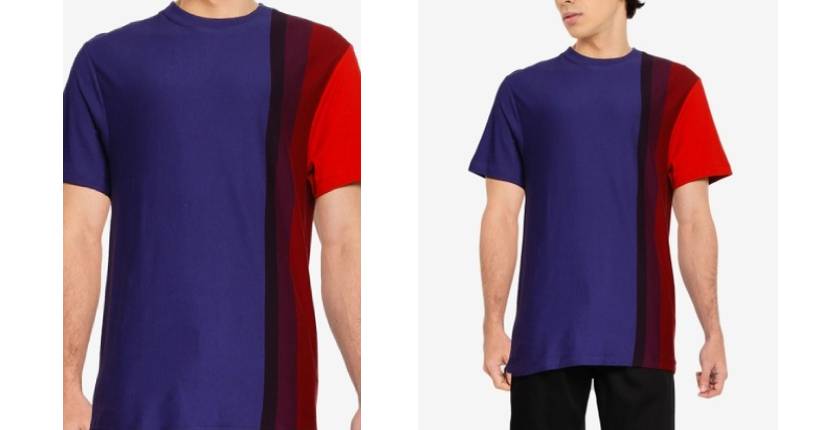 Gradient stripe short sleeve T-shirt, $68.90, French Connection
Here's how you can wear stripes that are done more boldly and creatively, and not look like you are bound behind bars. This regular-fit organic cotton top, with vertical stripes lined up on just one side in a gradient pattern, is done up in an eye-catching "Blue Ribbon" colour scheme, transitioning from purple (main body colour block) to maroon, to bright red (on the left sleeve). Dress to impress your friends for when the restrictions are eased.
Available at ZALORA
BONUS: SAFRA members receive 30% off + 35% cashback with no minimum spend with a maximum cap of $30 (for new ZALORA customers) and 25% off + 5% cashback with $80 minimum spend with a maximum cap of $50 (for existing ZALORA customers). Click here for more information.
---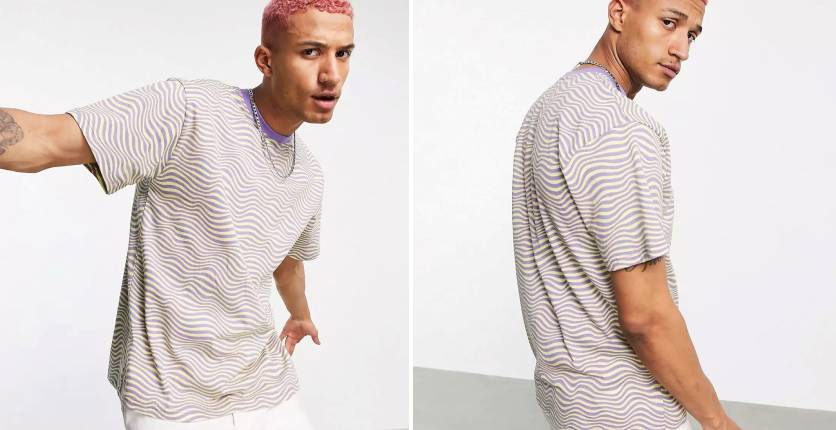 Wavy stripe oversized T-shirt in purple/white, $55.99, Vintage Supply
Think that wearing striped tees will make you look too straight-laced, you rebel you? Not this one, though. Instead of boring old stripes or parallel lines, this retro beachwear-style cotton jersey tee will make others look twice by virtue of its optical illusion-like lilac wavy stripes.
Available at ASOS
---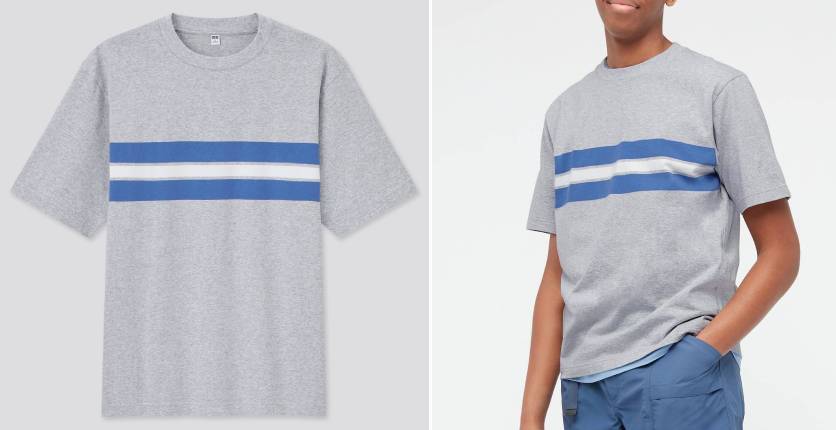 Striped crew neck short sleeve T-shirt, $19.90, Uniqlo
Not fond of wearing too many stripes, horizontally or vertically, because you don't like how they might widen or shorten you? Then just wear just a few. This one from from Uniqlo features just three (or five, if you count the tee's main colour showing through and alternating between the three bars) – not too much to give you a headache about your shape, but enough to bring attention to your bod. Choose from three coloured designs: gray with blue and white stripes, white with gray and red stripes, or navy with khaki and white stripes. Or, just buy up all three to switch-up through the week.
Available at Uniqlo stores, multiple locations, www.uniqlo.com/sg
---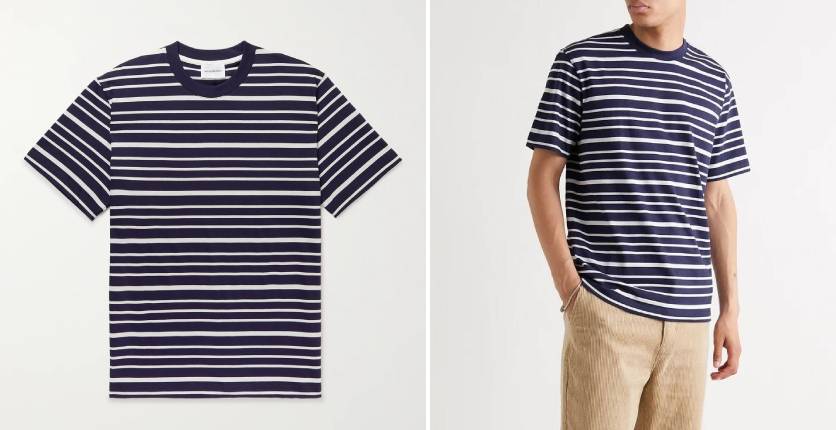 Johannes striped cotton-jersey T-shirt, $133 (£70.83), Norse Projects
Instead of settling for any striped top out there, why not take on this well-made update on the classic mariner's Breton? (FYI, it's a striped pattern associated with the Brittany region in France and French seamen's uniforms that dates allll the way back to the 1850s.) Printed with variegated stripes in navy and white (très classic colours), this cotton jersey crewneck is perfect for when you wanna adopt a handsome nautical look to go on a date with your first mate in life.
Available at Mr Porter
---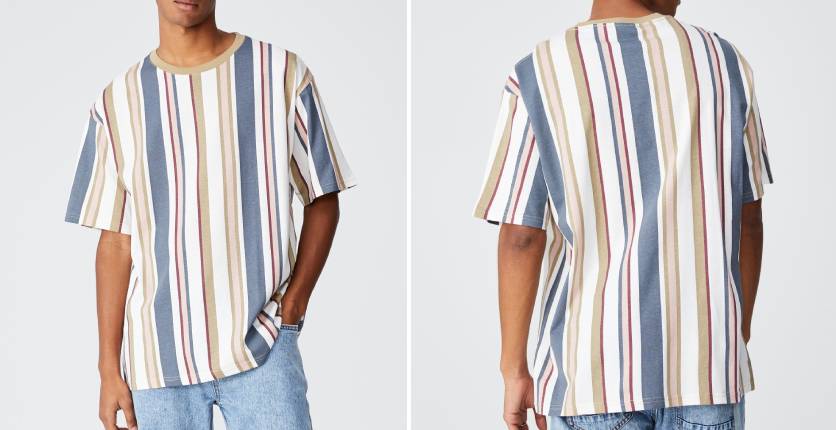 Downtown T-shirt, $24.99, Cotton On
You can always trust Cotton On to have an affordable striped tee on sale if your budget's tight. And, if you are indeed foraging through its merch, we suggest trying on its vertical striped tees instead of the usual horizontal striped tops. Like this one, in a "true navy fun stripe" colour scheme that could make you look like walking wallpaper, but, hey, it's meant to be worn as a fun tee, ya? Cotton On has a variety of other similar options if this colour combination doesn't strike your fancy.
Available at Cotton On stores, multiple locations, cottonon.com/SG
---
All products are subject to availability and prices are subject to change. Prices stated are correct as of time of posting and are based on current exchange rates.