Unlike Mother's Day, Father's Day celebrations are generally more muted, and sometimes, they simply fall under the radar. And if you're one of those guilty few who've simply forgotten the occasion, here's a gentle reminder: Father's Day falls on the third Sunday of June.
Below, some ideas to get you inspired.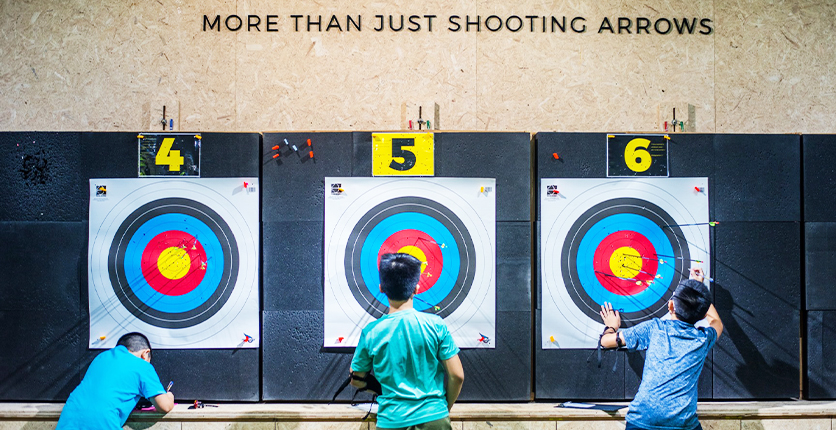 1. Archery
For sharp shooters, sign dad up for a basic archery course, or, if he's already familiar with the sport, simply book a day at the range. Choose from a 1-hour Guided Funshoot to a 2-session Basic Archery Course, with either modern or traditional bows.
SAFRA Members and Affiliated Members enjoy 10% discount off courses (i.e. Try-outs, Funshoot, Basic and Advance archery courses, Junior & Youth training programmes and Funshoot packages) only. For more information, go to www.safra.sg/amenities-offerings/salt-light-archery
Rates start from $10, with a maximum of four pax at the Punggol range, and up to 16 at the West Coast range. Current Covid-19 restrictions apply. More info at www.slarchery.sg
---
2. Coffee And Wine Appreciation Workshops
Bond with dad over the finer points of preparing coffee and appreciating wine from the comfort of your home. SAFRA Mount Faber is hosting a Coffee Appreciation Workshop and a Wine Appreciation Workshop over Zoom on 27 June, at 9am and 4:30pm respectively. Depending on which workshop you sign up for, a Coffee Package or Wine Package will be delivered to your home beforehand.
From $30 and $120 for SAFRA members; register either on the mSAFRA mobile app/mySAFRA portal, or at SAFRA Mount Faber's Customer Service Counter. Registration closes 21 June. More info at www.safra.sg/whats-on/todadwithlove/celebrate-father's-day-with-safra-mount-faber
---
3. Whisky Tasting Sessions
Spirit dad away on a journey to the Scottish highlands with Whisky Butler's Scotch whiskys. Held via Zoom for 1.5 hours, the interactive live class offers a basic introduction to whisky, understanding the different flavour profiles, and of course, attendees will get to try five single malt whiskies. They will also receive a free crystal whisky nosing glass. The liquids and glass will be delivered to you for free within two days before the live class.
If dad's a cheese lover, add cheese to the mix with a whisky and cheese pairing class held in person at The Providore Downtown. Here, discover fun and unexpected whisky and cheese pairings that'll excite and tantalise your taste buds.
Whisky tasting: $98 per adult for 1.5 hours via Zoom; more info at www.whiskybutler.sg/Tasting-Experiences-Event/1/Introduction-to-Whisky
Whisky and cheese pairing class: $63.91 per adult for 1.5 hours at #B1-07 OUE Downtown Gallery, 6A Shenton Way
---
4. Deep Sea Fishing
Whether dad's keen on fishing or not, get him hooked on the experience by booking a private boat with close friends and family. Depending on social distancing measures by the third Sunday of June, outings may be limited to just two people for now. Choose from a short fishing trip where you'll go fishing around the Southern Islands, to going on a full-day fishing trip around the Southern Islands and deeper waters.
From $899 for 4 hours, with a max of eight pax, depending on current Covid-19 restrictions. More info at www.singaporefishingcharter.com
---
5. A Day At The Driving Range
In need of releasing stress? Bond with dad over at the driving range, where you can simply hit balls and see how far they go. The best part: driving ranges are fairly affordable and you can choose to head to any golf course in Singapore, depending on your location.
Some of the ranges you can go to include the Marina Bay Golf Course, Orchid Country Club, and Laguna National.
---

6. Drive A Go-Kart
Unleash dad's competitive side with a trip to the tracks. Embark on a friendly competition as you fire up your wheels.
Fees start from $18 for under 21-year-olds and $35 for adults on the novice circuit; maximum of 2 pax per group according to current Covid-19 restrictions. More info at  kf1karting.com
---
7. Gardening Workshops
If dad's got a green thumb, sign him (and you) up for a workshop that'll show you how to grow vegetables using soil or hydroponics, mushrooms, and more. Face-to-face classes are still ongoing and conducted in small class sizes of 10 pax.
More info at www.thelivingcentre.sg
---
8. Spend A Day Recreating Old Memories
Revisit old memories with dad and recreate some of your best moments spent together. Some ideas include recreating your childhood photos, visiting old spots, listening to retro music together… and the list goes on. In fact, make this meaningful exchange a regular occurrence, if you will. After all, memories are priceless.
Tell us what you're doing for dad at magnsman@sph.com.sg!