Even before Sir Stamford Raffles founded Singapore, Punggol was here. First, as a Malay fishing village, then a rural farming and rubber plantation district, and now, primed to become Singapore's first Eco-Town.
What that means: sustainable development features and technologies, supporting wonderful waterfront dining, leisure and living. So expect lots of recreational green spaces and spots; water- and nature-centric activities, and eco-friendly, community-focused hubs and centres when you come down to this hip and happening North-East hood.
(And, look out for the other chapters in the series where we cover the areas of Mount Faber, Toa Payoh, and Yishun. Don't forget to look up our coverage of Tampines and Jurong too!)
1. SAFRA Punggol clubhouse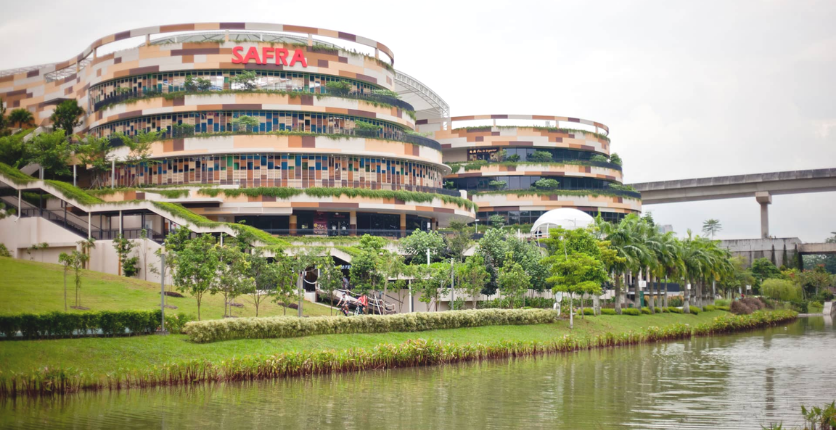 This is the first eco-friendly SAFRA clubhouse to bag the prestigious Building and Construction Authority Green Mark Platinum award.
It's thanks to the energy-efficient air-conditioning system and LED lighting, solar power, double-glazed windows, naturally ventilated, open lobby and loads more "green" features.
Architecture enthusiasts might want to have a closer look at the tri-coloured, wing-shaped building and its cascading terraces softened with lush, overhanging plants. It's an organic form inspired by the undulations of its natural surroundings.
What else makes this an eco-architectural and ambient wonder? That it's located right beside Singapore's first man-made waterway, the 4.2km Punggol Waterway, built by the HDB.
Once you're done "oohing" and "ahhing", it's time to seek out its facilities and services.
The number 1 fun feature (at least for the children) is Splash @ Kidz Amaze, Singapore's first and mega-big indoor wet playground. The "Enchanted Deep Sea" play arena has a temperature-regulated pool and interactive play elements such as multiple water jets, water slides and even giant sculptures of sea creatures!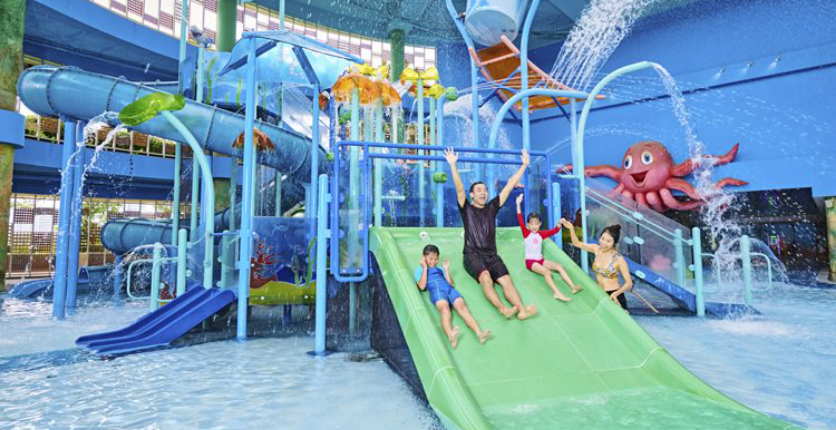 Plus, there's a new interactive inflatable Pororo The Little Penguin Bouncy Playground at the clubhouse so your bounding bunny can stay dry and still have fun. But, head down quick as it will only run till 13 February 2022 – get the details and tix here.
Don't worry, adults are not forgotten. There's bowling at the family-friendly Sonic Bowl, cooking and baking classes at the clubhouse's state-of-the-art Culinary Experience Studio, and electronic darts and pool at Liquid Lounge.
For the active peeps, you can look up the archery lessons at Salt & Light Archery, stretch your bods at the Yoga Inc. classes, or rev up your day with some reps at EnergyOne Gym. Outdoorsy folk can breeze down the Punggol Waterway with the bikes and rollerblades available at the Bikes @ Waterway or arrange for group kayaking activities at the Water Activities Facility.
After all that activity, have your clan pick their preferred nourishment at Heavenly Wang, Huo Guo Kung Fu or Jack's Place, with fast food fixes available at McDonald's, Wing Zone or Pizza Hut.
9 Sentul Crescent, 828654, www.facebook.com/SAFRApg; www.instagram.com/safrapunggol
BONUS: SAFRA members enjoy up to 25% off F&B, facilities, services and activities at SAFRA Punggol.
2. Waterway Point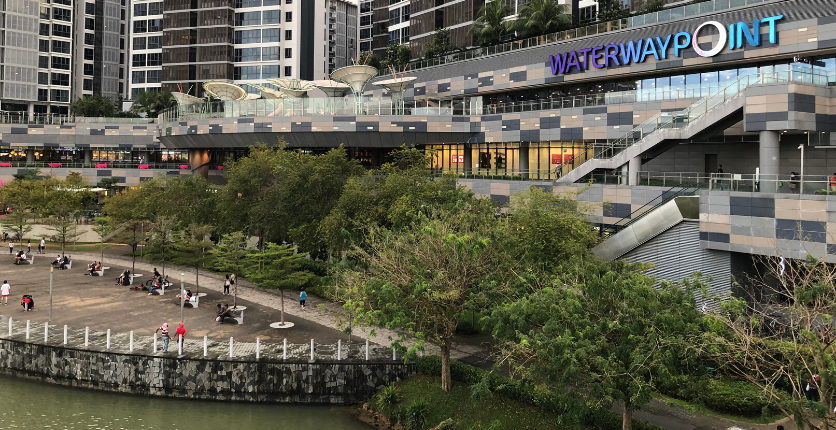 Near SAFRA Punggol clubhouse, you'll find the well-placed 4-storey Waterway Point, the retail and lifestyle hub of Watertown, an integrated waterfront residential and retail development. Simply get off the MRT train at the Punggol MRT/LRT Station and bam, you're here.
Large enough to be sectioned into an East Wing and a West Wing (connected by the always-open The Boardwalk, that also links with the station and Punggol Waterway Park), the shopping centre has got all the works.
In addition to your usual mall-mix of retail, dining and services, there's a 24-hour FairPrice Finest supermarket; Singapore's largest suburban basement cinema, the 10-screen Shaw Theatres that features an IMAX facility, and outdoor themed event spaces.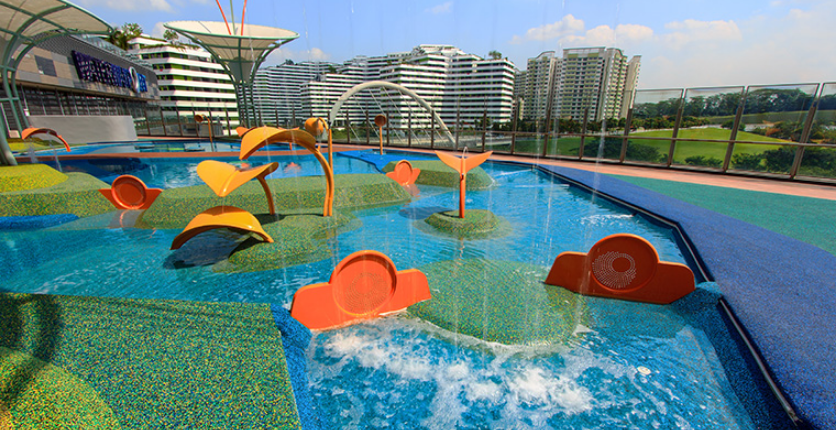 The best bits for the itsy-bitsy ones? Two free play areas for the kids – the indoor Wonderland, and outdoor Happy Park that has both wet and dry play spaces (do check ahead with the mall if they are open to the public).
Then settle down for a meal at the plethora of F&B outlets, or just do a takeaway for those days when you're short on time (Fish & Co. has a 30% discount for SAFRA members on the go).
And when everyone's done shopping, eating and playing, you can relax along the promenade outside the mall, along the Venice of Singapore that is Punggol Waterway.
83 Punggol Central, 828761, www.waterwaypoint.com.sg; www.facebook.com/fpr.WaterwayPoint; www.instagram.com/waterway_point
BONUS: SAFRA members enjoy special rates on movie tickets and popcorn combo sets at Shaw Theatres. For more info, go to www.safra.sg/promotions/shaw-theatres. At Fish and Co., SAFRA members get 30% off à la carte takeaway orders.
https://www.safra.sg/promotions/30-off-subtotal-bill
3. Northshore Plaza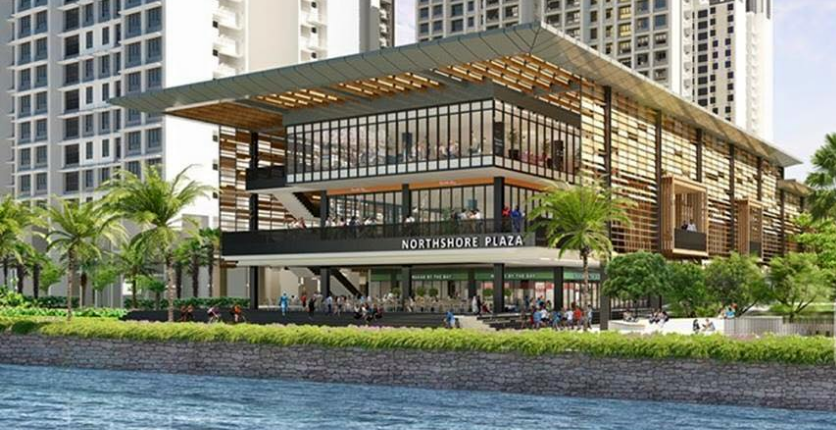 Shopaholics, hit up the latest retail mecca on the island, Northshore Plaza, conveniently connected to Samudera LRT Station and only recently opened in October 2021.
Well, at least a part of it is. Northshore Plaza I has opened its doors with the shops progressively starting up these few months, while the tenants at Northshore Plaza II are slated to open by the first quarter of 2022.
As the first seafront neighbourhood centre that's sited in an HDB estate and as a new-generation Neighbourhood Centre (an HDB development that incorporates plazas, play areas and community facilities and spaces, with food, healthcare and shopping options), it caters to the residents here.
There's a spacious Community Plaza for events, Community Pods for people to sit and chill at, and a small, open green space in the mall's centre, so everyone can get neighbourly beyond their online socials.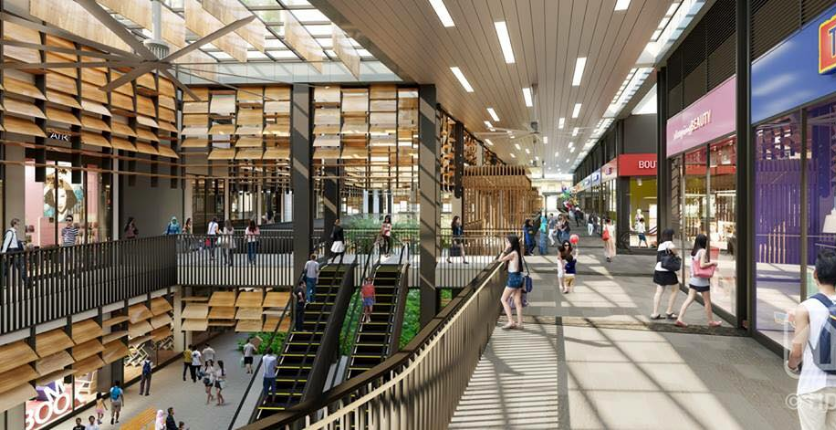 As for the stores: Decathlon, Giant Supermarket, Masego – The Safari Spa (the first outlet's at SAFRA Jurong, by the way), Daiso, and RedMan by Phoon Huat, are but a few prominent ones found in the Plaza.
And, the dining spots: Dancing Crab, A&W, Creamier Handcrafted Ice Cream and Coffee, Ananda Bhavan Restaurant, Nom Nom cafe…the list goes on.
Go with an open mind to discover what's new and running, as some businesses are yet to be fully operational.
(Fun factoid 1: The first new-generation neighbourhood centre is the 7-storey Oasis Terraces, that's actually in Punggol too, next to Oasis LRT and facing Punggol Waterway. It's also worth a look!)
Blks 407 and 408, Northshore Drive, 820407 and 820418, www.facebook.com/northshoreplazasg
4. The Punggol Settlement & Punggol Container Park
When in Singapore, do as the locals do; you travel for good food. And, when in Punggol, you do need to travel to two of the buzziest dining concepts filled with a myriad of restaurants, located at different ends of the area, for the best eats.
First, there's The Punggol Settlement beside Punggol Point Park, near Punggol Point Jetty. This "bespoke food and beverage specialised development concept" is designed to bring back the old-school glory and feels of seafront village dining.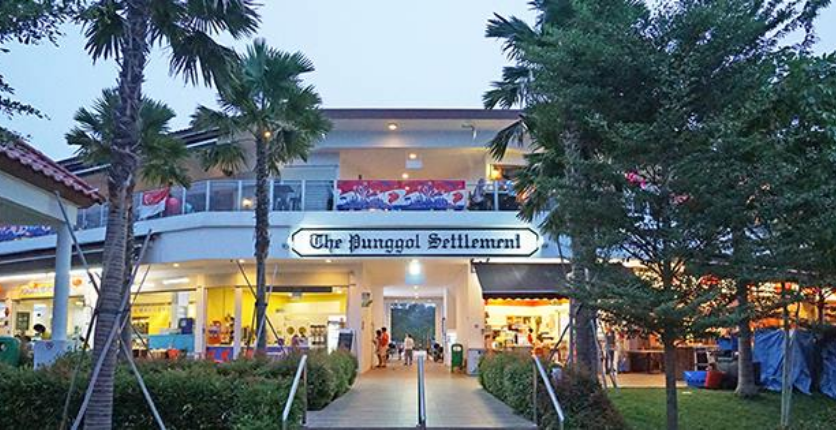 What's here: of the 10 or so dining spots, there are lots serving up seafood and other traditional fare, such as House of Seafood, Punggol Seafood and White Restaurant. Or kick back with some good food, drinks and music at Georges By The Bay. Plus, there's a bicycle rental centre called Jomando Adventure & Recreations if you need to work off the calories after or before the feast.
Then there's the Punggol Container Park at Punggol East.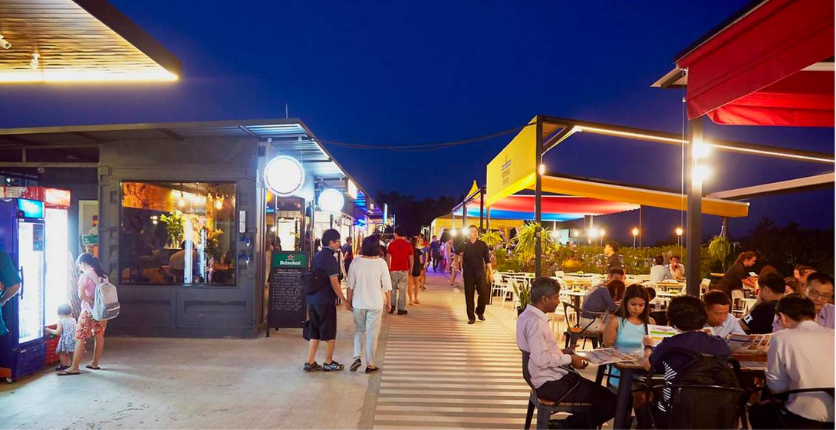 What's here: the F&B restaurants, each with its own social mission and housed in containers, are top draws. There's Big Fish Small Fish (fish and chips), Seoul Good (Korean food), and Tenderbest Makcik Tuckshop (a modern day cafe collaboration with Cat & the Fiddle Cheesecake), among a handful of others. Also, there are a few plant shops and the renowned Uncle Ringo carnival rides in the park, so you and the family can experience lots of flora, food and fun, here!
500 New Punggol Road, 828617,  www.punggolsettlement.com; www.facebook.com/ThePunggolSettlement; www.instagram.com/thepunggolsettlementsg; and 50 Punggol East, 828826, www.socialinnovationpark.org/our-work/seed; www.facebook.com/socialinnovationpark; www.instagram.com/socialinnovationpark
BONUS: SAFRA members and 11B servicemen enjoy 10% off regular-priced items at Georges by the Bay.
5. Punggol Waterway Park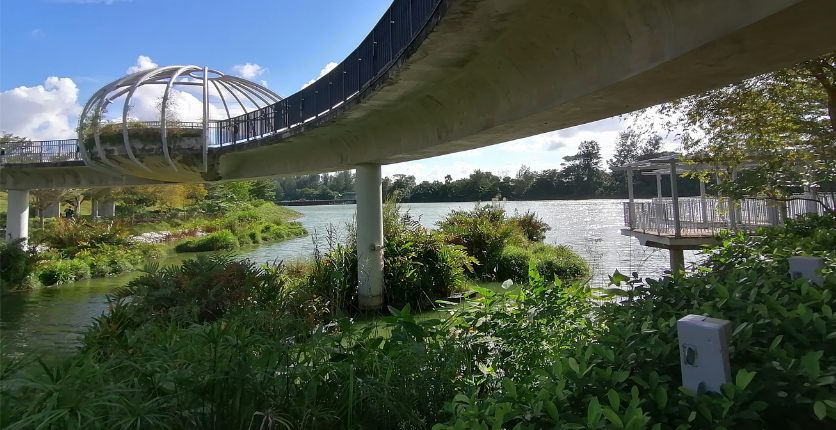 Instead of jogging or cycling along your usual route in your estate, why not spend a day doing so at a way-more-scenic one at Punggol Waterway Park? You can indeed spend hours here, since it spreads across 12.25 + 13.54 hectares of land.
Give your legs a workout by following the tracks along the promenade on both sides of Punggol Waterway when you're around this park section. It's one of 4 parks (the others being Sengkang Riverside Park, Punggol Park and Punggol Point Park) linked by the North Eastern Riverine Loop of the Park Connector Network.
Take breaks by exploring the 4 themed segments of the park: Nature Cove, Recreation Zone, Heritage Zone and Green Gallery. And, also, the Therapeutic Garden that facilitates therapeutic horticulture, with the use of plants and plant-related activities to aid in one's mental well-being.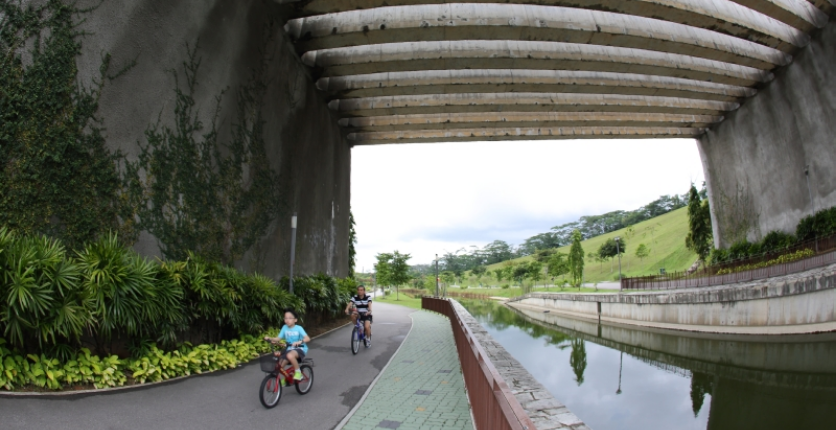 Have more time and energy? Search for the many bridges that pepper the area, like the wavy Sunrise Bridge, the Jewel Bridge with a dome-like structure, the steel suspension Adventure Bridge, and a kelong-shaped one, suitably named Kelong Bridge.
Or simply sit back on the benches with your young ones or best pals for a spot of birdwatching. Birds such as the Black-naped Oriole and Yellow-vented Bulbul have been seen trilling around here "on the fly".
(Fun factoid 2: Coney Island Park's also about these parts. It's a whole other "wilder-nature" park on a whole different island, that's more for the serious nature lover or adventurer. Click here to find your way to it.)
Along Sentul Crescent Road, Sentul Crescent and Punggol Drive, cutting through the whole of Punggol Town, www.nparks.gov.sg/gardens-parks-and-nature/parks-and-nature-reserves/punggol-waterway-park