Most of us are leading quite the digital life IRL, at work or at play – be it yakking on our mobiles, scrolling through and liking posts on Instagram, or watching YouTube vids on our laptops. Naturally, that means our devices need to be powered up 24/7. But, a power socket may not quite be as available 24/7 where you are. Hence, our modern life-savers: power banks. Pick any of the three affordable tech heroes here (available on either Shopee or ezbuy) to get charged up, whenever and wherever you are.
 (Tip: Look out for the exclusive promotions on the aforementioned online retail platforms at the end of the article!)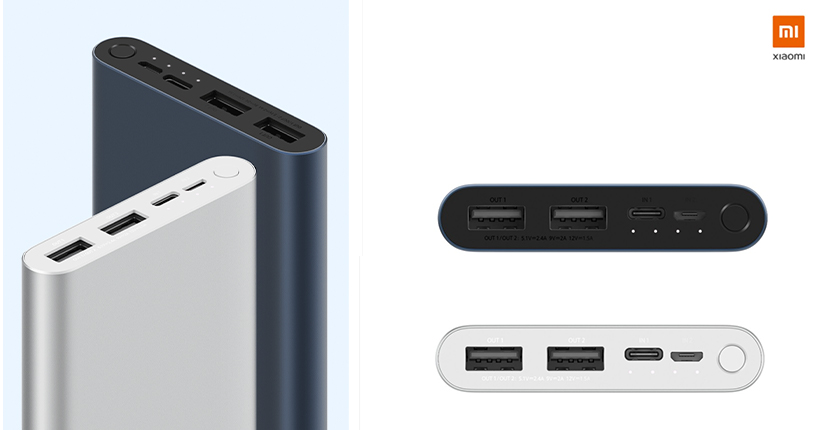 For those living the fast life: Xiaomi 10000mAh Mi 18W Fast Charge Power Bank
So you're the kind that depletes both your mobile phone and your power bank as soon as they are charged up, and time is of the essence and you need all of your lifelines functioning and ready at a snap. Then, a power bank that can be charged up fast and furious, like Xiaomi's 10000mAh Mi 18W Fast Charge Power Bank 3, is your go-to. The quick read on its key features: It has a dual input port for both Micro-USB and USB-C, with two USB-A output ports so you can charge two devices simultaneously; takes just 4 hours to be fully self-charged at the maximum 18W power; and comes with a lithium ion polymer battery and a 10000mAH capacity, which is more than adequate enough for multiple charges for a single device in a day. The claims on its multiple charging capabilities: a supposed 1.9 times (or cycles) for Mi 9, 1.6 times for Mi 9T Pro and 2.2 times for iPhone XS. The fact that it's housed in a slim silver or white aluminum alloy casing with curved sides (so it's easier to handle) and with 9 layers of protection features such as short circuit protection, temperature protection and reset protection (an added circuit rest and recover function for when it's not working as it should), just makes this stylish and safe to boot. Plus, it's affordable, going for less than $30 at most retailers!
---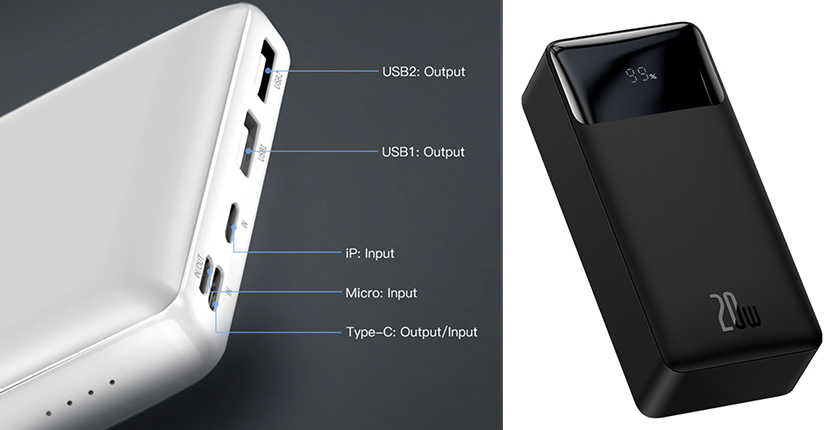 For those who crave power… and value for money: Baseus Mini JA Fast Charge Power Bank 3A 30000mAh
Digital natives, power users and multiple device techies will surely need a souped-up power bank to help keep their day running smooth. Here's a perfect 30000mAh one, but with an even more "perfect" price point – such power in your hands can be had for about $30. So what's in this beast: 2 USB output ports, a Lightning output port, a Micro-USB output port, and one Micro-USB Type-C dual input/output port; a polymer lithium battery; and the ability to charge 3 devices at once. It's touted to be a powerful multi-tasker, acting as a large charging station of sorts, that's able to supply energy for everything from portable speakers and mobile phones, to small fans, desktop humidifiers and even for quick, emergency charging of laptops. Its rectangular silhouette, requirement of just a single USB cable to charge and to store electricity, and electromagnetic field protection feature makes it handy to bring around if you want to. Although, at 622 grams, it might be best to place this functional-looking heavyweight at an office space or home study area.
---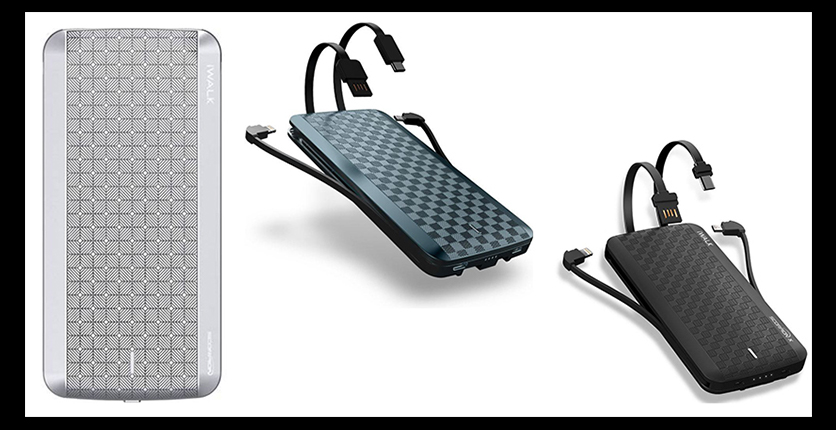 For peeps who love convenience, and families on the go: iWalk Scorpion 8000x Power Bank 8000mAh
Sure, you have hundreds of options when it comes to buying a portable power bank – but, instead of purchasing one based on capacity, weight, shape, or even how good it looks when you bring it out to show the world, how about a power bank that's fitted with all the cables you need to get connected to all of your devices? Forget about tangled up wires and cables, or even forgetting to pack along the actual cables you need, the very suitably named iWalk Scorpion 8000x (available in black, silver or navy) has enough in-built cables to make sure you are never at a loss. What may look like its legs are actually its in-built MFI-certified Apple Lightning cable, Android Micro-USB cable, USB-C cable and USB charging cable, all fitted with pass-through technology so as to allow the power bank to be used as a charging cable itself between devices and an electrical outlet (read: time-saving tech that lets you charge both a connected phone and the power bank while it is plugged into the wall socket). It's also a nifty all-in-one, one-for-all device that you can use to charge your, your kid's and your Mum's, Android or Apple phones when the family's on an outing. And, don't worry about tearing a "leg" off accidentally; they have undergone stress-testing for 5000 pull-and-plug cycles to meet durability standards. For just below $70 on retail, it's convenience at a nice price.
The iWalk Scorpion 8000x Power Bank 8000mAh is available on Shopee and not on ezbuy.
BONUS:
SAFRA members get to enjoy $7 off with no minimum spend (for new customers) and $15 off with a minimum spend of $120 (for all customers), plus other deals and promotions at Shopee. Click here for more information.  
SAFRA members also get to enjoy $5 off with a minimum spend of $10 (for new customers) and 10% off purchases (capped at $5) with a minimum spend of $30 at ezbuy. Click here for more information.