Staying indoors doesn't have to be boring; you can head out to public spaces with the family to spend some fun but safe quality time. With the easing of restrictions, more indoor playgrounds, parks and activity spaces are opening up (while operating at limited capacities and adhering to safe distancing measures) so that friends and families can get to engage in a myriad of play-filled activities outside of their homes, but in a comfier and also safer environment. Here are our top 3 recommendations to bring your kith and kin to enjoy some much-needed amusement and relaxation together, under one roof.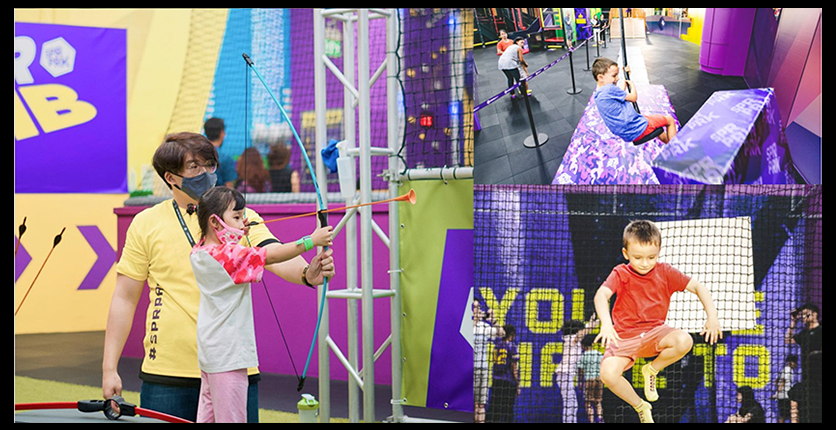 SuperPark Singapore
Imagine a playground, an interactive activity centre and theme park all rolled into one – that's what SuperPark is. The Finland-founded purpose-built indoor activity park is meant for all ages – kids, teens and yes, even grown-ups so everyone gets to have super fun. How super? 3 major themed areas, spread across 40,000 square feet, on two levels.
First off, there's the Adventure Area, that features 7 sections where kids can get to run, climb and even ride to their hearts' content. Kiddos can zip through the air on the Flying Fox, bounce like a playful bunny on the Kids' Trampoline or clamber around like a cheeky monkey in the Kid's Adventure City. They can also choose to balance and tumble in the Kids' Gym, ride a tube tyre down the Tube Slide, pretend to be a masked warrior on the Ninja Track or ride 3- and 4-wheeler cars on the Pedal Car Track. Budding athletes will love the Game Arena that showcases 11 gaming and sporting activities. Your future sportsperson can try their hand at archery, baseball and street basketball, plus more kid-friendly versions of sports such as Superbowling and Superhoop (a basketball scoring game) here. Hot Stepper is a game based on stepping on the right pedals to an ever-increasing pace; Superball is about throwing balls to win goals against an opponent; Valo Jump is an interactive trampoline game; while Superpinball's where you shoot footballs to score points like in a pinball machine. And, if you want to have education, exercise and fun all at once, then the digital interactive iTeacher and iWall activities, are the ones to try. Lastly, the Freestyle Hall, with its Augmented Climbing Wall, Skate And Scoot World, Trampoline Platform, Superclimb and Street Soccer sections will help keep the tweens and teens occupied and having fun.
And, don't worry, SuperPark has got all its safe management measures sorted. There are sanitiser dispensers all around, gear and equipment are sanitised after each use and its capacity is kept to 40% at all times, with face masks being mandatory at all activity areas. Each ticket allows for a 2-hour play session (please look up SuperPark's site for the ticket prices) and you have to purchase SuperPark grip socks ($3.50) to wear for safety within the park. There are also height restrictions for certain activities.
SuperPark, 3 Temasek Boulevard, Suntec City Mall, #02-477 (North Wing), 038983, www.superpark.com.sg; www.facebook.com/SuperParkSG; www.instagram.com/superparksg
BONUS: SAFRA members get to enjoy special admission rates to SuperPark Singapore. Click here for more information.
---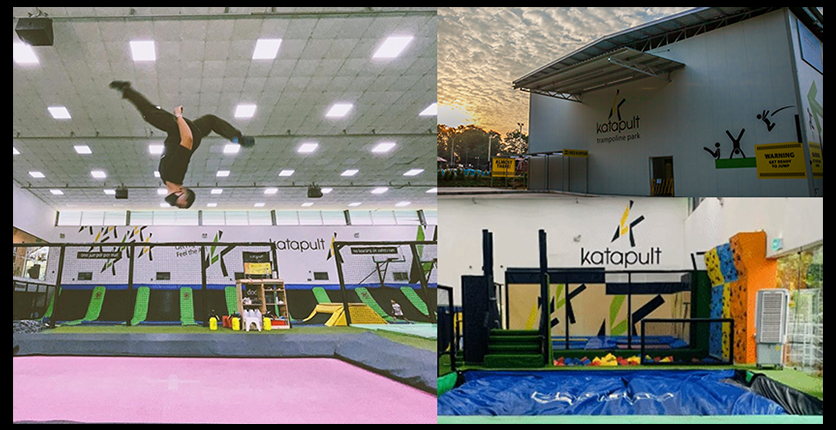 Katapult Trampoline Park
If your energiser mini-me is forever bouncing off walls, then this is the perfect park to go. Katapult Trampoline Park is an arena-sized centre filled with trampolines, sectioned up into different play areas and packed with numerous hopping and bopping activities. First-timers and seasoned jumpers can all bound around in the Main Court,; the major play space of the park with over 30 interconnected trampolines (including angled trampoline walls). But, trampolining is not just the simple act of jumping. Find out by heading for the adrenaline-rush that is Free Fall (for 18 years old and above) where you basically jump off from its Katapult platform onto a huge air bag, and a less heart-thumping but still fun Bag Jump where you bounce off trampolines to land on cushy air bags. Sports enthusiasts can also try out traditional ball sports that are made more exciting: Dodgeball, in a space lined wall-to-wall with trampolines, and Slam Dunk, where you can pretend to be an NBA MVP and dunk a basketball with a little assist from trampolines. If you are an experienced jumper or trampolinist, then you can attempt the Wall Run, pioneered by the famed Cirque du Soleil circus, where one can run and jump off walls using high-rebound professional trampolines. Or, if you want to try something less bouncy, then just climb the Rock Wall station, just so you can fall backwards into a foam pit. And, when you and the spirited one are tired out, relax at the Katapult Kafé with some drinks, tidbits and muffins.
If safety's foremost on your mind, then you might be glad to know that the park has made masks mandatory for all jumpers; marshals to brief on and supervise all activities; and even posted a safety video on its site. Just so you know: The park also follows the American Society for Testing and Materials (ASTM) trampoline park standards and uses high quality custom-built foam-padded trampolines. (For official pricing and timings, please look up the park's site.)
Katapult Trampoline Park, 81 Lorong Chencharu, #01-11, 769198, www.katapult.com.sg; www.facebook.com/katapultsingapore; www.instagram.com/katapultsg
BONUS: SAFRA members get to enjoy 10% off all jumps at Katapult Trampoline Park. Click here for more information.
---
Snow City Singapore
Experience actual winter time here? Yes, you can, at Snow City Singapore, the island's first permanent indoor snow centre. Think exciting activities for the entire fam, all year-round, but in closed, wintry, snowy conditions. The latest attraction to its "icy" experience is its Winter Shooting Arena where players (aged 14 years and above) try out basic target shooting activities; Fire Movement missions where players coordinate to take down targets at firing points; and the high-energy Close Quarter Battles where teams engage each other while aiming at markers. If you have younger ones in tow, then opt for Drift On Ice, "Singapore's Coldest Bumper Car Arena" according to the Singapore Book of Records. Here, visitors can wheel around solo or in a pair to enjoy a 5-minute carnivalesque bumper car ride in a sub-zero environment. If bumping other peeps isn't your thing, then you and your mini-me can always go on an adventure exploring the North Pole. Learn about Inuit culture and life in Zone 1's Arctic Snow Playground while having fun with life-sized snow sculptures, an igloo and a magical snowfall; experience an egg whirl ride, a storytelling session at a giant nest and a snow blizzard at Zone 2's Snow Field; and race down a 60-metre-long, 3-storey-high snow slope in the Arctic Snow Slide zone!  There's also The Cliff @ Snow City Singapore, where you and your kid climber can sweat it out tackling a vertigo climbing wall before "chilling out" in the equally-fun activities in the snow centre itself.
And, naturally, like all play centres and parks, it is always safety first: Snow City is operating at 50% capacity with a maximum of 50 people per session, with maintenance and sanitisation works carried out during its operational hours. Plus, there are also guidelines to note and to adhere to when visiting the snow centre (especially since you will be playing in cold and slippery snow), so make it a must to read up on them (and the ticketing details) on its site before heading down.
Snow City Singapore, 21 Jurong Town Hall Road, Singapore 609433, www.snowcity.com.sg; www.facebook.com/SnowCitySG; www.instagram.com/SnowCitySG
BONUS: SAFRA members get to enjoy 10% off special ticket bundles at Snow City Singapore. Click here for more information.