Amidst all the rising stress, frustrations and worries these days – no thanks to the pandemic – we all need a little more love just to feel better. But, with social distancing and restricted gathering guidelines, we can't all be there for everyone and at every occasion to give them a much needed hug. Here's a solution: delectable snacks and bakes. Even if we can't shower them with some TLC physically, we can buy them some toothsome munchies to make their day, well, sweeter.
Pick your faves from this list featuring a healthy breads bakery, a new-old school confectionery and a "Mum-made-well" snacks biz, for your takeaway or online delivery gifts for your most favoured people. And, while you're at it, you might as well order some for yourself – don't forget, you, too, are important and deserve all the extra love and all of the delish treats that you so desire.
Look out for Part 2 of this feature, where we cover more yummy goodies, including some icy desserts.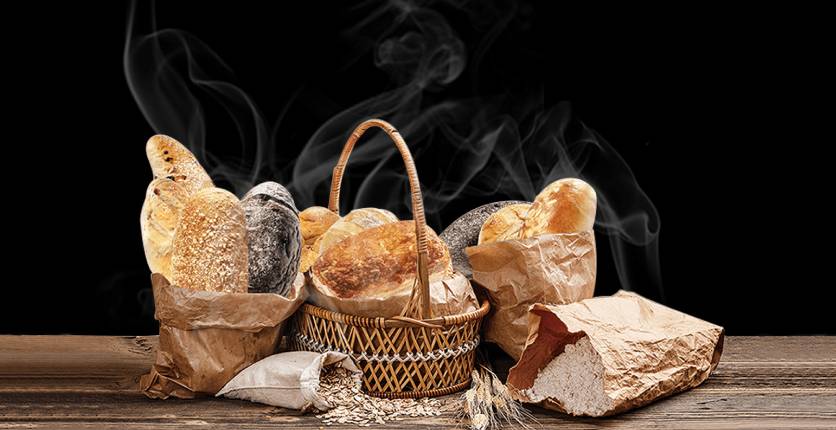 Duke Bakery's healthy baked goods
Everyone into wholesome breads know of Duke Bakery. After all, the chain's known for its large-sized loaves made with Japanese and European baking techniques using high quality ingredients with its 3 "Lows" in mind (low sugar, low fat and low calories). And, its breads, indeed, make for healthy eats; Black Goji Precious Green, Chinese Wolfberry, Cranberry Quinoa and 10-Multi Grain Toast are but some of its more popular and beloved fruit- and seed-filled ones.
But, would a bakery selling such healthy dough offer more creations made of the sweeter stuff? Let's list some out: Chocolate Bun, Chocolate and Blue Mt. Coffee bread, Taiwanese Pineapple Tart, Traditional Butter Cookies, a range of flavoured Japanese scones and even cakes such as Handmade Almond Banana Cake, Handmade Black Forest (that actually contains alcohol) and Fraisier Entremet (a cake made of strawberry, mix berries compote, vanilla sponge and vanilla diplomat cream). So the answer's a big and resounding, "Yes". Drop by any of its bakeries found isle-wide or visit its e-store to see just how big of a sweetmeats range Duke Bakery has.
Duke Bakery, multiple locations, www.dukebakery.sg; www.facebook.com/dukebakery; www.instagram.com/dukebakery.sg
BONUS: SAFRA members enjoy 50% off a pack of Duke Slice (Chocolate/Garlic/Sugar/Croutons) with any item purchased in a single receipt and 5% off regular-priced items at Duke Bakery. Click here and here, respectively, for more information.   
---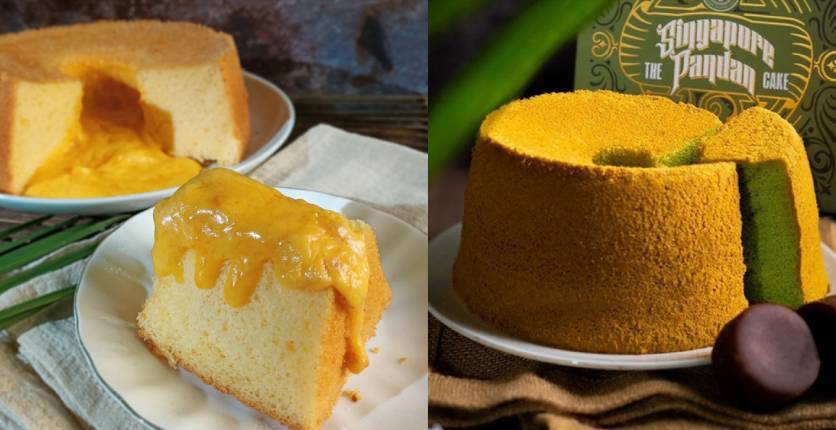 Old Seng Choong's mindblowing chiffon cakes, cookies and more
The greatest of good food can bridge generations; Old Seng Choong is a brand name you can trust that will please both the elderly folks in your fam and the new gen peeps in your socials. Old Seng Choong is an homage by top SG baker Daniel Tay to his father's Seng Choong Confectionery that was established in 1965 (it closed in 1996), with the current biz being a bona fide modern-day success – no surprise, given Tay's blessed with both traditional baking know-how and creative-mad skills. It's evident in the baked goods available: Goreng Pisang, Hae Bee Hiam and Laksa cookies; Coconut Blue Pea Flower, Black Sugar Lava and Jeju Yuzu chiffon cakes; Lychee Martini, Taro and Yuzu swiss rolls; Black Pearl and Tiramisu cakes; and Pear, Cherry and Lemon Tarts. There are loads more exciting fusion-flavoured confections to try – you and the loved one that you are buying it for just need to have an open mind, an adventurous palate and a willingness to share between yourselves (these treats can be absolutely moreish, we kid you not).
Old Seng Choong, multiple locations, www.oldsengchoong.com; www.facebook.com/oldsengchoong; www.instagram.com/oldsengchoong
BONUS: SAFRA members enjoy 50% off 2nd chiffon cake and cookies and 15% off all cookies at Old Seng Choong. Click here and here, respectively, for more information.
---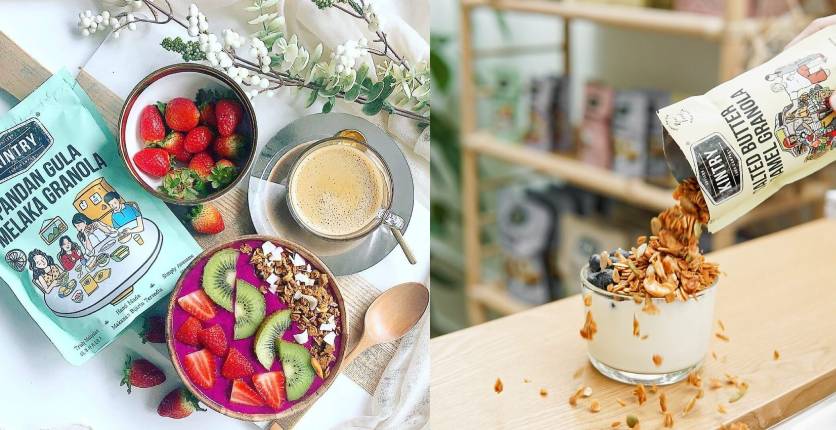 Kintry Singapore's home-style granolas, cookies and chips
Mum knows best, ya? At least for former stay-home-mother and current F&B Mum-preneur, Michelle Chai, she does. Chai knows all about coming up with healthy home-made bites and making a successful business out of selling them; she started her Malaysian brand Kintry in 2017. Fast-forward to today and the former pop-up market, small-batch biz has expanded to be sold in physical brick & mortar supermarkets. But, if you want to peruse its smallish but delish selection of snacks, it's best to visit the brand at its SG online website and store.
For granola packs, there's Pandan Gula Melaka, Salted Butter Caramel, Honey Quinoa (made without nuts) or Chocolate Hazelnut to choose from; for its cookies, there are two flavours, Oat Cookies with Chocolate Chips and Macadamia White Chocolate; and there's the one and only Salted Egg Yolk Potato Crisps for its chips. The best things about them? They come in mini or regular packs (so you can control portions for snacking) that feature relatable and totes adorbs illustrations and the products are all Halal-certified by JAKIM Malaysia.
Kintry Singapore, sg.kintry.co; www.facebook.com/kintrysingapore; www.instagram.com/kintrysingapore
BONUS: SAFRA members enjoy 10% off sitewide with a minimum spend of $50 and 10% off Halal-certified snacks with no minimum spend at Kintry Singapore. Click here and here, respectively, for more information.
EXTRA BONUS: Extra Sweet SAFRA Voucher Deals
Want more value-laden options to tickle your and your loved ones' taste buds? Try checking out the SAFRA weekly vouchers specials at treats.safra.sg. For the whole month of July, there are $5.60 promotional vouchers that you can get that are especially useful for purchasing a sweet (or savoury) treat. Here's the list for your easy-peasy reading:
Week 1 (from 1 July)
$5.60 for $10 worth of Four Leaves vouchers
Week 2 (from 8 July)
$5.60 for $10 worth of Polar Puffs & Cakes vouchers
Week 3 (from 15 July)
$5.60 for $10 worth of Bengawan Solo vouchers
Week 4 (from 22 July)
$5.60 for $10 worth of Sheng Siong vouchers
Week 5 (from 29 Jul)
$5.60 for $10 worth of Old Chang Kee vouchers
It's a limited-time offer with limited sets for sale, so get clicking here stat!