For up-and-coming competitive water polo player Clement Goh, the sport is all about character building. "In the past, I had to be pushed and would often bargain with my mum on the number of laps to swim. I only wanted to do the bare minimum. But since I've started on water polo training, it has shaped me up to be better disciplined and confident."
Given that the 13-year-old formally took up the sport only in January 2019, his swimming achievements have been nothing short of impressive. At the Pesta Sukan Active SG held in July last year, he came in third. "It was my first competition," he says.
This prodigious player was already swimming competitively before taking up the water polo sport. Water polo can be a highly demanding sport, given that it calls for not just teamwork but also tactical thinking. To be at the on top of the game, Clement has immersed himself in a rigorous training programme.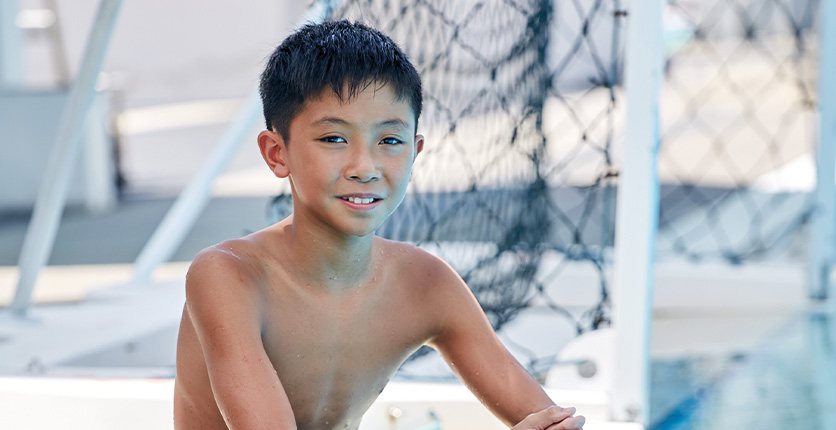 For 16 hours a week, he trains morning and afternoon at various locations, including at St Andrew's Secondary School, where he is currently studying. He is also playing two positions in the sport – driver, which leads the offence, and wing, which helps to cover rebounds.
He shares about how he manages his hectic routine: "I usually finish homework during lunch or lessons. Completing homework on time de-clutters my schedule and leaves me with more time to relax as well as for other activities." He adds that he has plenty of good counsel. "Talking to my tutors about my challenges at school also helps me to de-stress."
A self-professed adventure lover, he recalls the struggles he had to make. "Last year, before my PSLE, I had to manage both the physical and mental demands that the sport called for, including finding the time and energy to study. I was really exhausted," he reveals.
"But I'm glad that the toughest period is over. Missing hours of sleep, social get-togethers and other entertainment are just part and parcel of the sacrifice made by student athletes."
There is much to look forward to, he avers. "I want to join the youth national team and represent Singapore in water polo. It's an utter joy when we score or win."