You read right: the good, old breakfast confection has "re-returned" in all of its sweet glory, and much more. It is no longer the thin, round and flat childhood fave that's normally served with plain maple syrup, as you might have remembered it to be. This 30,000 year-old hotcake (as it is also popularly known as) now comes in all forms, with all kinds of condiments, and can be eaten at all times of the day, even as a main meal! Here are five restaurants and cafes in Singapore serving up new-fangled variations for you to stick a fork into.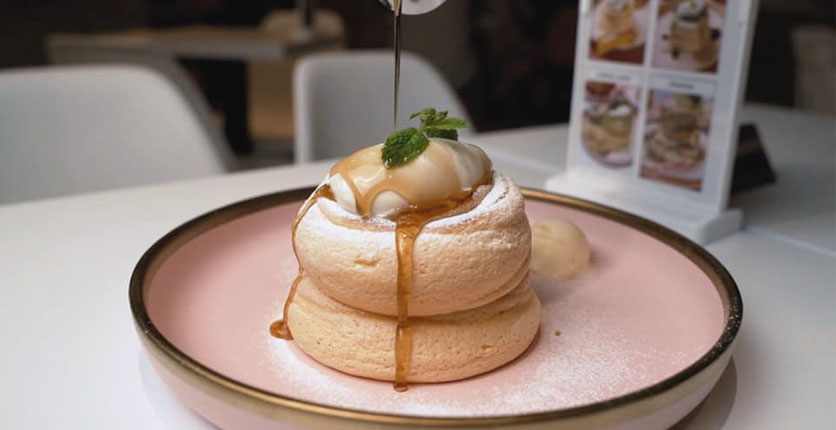 As goes its self-descriptive name, the soufflé pancakes here are fluffy and best had stacked up. First opened in Suntec City mid-2019, Fluff Stack has done so well it opened a second outlet in Northpoint City at Yishun in August this year. Run by pancake-lovers, the ones here are made-to-order (about 15 minutes or so) but are so worth the wait.
Must-tries: For the 'gram, go for the Black Forest Soufflé Pancakes that come with blood-red cherry compote, chocolate ganache and copeaux (shard-like shavings) and silky chantilly cream. And its Salted Caramel Soufflé Pancakes are – in its words – "a symphony of decadence… a lavish quintet of crushed hazelnuts, caramelised biscuits, mascarpone crème and cheese foam, embraced by a lustrous bed of salted caramel". Consider us sold.
Fluff Stack is at various outlets.
Visit fluffstack.business.site; www.facebook.com/fluffstacksg
---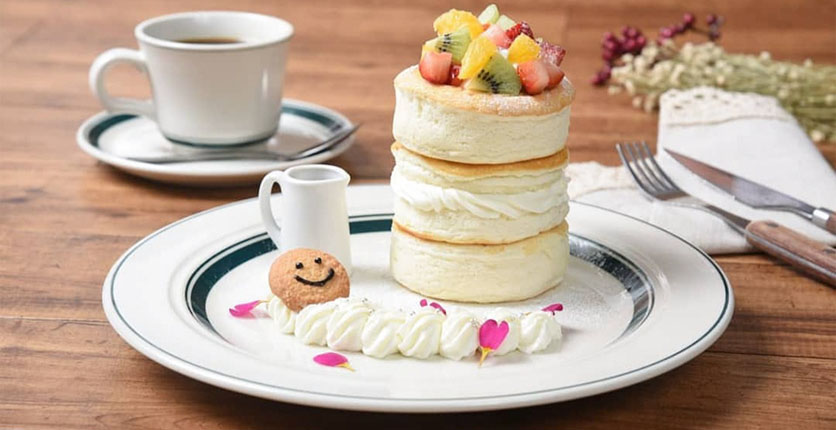 Possibly the most popular-OG of the lot, this pancake chain from Osaka was an instant Insta-hit amongst foodies in SG. Why? 'Cos of its Premium Pancakes, stacked in threes, each 4-cm thick, and made to jiggle like its hot.
And they are "hot" – make sure to check ahead with the cafe to get a taste. Why? 'Cos it has limited servings at designated timings in a day, takes a whole half-hour to cook, and the queue-slots do get taken up fast.
Start gobbling them down within 5 minutes when they get served. Why? 'Cos they are slow-cooked on low heat and whipped full of air, so while you may want to shake them silly, don't, as they will "deflate" and lose their fluffiness.
Must-tries: Aside from the Premium Pancakes, the Gram Chicken Curry Pancake makes for a sweet 'n' spicy meal with its homemade Japanese curry, sausage and potatoes. And just for the hols, the cafe has just launched a Festive Season X'mas Edition takeaway box with new Koffee, Ultimate Oreo, White Chocolate and Earl Grey Tea Cream flavours that's best snacked on cold.
Gram Café & Pancakes is at 1 HarbourFront Walk, #02-110, VivoCity, 098585.
Visit www.facebook.com/grampancakes; www.instagram.com/gram_pancakes_singapore/
---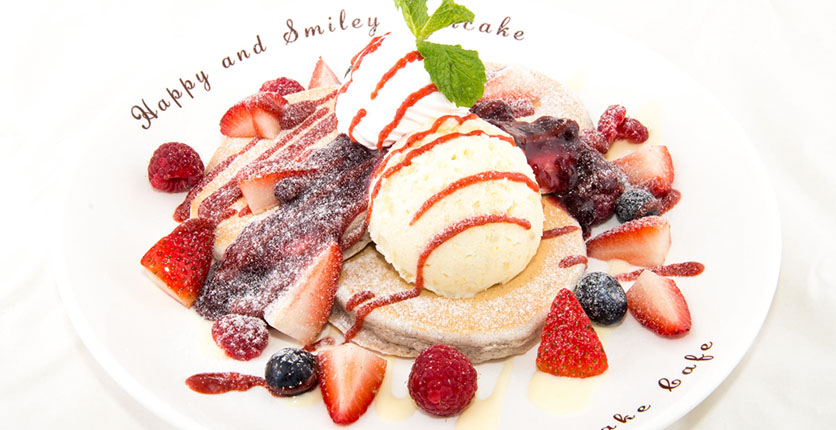 While this Japanese cafe might have debuted in Singapore back in 2016, it has since moved from Novena to its current Holland Village location in August this year. While it's new all-white interior (adorned with illustrations by local artists) is a minimalist-loving hipster's dream, the fare here remains chewy-good (compared to other cafes' soufflé versions), probably due to its 100-percent Kyushu Original 7-wheat-and-grains and Kyushu classic Buttermilk pancake flour mixes.
Must-tries: Aside from its Kyushu Good O'l Classic (served with white wine honey and a daily fruit syrup), there's a whole host of savoury options (Arrabiata Bacon Pancake and Avocado Shrimp Burger are two of the more interesting ones), dessert waffles and French Toast to be had here.
Kyushu Pancake Café is at 25 Lorong Liput, 277735.
Visit www.kyushu-pancake.sg ; www.facebook.com/kyushupancake.sg
---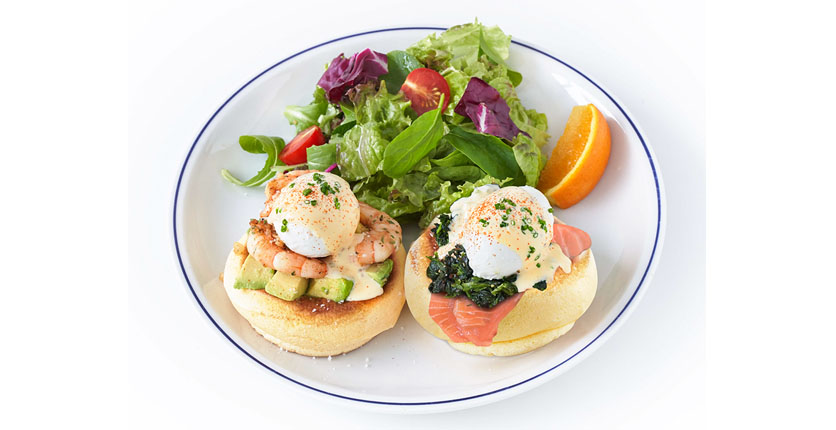 The latest to hit the griddlecake scene is this Japanese chain that offers eggier takes on the soufflé-style desserts. Its first outlet opened in early November this year in the heart of SG's shopping district Orchard Road, and is renowned for its kiseki (Japanese for "miracle") soufflé pancakes. Made with milk, Hokkaido Kitahonami wheat flour and Kanegawa Hinata eggs, these delicacies are so soft and wobbly that the cafe presents two forks along with every one ordered.
Must-tries: Take your pick from any of its 6 treacly versions, including its Kiseki Pancake Plain served with housemade maple-butter cream. But if you are craving for something savoury, their Eggs Benedict Souffle Pancake is the one to try stat – poke the eggs with your fork and be ready to capture your IG foodie video moment as the bright yellow yoke oozes out!
FLIPPER'S is at 391A Orchard Road, Ngee Ann City, Takashimaya Shopping Centre, #B1-56, 238872.
Visit www.q4what.com/flippers/; www.facebook.com/flippers.singapore; www.instagram.com/flippers.singapore/
---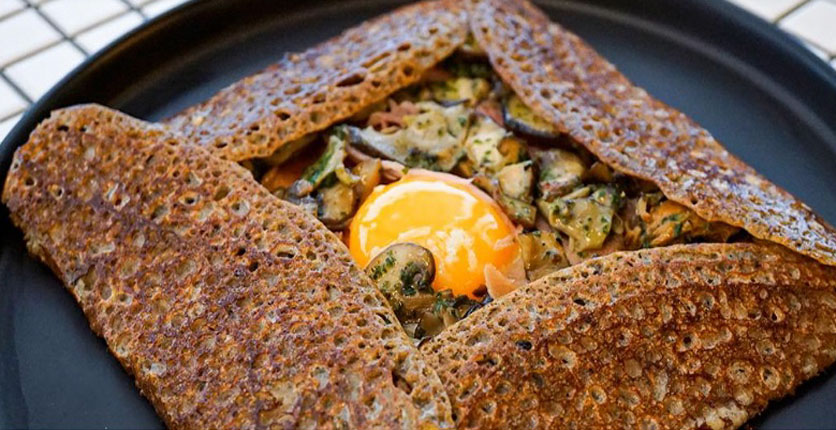 Fluffy or doughy pancakes aren't the only ones to make the grade in SG – this new French dining concept by the Merci Marcel Group can certainly attest to that. What this 50-seater creperie specialises in: crepes (a French, folded version of a dessert pancake, thinner, smoother and made with wheat flour) and galettes (a gluten-free pancake made with buckwheat flour that can be filled with savoury ingredients). Still unsure? The 11 galettes and 10 crepes dished out at this plant-filled bistro along Telok Ayer Street will help change your mind.
Must-tries: Adventurous ones can opt for the No. 10 galette that comes with wild trout, leek fondue and a wedge of lime, or No. 11, an envelope of Masala chicken, chilli, tomatoes and french cheese. Sweet-toothed folk can find satisfaction through the crepes that come accompanied by poached pear and chocolat Valrhona 70%, or orange confit and black sesame. Feeling indulgent? Top up with a scoop ice-cream (Hojicha seasalt, strawberry basil or dark chocolate sorbet) from the 2019 Michelin Plate-distinguished Birds of Paradise.
French Fold is at 204 Telok Ayer Street, 068640.
Visit mercimarcelgroup.com/fold/telok-ayer-singapore; www.facebook.com/French-Fold-115831203537691
---
Featured image: FLIPPER'S Singapore