NSmen, sedia! This article is for kicking off your 2022.
It's about the privileges made available to you (that you may not know about) for having undertaken your NS duty, as well as why you should keep updated on what's nice, new and exclusively meant for you.
Now, about the how: SAFRA's all about making sure NSmen are acknowledged and appreciated for serving the nation. Part of it is by supporting and building the bonds and memories that you as an NSman share with fellow NS mates, friends and family.
So SAFRA looks out for all the good stuff to help you lead the best life possible. Which means getting hold of lots of treats and offers, for all manners of your lifestyle needs. Think dining deals, shopping discounts, entertainment promotions, facility- and amenity-based services for work, sports and play, and much more.
Okay, so how does one make sure you don't go all FOMO on these benefits? Easy-peasy – just check out, follow or subscribe to SAFRA's Facebook, Instagram, Telegram and LinkedIn. We go into the details for each platform, and the kinds of lowdown and first dibs that they give.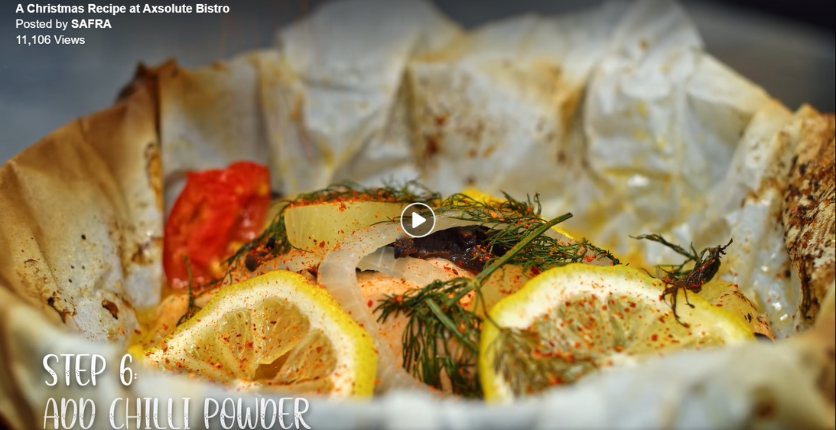 This is the place to go for all the news about SAFRA. So, if you aren't quite sure where to begin or which social media account to choose, simply start here.
What do you get to see here: Everything SAFRA! First off, there are loads of video content to view – such as those featuring key events (great for people spotting and getting clued in), sneak peeks into the SAFRA clubhouses (so you know what's there before you go), exercise video streams (so you can WFH a.k.a. workout from home) and recipe vids (to help you rustle up special meals for the fam).
It's also where you can get the official word on SAFRA's major events such as the SAFRA Singapore Bay Run & Army Half Marathon and Liberty SAFRA Swim for Hope. Don't worry if you missed them this time 'round – just keep an eye out for the next one, here on Facebook!
And, also, posts about all of SAFRA's smaller-scale but no-less-better community and public-focused efforts and events such as SAFRA Family Day Out 'n' About On Wheels and Let's Gift For A Reason. Plus, updates about some of the SAFRA clubhouses' regular fun and educational activities such as kids' workshops and facilities-related information that SAFRA members (and potential members) would be interested in.
Last, but not least, there's also the "good stuff, must share". Top are the easy-to-join contests with covetable prizes (sign up quick when they come up, as and when). Tops, too, are the posts that link to the latest stories on the eNSman site, that provide oodles of absorbing lifestyle content – such as this one here!
Connect with SAFRA on Facebook at www.facebook.com/SAFRAsg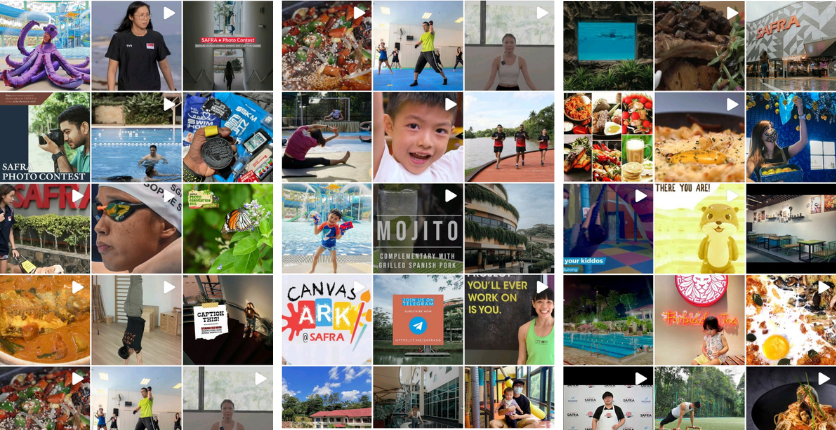 If you are more of a "visual" person or forever on IG, then it will do you good to follow SAFRA's Instagram account.
Basically, like Facebook, it has the essential, up-to-date bits regarding SAFRA, but in digestible, image-grid format, and just without the fuller reads for when you just don't have the time.
If you are in a rush, simply scroll through SAFRA's Instagram for quick info bites, short eye-catching vids and condensed contest deets. What's more, there some gorgeous lifestyle images and Insta-worthy pics from SAFRA and fans of SAFRA on here to help inspire you. For your daily pleasure, simply follow, view, tap and like, comment, share, repeat.
Follow SAFRA' on the 'gram at www.instagram.com/safrasg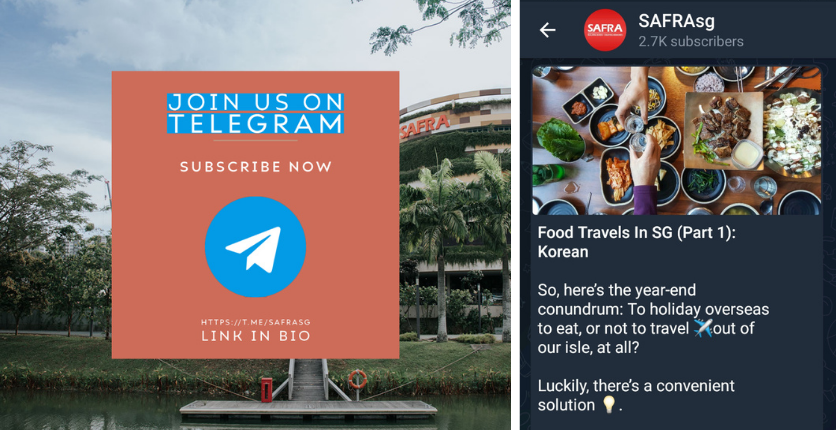 In case you didn't know, SAFRA is on Telegram. It's the newest in their array of social media channels, in its "customer first" service to get the latest and best news and deals to everyone faster than you can send a sticker.
It's got everything that you see on Facebook, but in compact form for an easier read, with links to the original and detailed posts elsewhere, such as the eNSman site. Honestly, this is your go-to for updates if you really like perusing the lifestyle portal's many articles that are also great sources for SAFRA-related info and benefits for NSmen.
Also, if you really want to make sure you don't miss out on that limited-time promotion or deal-of-the-day, it's best to subscribe to SAFRA's Telegram channel on top of Facebook and Instagram to "catch them all". Trust us, the kiasu-person inside of you will thank you for it.
Join SAFRA's Telegram channel at https://t.me/SAFRAsg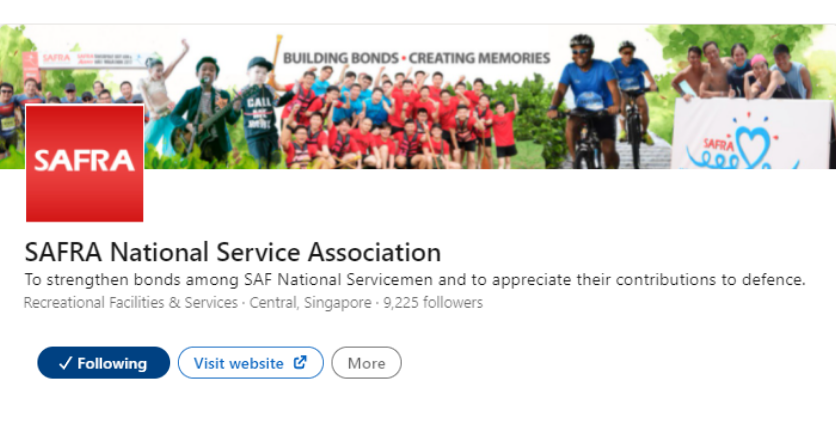 It never hurts to prepare and be prepared for growth in your career, whether you're embarking on a new position, looking for a job or thinking about your next step within your organisation.
And as an NSman, you'll want advice tailored specially for you, at whichever stage of career you might be at.
Enter SAFRA on LinkedIn.
Here, you'll be kept abreast with a special selection of articles and stories that will aid you in your job hunt or in advancing your career. You'll also find tips and deals that will be helpful for life at work (in the office or from home).
Of course, there's also the bonus of possibly finding a job opportunity that you might just be suitable for!
Follow SAFRA on LinkedIn.