Why bracelets make the perfect arm candy for every mum; they can be easily worn around the wrist with fastenings, closures or with some kind of elastic material, unlike cuffs and bangles than you might need knuckle and wrist measurements for. Reason duly explained, on to the shopping: Dip into this basket of 8 and pick one or a few delights for Mum so she can get to swish her wrist at you, not to nag, but to display her pleasure.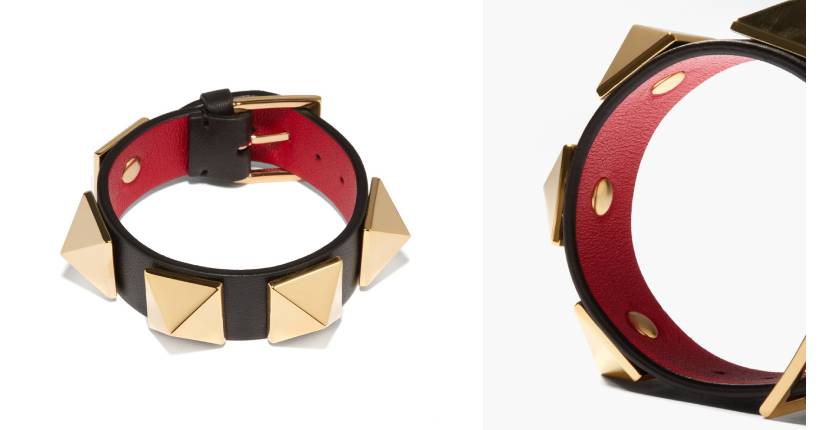 Roman Stud leather bracelet, $565 (USD $425), Valentino Garavani
Help Mum relive her punk/girl rocker/teenage rebel days with this chunky accessory. But, in more grown-up, refined style. Gold Roman Studs (inspired by hardware on ancient doors) affixed on black (on the exterior) and red (on the interior) calfskin leather and fastened with a gold buckle; this is how a former riot grrrl does adulting but still-rocking style.
Available at MatchesFashion
---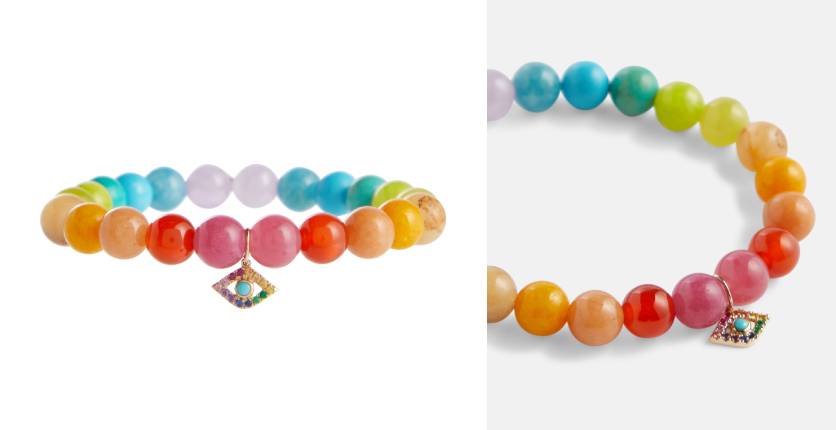 Rainbow jade bracelet with 14kt yellow gold charm, $745, Sydney Evan
Elevate your mother's jade-loving look with some colour. Or, with this L.A. brand's bracelet, a spectrum of colours. Strung together with the rainbow-hued jade beads is a turquoise Evil Eye (a symbol in some cultures that acts as an amulet of spiritual protection) that's surrounded in a rhombus of  faceted glass stones. It's as cross-cultural, modern and colourful as SG moms are!
Available at Mytheresa
---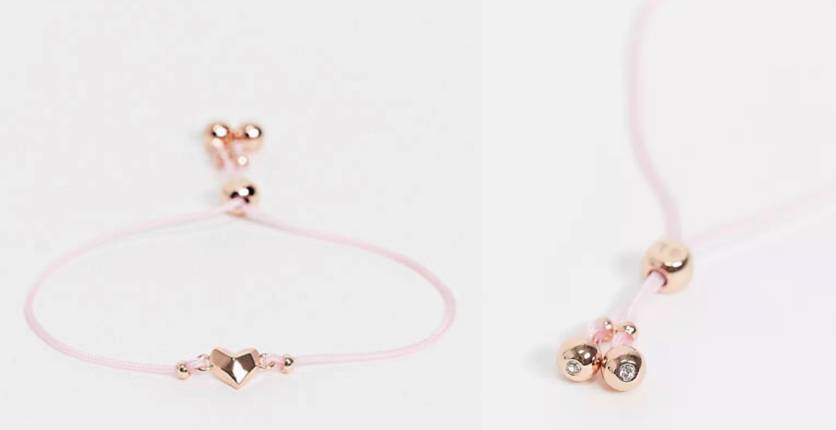 Fillipe heart friendship bracelet in baby pink and rose gold, $46.99, Ted Baker
Mum's the type doesn't like any kind of fuss? Then maybe you ought to keep your Mother's Day gift simple, like this fine pink nylon band. It's easily adjustable, comes with a rose gold-tone finished brass heart charm, and super-subtle Swarovski crystal detailing on the brass fastener bits. Plus, it's a friendship bracelet! 'Cos you know, Mummy's a bestie.
Available at ASOS
---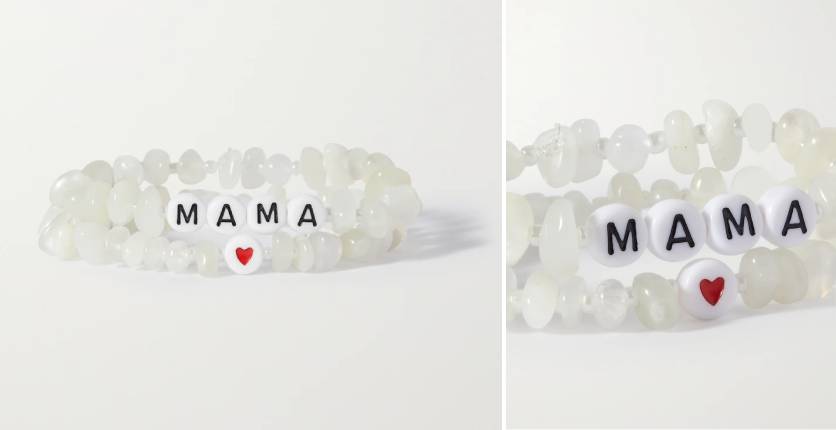 Set of two moonstone and enamel bracelets, $179 (USD $135), Tbalance Crystals
Do we really need to spell out why you should get this for your mama? Oh wait, it already does. Aside from the engraved enamel beads (that also include one with a red heart), these two bracelets are made of moonstones, said to have calming properties that promote inner strength and growth – which means this oughta keep her happy and chill for Mother's Day.
Available at Net-A-Porter
---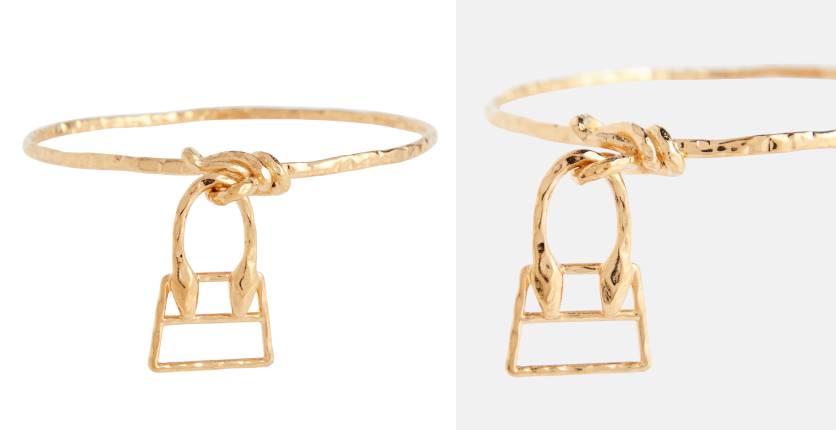 Le Bracelet Chiquita charm bracelet, $255, Jacquemus
The, erm, charming point of this charm bracelet? The miniature pendant that's a gold-toned silhouette design of the French brand's petite signature Le Chiquita bag, that's cleverly built into the clasp design of this textured brass svelte beaut.
Available at Mytheresa
---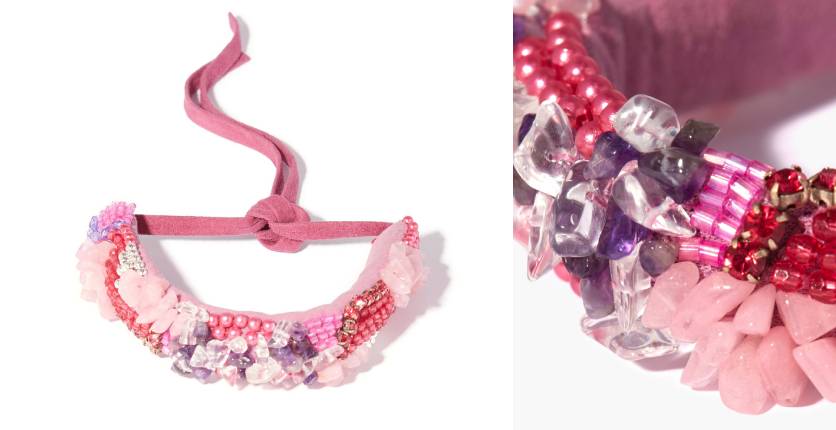 Beaded suede bracelet, $365 (USD $277), Isabel Marant
Celebrate Mummy's free-spiritedness with this bohemian-style bracelet. Crafted out of soft rose-pink suede, this slender tie-up piece comes adorned with tonal glass beads in baby pink, red, purple and bright pink – enough wrist candies to make this the ultimate delish accessory for sweet-natured mothers.
Available at MatchesFashion
---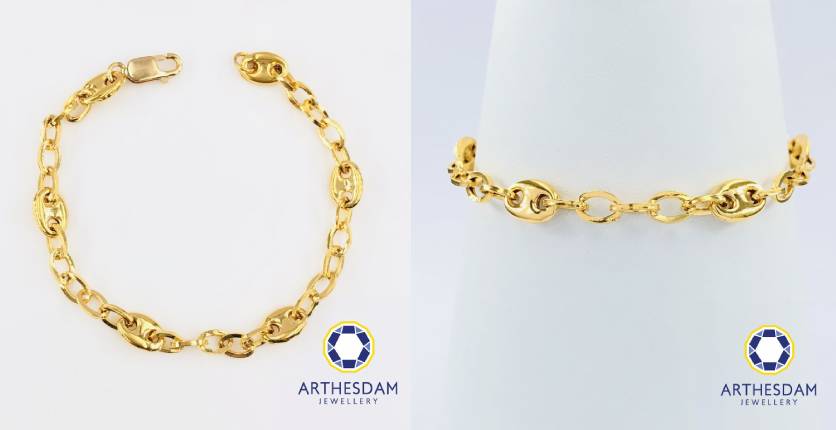 916 Gold Soda Tabs bracelet, from $626, Arthesdam Jewellery
Don't just give your mom the gift of jewellery, give her one that's literally worth its weight in gold. This one's made in 916 yellow gold (certified by the Singapore Assay Office with the SAO Hallmark so it's legit), is available in two sizes, 17 and 18 cm (so Mom's got options) and comes in a soda tab design (classic with a touch of pop-culture whimsy).
Available at Arthesdam Jewellery, 95/97 Serangoon Road, 218000, www.arthesdam.com.sg
BONUS: SAFRA members can enjoy additional $30 off Mother's Day special collection (applies to sale items). Click here for more information.
---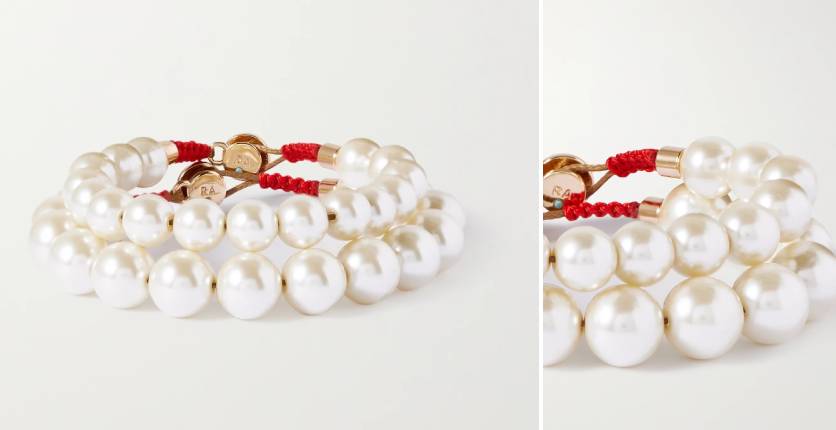 Pearly Whites set of two gold-tone faux pearl bracelets, $106 (USD $79.67), Roxanne Assoulin
Pearl jewellery's still trending in men's fashion – Justin Bieber just wore one on Insta last week – and are a forever-item, in women's fashion. While this is not the real thing, it looks good enough, with red macrame knots and gold tone fastenings bringing out the white of the faux pearls. Plus, it comes in a set of two so Mother can do a stylin' double-whammy.
Available at Net-A-Porter
---
All products are subject to availability and prices are subject to change. Prices stated are correct as of time of posting and are based on current exchange rates.