Now that the restrictions have been further eased and more people are allowed back in office, there might be greater need for you to be out and about – which means you will need more masks. Instead of using the disposable kinds (save the environment, and save these masks for those who might really need them, too), why not go for washable, reusable, and also, interesting masks that can double up as your new normal's latest fashion accessory, such as the ones curated for you here? Even if half your mien is obscured, these face coverings will help people remember you… by your face (mask).
(Please note to get the right sizing for your face, and that not all of these mask coverings are surgical- or medical-grade, so you might want to take some extra precautions when wearing them out.)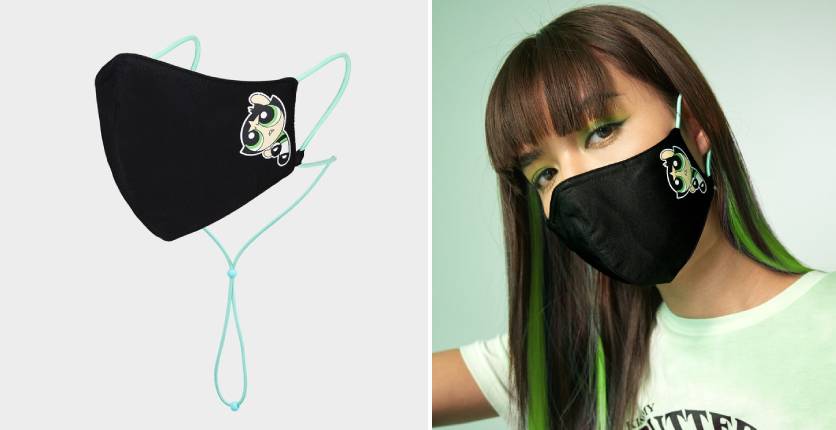 The Powerpuff Girls Buttercup Graphic Mask (black), $9, Pomelo
Embrace your cutest inner super heroine and kick-butt at work and against COVID-19 with this affordable, light-weight mask that's good up to 10 washes and comes with fresh mint-coloured adjustable straps. And if Buttercup's not your girl, then there are also ones with Blossom and Bubbles to help save your day.
Available at Pomelo stores, multiple locations, www.pomelofashion.com/sg
---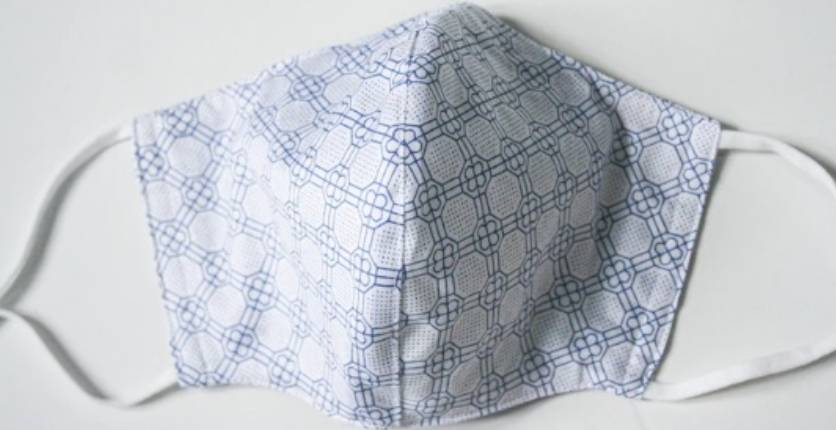 Chinese Tiles Face Mask, $15, Q Menswear
Decorate your face like how you would your home with some floor tile patterns. This white and blue one is cut from fabric (either 2-ply cotton or linen) that's specially curated by local tailors Q Menswear so that its face masks are made to be regarded as both a quality accessory and a protective face cover (it features a sewn-in PM2.5 Melt Blown Filter).
 Available at Q Menswear, 116A Telok Ayer Street, 068585, q-menswear.com; www.facebook.com/Q.Menswear; www.instagram.com/qmenswear
---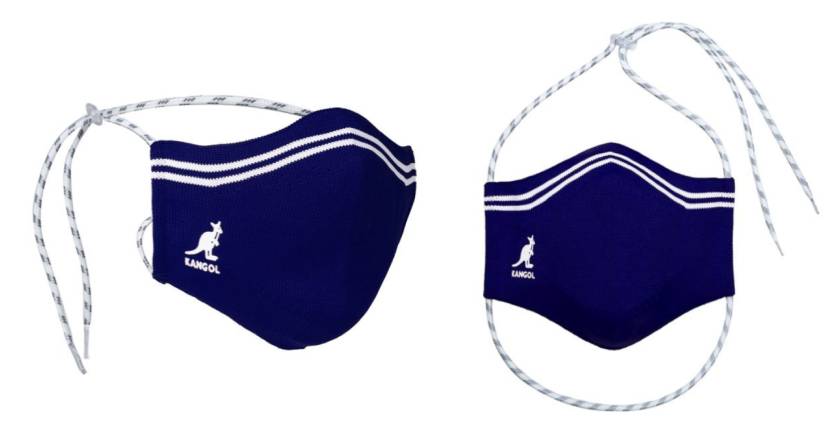 Face Mask (in Navy), $45, Kangol
A little retro, a little sporty, completely street-worthy; this blue one's made from Kangol's Tropic yarn, and is double layered with an interior pocket to slide in an additional filter. The extra fashionable touches: an attached shoelace-like pullover cord with reflective stripes and a flocked K-roo logo printed on the mask's right side.
Available at Sects Shop, 277 Orchard Road, Orchard Gateway, #04-14, 238858, sectsshop.com; www.facebook.com/SECTSSHOP; www.instagram.com/sects.shop
---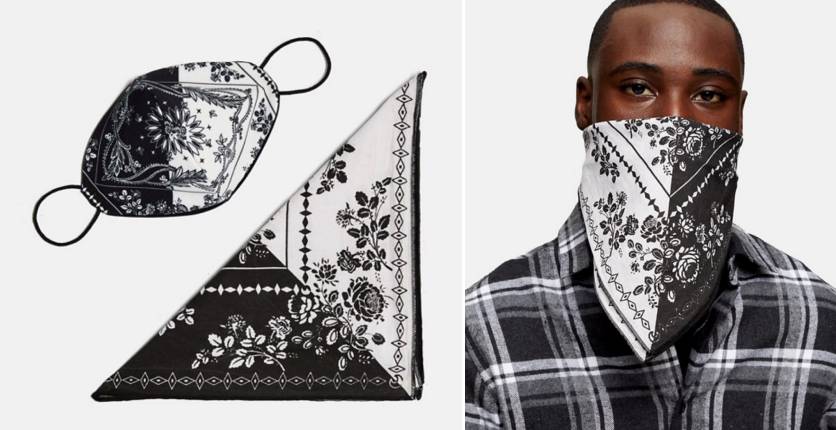 Topman CALM x Roman Kemp Paisley Print Face Mask And Bandana In Black And White, $27.99, Topman
High-street fashion, mental health care and celeb power come together on this two-piece set.
Topman, along with charity organisation CALM (Campaign Against Living Miserably) and English radio and TV personality Roman Kemp, have come up with a black and white flower and paisley print mask and bandana to help make sure everyone's keeping safe and accessorised properly while out on the streets.
Available at ASOS
---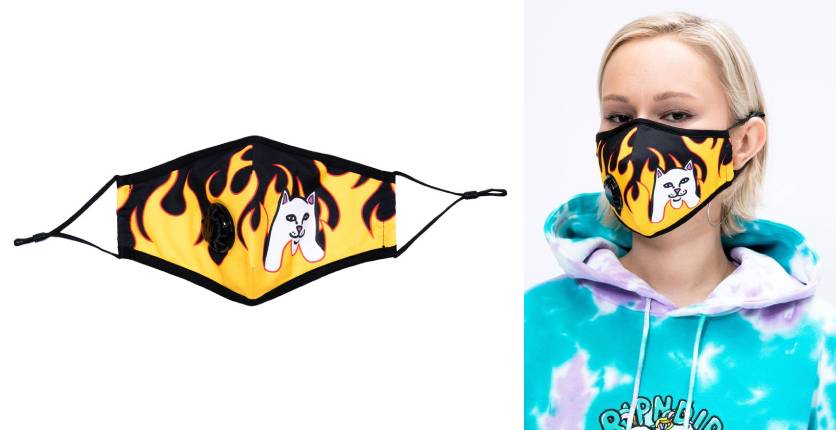 Ventilator Face Mask (Welcome To Heck), $28, RIPNDIP
Keep it kitschy, street, and erm, kitty, with this polyester piece. Featuring the LA-based brand's Lord Nermal mascot popping out from flames (kinda like us, emerging stronger from tough circumstances), this ventilator mask comes with two replacement filters, and adjustable elasticated straps and a metal nose clip for a better fit.
Available at www.ripndipclothing.com
---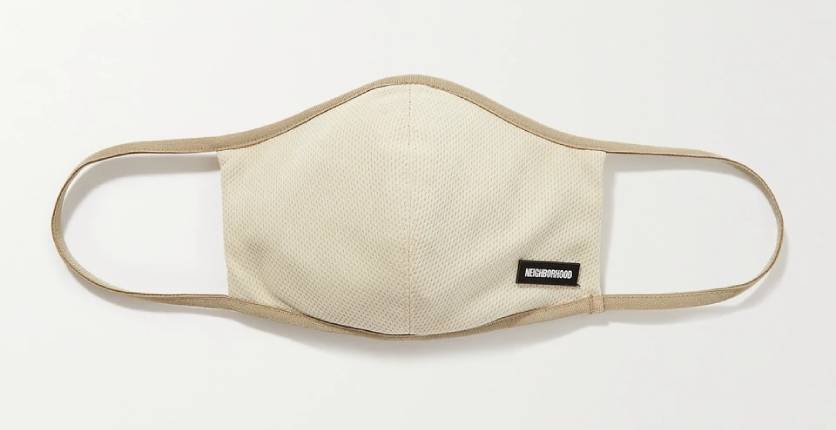 Guardian Stretch-Jersey Face Mask, $46 (£25), Neighborhood
Prefer your mask less in-your-face, colour- and design-wise? Here's your top pick from Japanese streetwear label Neighborhood. Made in Japan from stretch-jersey and lined with technical CORDURA® (so it's waterproof, breathable, quick-drying and durable), its beige tones make it easy to pair with both your office and weekend uniforms, with the label tag appliqué lending a touch of understated "branded" finesse.
Available at Mr Porter
---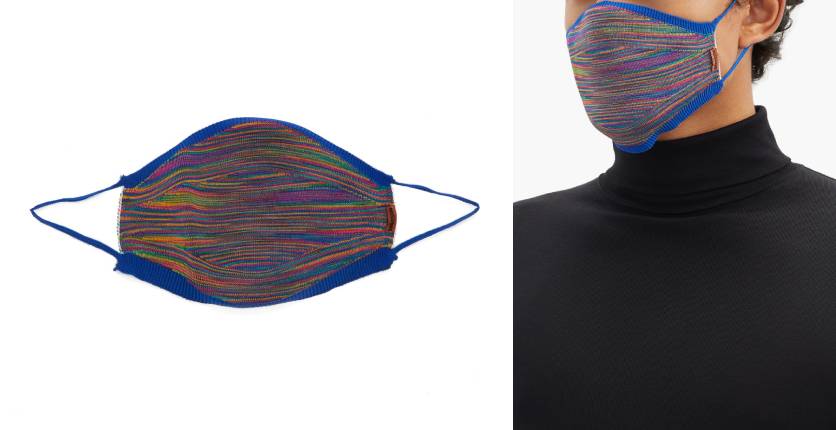 Space-striped Face Covering, $160 (USD $119), Missoni
Can't decide what coloured mask to wear? Why not wear all the colours with the Italian luxury knitwear brand's face covering that's patterned with its signature Space-dyed stripes? How it's made: the yarns are carefully dyed in a multitude of hues before being finely knitted and shaped to fit the face.    With such classiness and luxuriousness, comes greater care; it is suggested that you dry clean the mask.
Available at MatchesFashion
---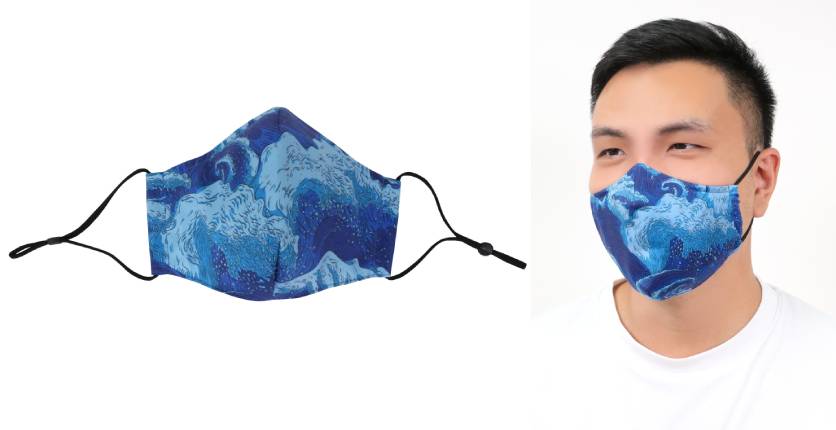 Vespertine Waves Antimicrobial Mask, $20, CYC x Liberty London
Here's a blue mask for your Blue Mondays. But, it's one that's beautiful and vibrant enough to keep the doldrums away. Showcasing the fine ink illustration of London's Royal College of Art graduate Sam Wilde, this mask features crashing waves printed on silky Egyptian premium cotton that's coated with A-Shield antimicrobial solution for added protection, and which also comes with a water-repellent hydrophobic filter.
Available at CYC boutiques, multiple locations, cyctailor.com; www.facebook.com/CYCmadetomeasure; www.instagram.com/cyctailor
---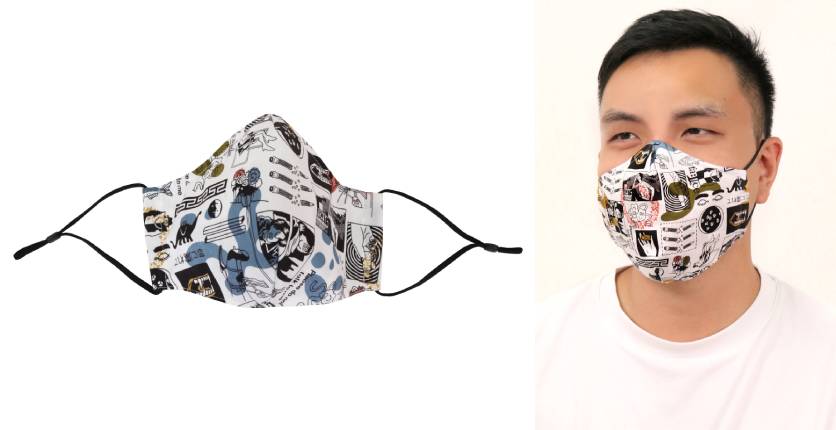 Mr. Face Antimicrobial Mask, $20, CYC x Liberty London
Another one from local shirtmakers CYC Made to Measure? Yesiree, and in fact, we would have featured its whole collection of masks made with fabrics from Liberty London if we could – they are that pretty. Anyhoo, this one's inspired by Japanese pop art and is adorned with lots of fun images so that your friends can keep looking at your face and not get bored.
Available at CYC boutiques, multiple locations, cyctailor.com; www.facebook.com/CYCmadetomeasure; www.instagram.com/cyctailor
---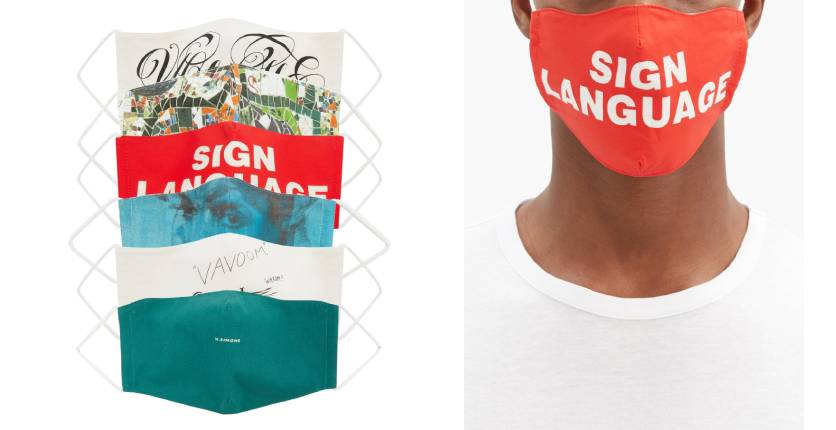 Pack Of Six Printed Cotton Face Coverings, $270 (USD $200), Wedel Art Collective
Have extra cash to spare? Fork out your money for this 6-pack of triple-layered cotton masks, then. Made by art advisory firm Wedel Art as part of a fundraiser project for the COVID-19 Solidarity Response Fund for WHO Foundation, the Artist Relief coalition and art advocacy group Common Practice to help bring awareness to the use of personal protective equipment as a precautionary lifestyle measure, this set features printed works from artists Jenny Holzer, Raymond Pettibon, Rosemarie Trockle, Lorna Simpson, Rashid Johnson and Barbara Kruger. So it's face masks all set and done for the week (save your Sundays for a stay-home, mask-free rest day).
Available at MatchesFashion
---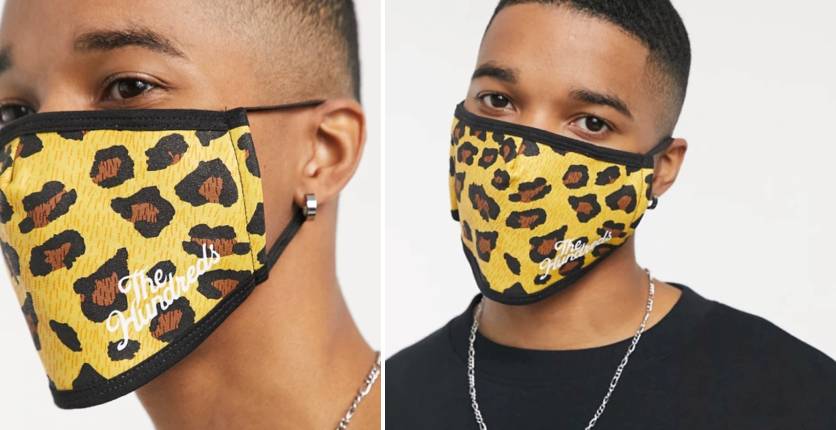 Leopard Face Covering In Brown, $37.05, The Hundreds
Look fierce with this leopard print mask that's 50% cotton, 50% polyester, and 100% fashionable, from Cali culture streetwear brand The Hundreds.
Available at ASOS
---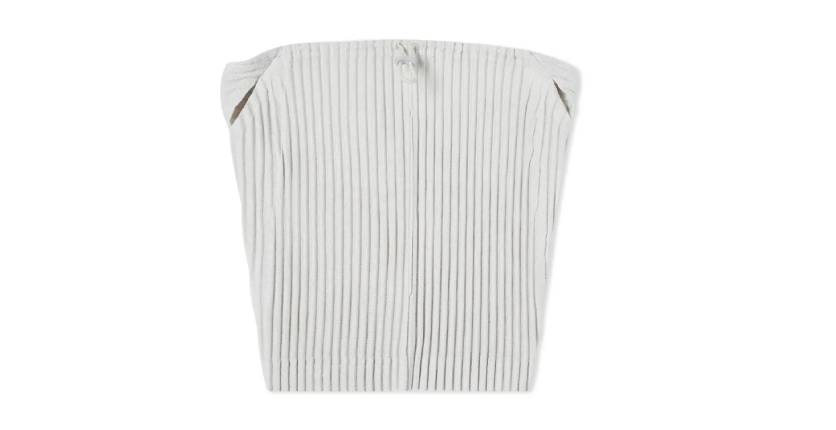 Pleated Tube Face Covering (in Achromatic), $179, Homme Plissé Issey Miyake
It really does take a designer brand to make a mask this special. This is a hybrid multi-tasker that can not only be worn as a face covering, but also a neck warmer (just like a snood) and even a hat, thanks to its clever design and adjustable drawcord fastening. What elevates this to "iconic" accessory status –  it's made with the brand's signature pleated plissé fabric.
Available at END.
---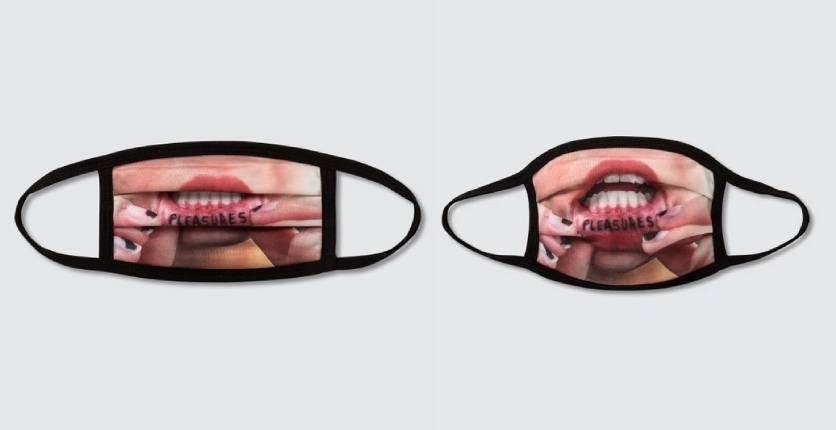 Tattoo Face Mask, $25 (USD $19), Pleasures
It probably won't get the approval of the more conservative folk, but you can still wear this, all in the name of some subversive fun, of course. A photo-print of a lip tattoo, made to look like the mask wearer has the brand's name inked on the inside of his or her lower lip.
Available at HBX
---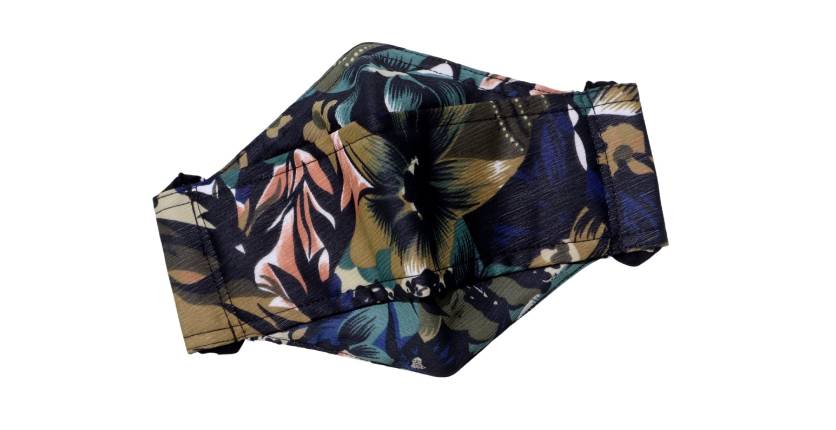 Floral/Wildflower Face Mask, $8.90, PEFORE.
This is what we call value for money.  A 3-layered boat-design, with its middle layer being PEFORE.'s Medical Grade Fabric, that is (according to the SG brand) "made with a poly-rayon blend that has been treated with Silver Technology from Sanitized® and a water-repellent Teflon EcoElite™ finish from DuPont™, [so that] it has water-repellent and anti-bacterial properties." That it also comes with a soft and comfy Dri-Fit interior fabric, and a gorge floral design, all for less than ten bucks, just seals the deal for us (and just about everyone else, we assume).
Available at thephaseco.com
---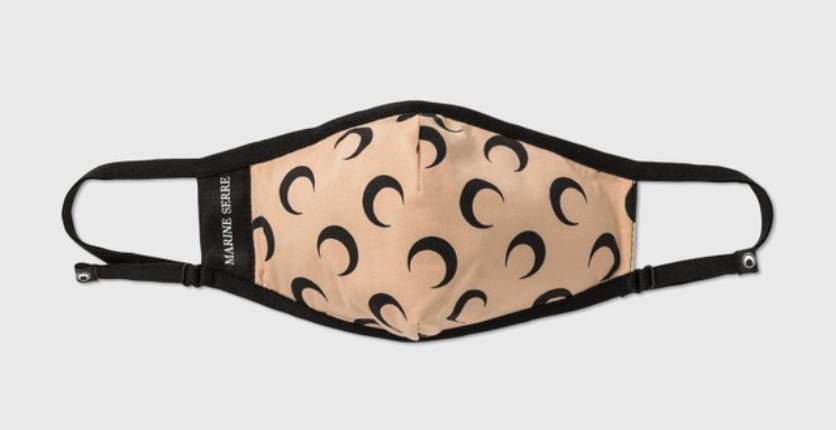 Printed Mask, $175 (USD $130), Marine Serre
The fashion lovers need this, stat. Emblazoned with the French brand's famed crescent moon motif, this is the face accessory to complete your OOTD. Also, helps that it comes with fancy adjustable clasps and is made from comfortable, stretchy material (88% recycled polyamide, 12% recycled elastane) in the label's signature nude/black colour scheme.
Available at HBX
---
All products are subject to availability and prices are subject to change. Prices stated are correct as of time of posting and are based on current exchange rates.