Love is all around on the 14th of February – you know this from the amount of cacao aroma in the air. Chocolate is the diet food of this day, and it would do you good to buy some for your loved ones, be they be romantic, familial or even platonic. But, please, don't just grab a stash of your everyday garden varieties from the local mart. Instead, impress them with a selection of artisanal, well-made, nicely packaged, and of course, delicious offerings from these 6 brand names in the world of chocolate.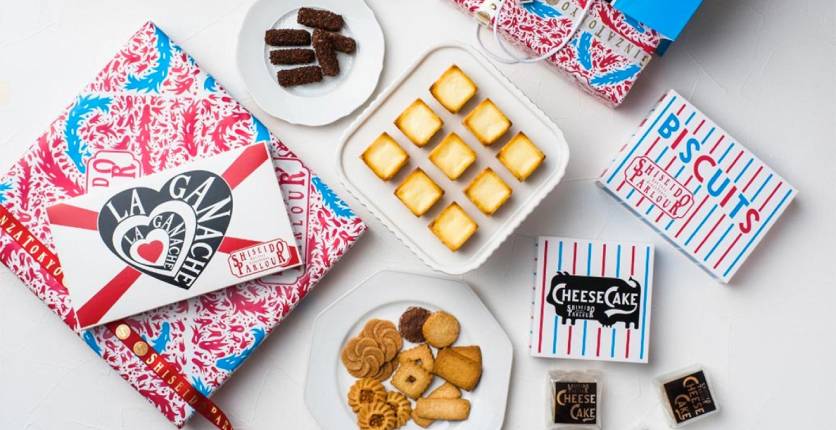 Shiseido Parlour
Yes, this is the 119 year-old F&B arm of that famed Japanese beauty biz, and yes, the chokorēto (Japanese for chocolate) here is as good as their skincare products. In fact, the name and the packaging of its goodies alone should make the recipient of your gift go "kawaii!" The must-buys: La Ganache, morsels of chocolate with cocoa crunch enveloped in either bitter or white Belgian chocolate and coated with even more crispy cocoa crunch; and Chocolavion, bittersweet "NOIR" and sweet and sour "FRAISE" chocolates melded with pralines, crushed feuilletine and cookies.
Shiseido Parlour is at 391A Orchard Road, Takashimaya Shopping Centre, Food Hall, Basement 2, 238873.
Visit parlour.shiseido.co.jp/en/shoplist/singaporetakashimaya
---

Janice Wong Singapore
Janice Wong is probably Singapore's most famous pastry chefs, with a string of awards to her name. A quick peek through her beautiful creations and exotic flavours should awe you: Chilli Padi, Gula Melaka Pandan, Banana Palm Sugar, Kaffir Lime Caramel, and much, much more. Mind-blown? Don't worry; a variety of Valentine's Day exclusives that feature a colourful assortment of rose and heart shaped chocolates will help you decide. Depending on which gift set you buy, your significant other will also get a floral creation of red roses sourced from Holland and Kenya by Fiore Dorato and/or a bottle of De Bortoli Pink Moscato.
Janice Wong is at various locations.
Visit www.janicewong.com.sg; www.janicewong.online
---

Beryl's Chocolate
You may have seen its chocolates in most supermarkets, but instead of those pre-packed ones, drop by its newest outlet at Wisma Atria to buy its products. Why? 'Cos it's where this Malaysian brand outshines itself with its Nutty Chocolate Slabs. Pick from a small but bite-worthy selection of flavours, including 54% Dark Chocolate with Caramel Chips & Sea Salt and Strawberry White Chocolate with Dried Cranberry. Don't know what to choose? Then just opt for its Valentine's Day Gift Sets that have Tiramisu Milk Chocolates or Beryl's Almond Coated With Gianduja encased in a pink heart-shaped tin, Beryl's Romance Milk & White Chocolate, and even a teddy bear (only available at Wisma Atria and HarbourFront Centre stores, and LazMall).
Beryl's Chocolate is at multiple locations, including at 435 Orchard Road, Wisma Atria, #B1-06, 238877.
Visit www.facebook.com/pg/berylschocolatesingapore
---

The Dark Gallery
If your other half is a choco-maniac, then bring her or him to any of The Dark Gallery's cafes because they serve everything chocolate (and more). Depending on the menu of each cafe, you can get to taste all kinds of choc-filled goodies, from ice cream sundaes, brownies, s'mores and waffles, to sliced cakes, tarts and single origin chocolate pastries. And if you need gifts for more of your loved ones, choose from its wide range of artisanal bonbons, chocolate pralines, single origin chocolate tablets and signature dark chocolate pouches.
The Dark Gallery is at multiple locations.
Visit thedarkgallery.com; shop.thedarkgallery.com
---

Godiva
Have lots of loved ones to give V-day prezzies to, in a rush, but don't want to buy cheap-looking gift sets off the shelves? Then Godiva is your go-to. Head to any of its 5 centrally located outlets to fill your gift basket with its boxes of cube truffle chocolates or pure 85% chocolate carré. And for the extra special people in your life, the Love Message G Cube Chocolate Truffle Gift Box or Valentine's Day Chocolate Heart Shaped Gift Boxes. V-Day saved.
Godiva is at multiple locations.
Visit www.godiva.com.sg
---

Läderach Chocolatier Suisse
Think of chocos, and you might also think "Swiss". Well, here's one of the best from Switzerland. The chocolatier's must-tries are, of course, the slabs of FrischSchoggi (fresh chocolate). Go for either full slabs (A3-sized), half slabs or loose pieces, available in a multitude of flavours ranging from Cornflakes Milk and Raspberry Blackberry, to Orange Almond Dark and Salted Caramel Milk-Dark. Or, if these shards are too much for you, then pick the daintier pralines and truffles (said to be one of first thin-walled hollow balls of its kind) that are easier to share and pop into the mouth.
Läderach Chocolatier Suisse is at various locations.
Visit sg.laderach.com
---
Featured image: Läderach Chocolatier Suisse