Bored of levelling up your digital game character online? Tired of chilling and watching shows on Netflix? Here are the next, new fave activities for you, and stay-in homies to get out and have some active fun. Whether it's the high-tech virtual reality experiences of Sandbox VR or the old-school toy blasters-and-guns games at NERF Action Xperience, everyone in your party-of-5 should be able to work up a sweat (and lots of laughs) while playing together at these indoor entertainment and activity centres.
Sandbox VR
Instead of just furiously moving your fingers on your control pad or play-acting in front of your mirror in the privacy of your bedroom, why not live out your fantasy IRL? Sandbox VR is all about bringing 2D movie and gaming action to tech-augmented 3D-life, through futuristic VR experiences where you can get to perceive and physically interact with the people within, like you do in reality. Think of it as Star Trek's Holodeck, enabling viewers to become participants in virtual reality simulations of different environments; in Sandbox VR, they are virtual realities built by EA, Sony and Ubisoft veterans that are inspired or based on famous video games or films.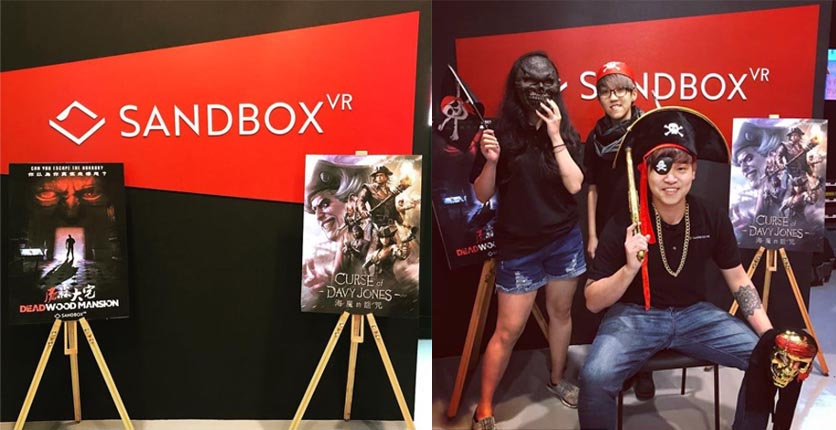 Where the action's at: Hollywood motion capture cameras, 3D precision body trackers, haptic suits, custom hardware (think techy headsets and gun gear); all these are used in the two full-size game rooms housed at this location-based VR experience centre to help turn you into a living avatar of sorts, immersing you, and your sense of touch, sight and hearing in the virtual worlds.
Go "Aye! Aye!" with your tween (of at least 16 years of age) as your captain in a pirate crew in the Curse of Davy Jones and battle on the high seas against spooky supernatural creatures; transform into heroic androids with your super friends to defend the earth against a swarm of invading aliens in Amber Sky 2088; or become a member of the Star Trek squad to explore alien planets and solve the mysteries behind a lost Starfleet ship in Star Trek: Discovery. Cooperate with or compete against colleagues in teams as futuristic gladiators armed with claws, tridents and laser swords in the play-versus-player (PVP) fighting game that is Unbound Fighting League (UFL), or try the very first hyper-reality escape experience that started it all, Deadwood Mansion, where you and your fellow survivors combat a zombie horde with your weapon of choice (pick from a machine gun, a combat rifle or dual pistols) while discovering the secrets of the mansion. Whatever adventure you choose, be prepared to scream, shout, and have a thrills-filled brain, body and hand-eye coordination workout.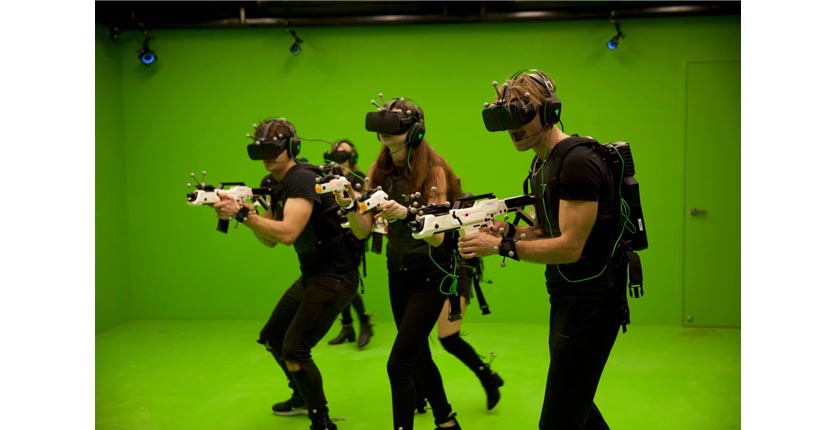 Play safe: What if the midst of all the excitement, should you hit into someone physically? Don't worry; Sandbox VR uses real-time motion capture technology that tracks your entire body in real time, so you get to see where everyone else is and what they're doing. Additionally, there are clear boundaries to prevent players from exiting the game area. Though motion sickness may be a possibility, Sandbox VR's motion capture tech translates real-life movements into perceived movements so the occurrence of motion sickness is minimised. And, while the centre allows children of age 8 years or older and at least of 1.2 metre in height to participate in some of the experiences, there are certain other health and safety advisories that you should take note of before buying tickets. Also, all equipment including the headset masks, headset lenses, haptic vests and props are cleaned and disinfected after every use.
For full details about and prices of the Sandbox VR experiences, please visit the Sandbox VR website. Sandbox VR, 181 Orchard Road, Orchard Central, #05-31, 238896; https://sandboxvr.com/singapore; www.facebook.com/sandboxvrsg; www.instagram.com/sandboxvrsg
BONUS: SAFRA members get to enjoy 25% off Monday to Thursday bookings, and 15% off Friday to Sunday bookings at Sandbox VR. Click here for more information.
---
NERF Action Xperience
NERF is usually used in reference to the hot-in-the-'90s toy guns (or blasters as they are popularly known as) that had every kid back then running about and firing pellets that fly fast but hit soft. At NERF Action Xperience (or NERFAX), you get to have fun with these NERF blasters and foam-rubber ammo, as well as other NERF-branded play gear, equipment and accessories in a large-sized activity centre with multiple-themed activity zones. Perfect for '90s kids turned kidults, retro game-loving teens.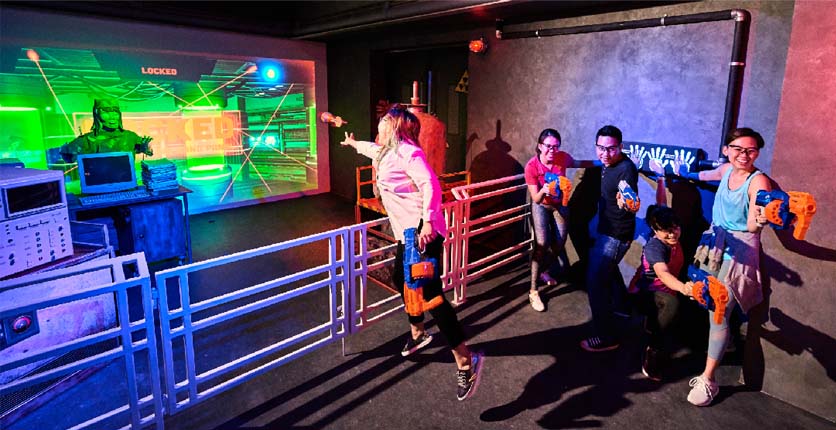 Where the action's at: One arena, four zones of active fun. In the Compete zone, it's high octane battle-based, team-play all the way as you navigate two NERF worlds. In "Zombie City", it is the Blue Nation versus the Orange Nation of survivors in a zombie apocalypse, each dusting off physical and digital zombies with NERF blasters in a bid to secure an all-important vaccine; in "Camp Dune", it is one troop against another in the year 2983, to capture the mineral-filled planet Camp Dune in a fight for resources. Intrepid adventurers can head to the Conquer zone, where physical skills come into play. Tread carefully to escape the obstacle-filled danger of "The Volcano"; race your pals and scale the dual climbing wall that is "The Ice Cliff"; ascend "The Summit" in a beginner rope course; or feel the adrenaline rush as you swoosh down the drop-slide of "The Glacier". If sports are more your thing, then the Challenge zone would be your "area of expertise". Be it sharpshooting targets in Reflex and Strength Challenges, tossing foam balls in the Accuracy/Basketball Challenge, scoring soccer goals in the Agility/Goal Challenge or racing against a mate in the obstacle course Speed Challenge, winning is only but part of the game. Prefer something less intense? Then the Create zone, where you get to make a unique tote bag or T-shirt with paint-filled NERF Super Soaker blasters, will provide you your artsy entertainment.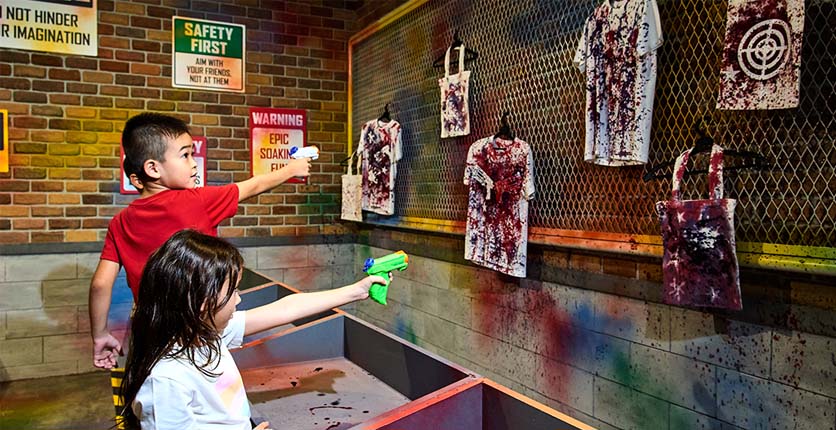 Play safe: During this COVID-19 period, NERFAX's operating capacity is kept to 50% with a maximum group size of 5 people with no intermingling allowed. Hand sanitisers are readily available at various points, enhanced cleaning is carried out through the day and all blasters and goggles are regularly disinfected. But, before you bring your little one to join in the activities here, you might want to take note that all participants must be of 7 years of age and above, with some height restrictions and requirements applicable to the activities. Also, while most of the NERF equipment and accessories may be kid-friendly, the NERF Rival Blasters are actually recommended for age 14 years and above. And, nope, you aren't allowed to BYOB (Bring Your Own Blaster), no matter even if it's your kiddo's favourite or your own childhood NERF plastic shooter.
For full details about and prices of the NERF Action Xperience activities, please visit the NERF Action Xperience website. NERF Action Xperience, 6 Raffles Boulevard, Marina Square, #01-208, 039594, www.nerfax.com.sg; www.facebook.com/nerfaxsg; www.instagram.com/nerfaxsg
BONUS: SAFRA members get to enjoy 10% off All In tickets (weekdays only, excluding public holidays and eves of public holidays) at NERF Action Experience. Click here for more information.