It's been well over a year into Covid-19, and we've seen the world continue to grapple with the pandemic and constant lockdowns. From last year's circuit breaker to the heightened measures this year, many of us have emerged as intrepid explorers who have discovered much about Singapore due to travel restrictions. One thing's constant, though – our sweltering weather that makes most of us seek solace in air-conditioned, indoor spaces. We've put together the following exciting list of places where you can enjoy the cool air while having fun with the whole family!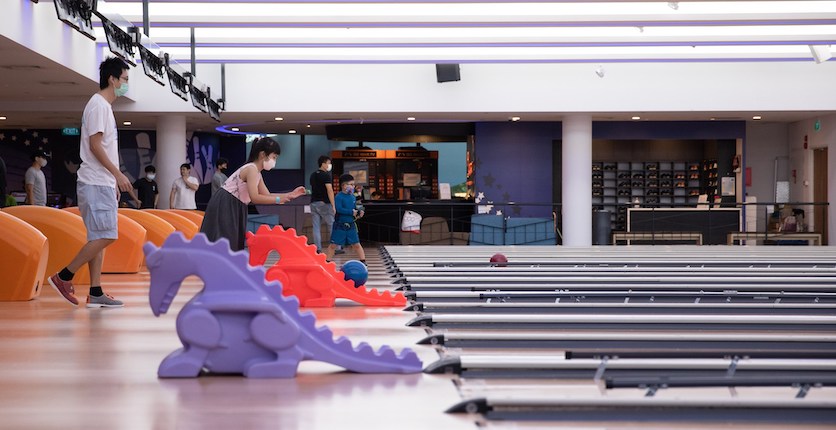 Sonic Bowl SAFRA
Who doesn't love a good game of bowling? This activity is perfect for a group of friends or families to bond over. Bowling is also a great way for you to burn off calories – an alternative for those who don't fancy working out at the gym. Spanning over three different locations at SAFRA Yishun, SAFRA Punggol and Our Tampines Hub, this bowling alley is a heartland favourite amongst many. For those who crave an unforgettable experience, try out Cosmic Bowling. Watch the alleys transform into a disco setting – exuding some serious retro vibes.
SAFRA Members and Affiliated Members also receive 15% off for lane use and 20% off services and F&B.
For more info, go to safra.sg/amenities-offerings/sonic-bowl
---

Holey Moley Golf Club
Holey Moley – a two-storey mini golf slash cocktail bar in Clarke Quay – is here to dispel the myth that golf is boring. Described as a labyrinth of wacky themed holes complete with pop culture references, Holey Moley is guaranteed to skew your perceptions on golf. Feeling peckish after a few rounds? Head down to The Caddyshack Bar where a plethora of food and drinks such as burgers, hot dogs, pizzas, beers and other drinks are available for you to choose from.
SAFRA members and servicemen are also entitled to a mini golf promotion. Click here for more details.
For more info, go to holeymoley.com.sg
---

The Projector X
Indie cinema The Projector recently introduced a new 18-month pop-up concept at Riverside Point. Housed in an abandoned Chinese nightclub, the Projector X is a quaint little 48-seater cinema encased in neon lights – paying homage to the glorious past of its previous occupant. Embodying the concept of a silent disco, you'll be listening to the movie through wireless headphones (provided by the cinema) while relaxing in seats with ample leg space. There's also the Riverside Bar, which currently only offers takeaway bottled drinks, but its regular menu comprises tempeh chips, crab cakes and topshell salads. Do make a trip down and check out this unique pop-up!
For more info on tickets and restrictions, go to theprojector.sg/riverside-point
---

Virtual Realms: Videogames Transformed
Ever wondered what it feels like to be in a video game? ArtScience Museum's latest exhibition offers visitors a chance to immerse themselves into this fantasy realm. The exhibition – a combination of both virtual and physical installations – re-imagines 21st century game designs as a contemporary art form. Lose yourself in the majesty of the six different installations – a unique theme is tied to each that is guaranteed to give you an exhilarating experience. What's even more impressive is that this exhibit is headlined by the top six video game developers in the world and is curated by Barbican London, with guest curator Tetsuya Mizuguchi (the mind behind Tetris Effect and Rez Infinite). This exhibition is slated to run till 9 January 2022, with Singapore as its first stop on the world map.
For more info on tickets and restrictions, go to marinabaysands.com
---

Hi Roller Indoor Skating Rink
Located in Downtown East, this gem of a place has attracted throngs of youth ever since its opening in 2019, and it's not hard to see why. This indoor skating rink brings its patrons back to the 80s with its ambience – think funky lights and jazzy disco balls coupled with the biggest musical hits of the era while you whiz away on your skates. The space is separated into two zones, red and blue with the latter more suited for beginners. Both roller and inline skates are provided, so choose whichever you'll be comfortable skating with. If you're worried about taking a tumble or two, don't fret as the floors are cushioned enough for you to return home in one piece.
For more info on pricing and restrictions, go to hirollersingapore.com
---

Zero Latency VR – Free Roam VR Gaming Experience
Zero Latency VR – the biggest VR gaming arena in Singapore – offers a Free Roam VR gaming experience that allows players to move about freely, thanks to its devices being completely wireless. With plenty of space, you definitely won't have to worry about running headfirst into walls, or your friends. Battle hoards of grotesquely deformed zombies in an undead arena or wreak havoc against robots and killer drones in a galactic themed shooter – both of which are guaranteed to give you an adrenaline rush. A selection of other family-friendly games is also available should you fancy something less intense.
For more info on pricing and restrictions, go to zerolatencyvr.com.sg
Where's your favourite place to cool off in Singapore? Share with us at magnsman@sph.com.sg!